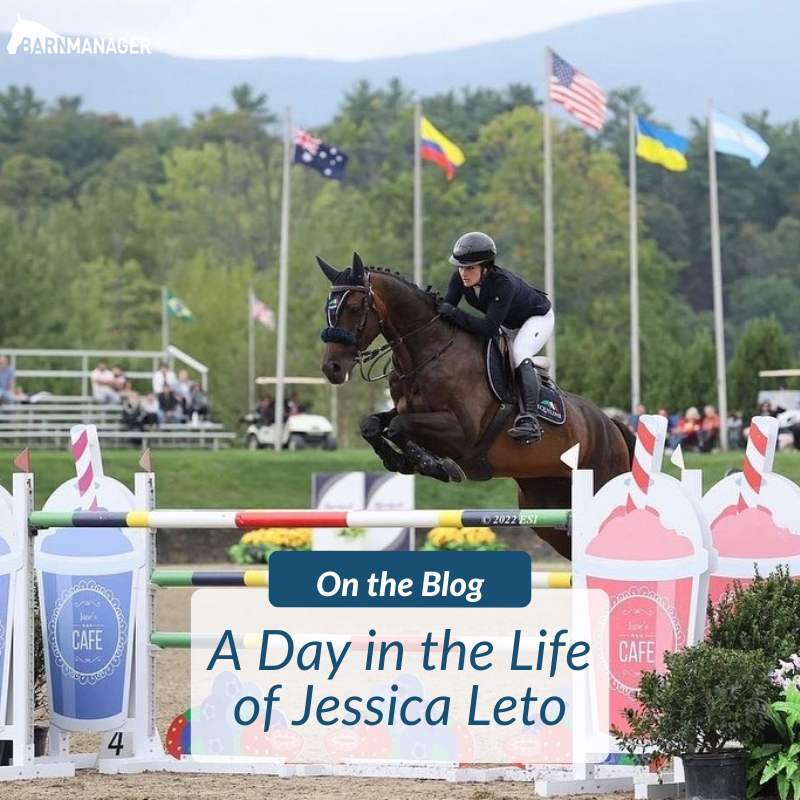 A Day in the Life of Jessica Leto
Jessica Leto is a professional rider who runs JS Equine Ventures, LLC, a boutique sales and training operation based in Wellington, FL, with her partner Stephen Hirsh. Jessica graduated from the University of Miami with a degree in Sports Administration and Business. Currently, Jessica competes at the five-star level with her mount Cimbura and also works with Stephen to maintain a strong group of hunter, jumper, and equitation sales horses. She takes particular pride in managing her business with a hands-on approach, investing time attending to all aspects of her horses' care and training.
Keep reading for a behind-the-scenes look at a day in this professional rider's life at the HITS Saugerties Horse Show Week VIII in Saugerties, NY, during the CSI5* $405,300 Grand Prix.
Sunday, September 11, 2022
5 a.m.
I'm typically an early riser so my alarm goes off at 5 a.m. I like to make sure I have time in the morning so I don't have to rush. I drink my coffee while thinking about my plan for the day and getting any administrative work for the business done while it's fresh in my mind.
6:30 a.m.
I walk Monday, my Jack Russell terrier, and feed her breakfast before heading to the show. We also have a German shepherd named Cali, but we find it hard to bring her everywhere as not all Airbnb options at shows are pet friendly.
7 a.m.
I get to the show, feed the horses, and help clean stalls. I also do other morning chores such as recording temperatures for the FEI horses and checking the legs and backs of all the horses. I'm very hands-on, as is Stephen, so every morning we like to take time to check for anything out of the ordinary in all our horses' bodies. We look for both skin issues and areas of soreness from training or competition then take that into account when making our plan for the day. My horse Cimbura, or "Cimba," gets his magnetic massage blanket every morning while eating breakfast to help warm up and relax his muscles before being ridden.
8 a.m.
I have two horses in FEI at this show. My morning is spent focusing on working them both. I am showing Cimba in the CSI5* $405,300 Grand Prix later today. My horse Frosty HD, or "Frosty," is done showing for the week. I ride Frosty first, and he gets to be a bit of a practice horse to help me prepare for the class later today. I focus on myself and play over some poles to get my eye working. Stephen gives me feedback on what he sees from the ground. I also do a bit of no-stirrup work to warm up my leg muscles. During this time my FEI groom is hand walking Cimba and cleaning him up so I can ride him around 10:30.
10:30 a.m.
When I flat Cimba I like to take my time and give him a long warm-up walk because he is a very high-energy horse. I do some transitions and lateral work to make sure all the buttons are working for the class this afternoon. My flatwork is based on how my horse feels after his classes from earlier in the week, how I want him listening, and how I want him energy wise for peak performance. I usually flat Cimba for about 45 minutes to an hour but today is a little chilly so I give myself some extra time in case he feels frisky.
12 p.m.
At this time the horses get lunch and Cimba gets ice boots and relaxes for a bit before his class. I also get lunch and some coffee. I make sure all my equipment and pre-show preparations are in order and being done on time.
1:30 p.m.
I walk the grand prix course and go over the plan in detail for the first round and jump-off with Stephen. I go later in the order so I choose a few riders who may have a similar course plan or a similar-strided horse to watch in the lineup. Then during the opening ceremonies, I take a walk wearing my headphones and listen to some inspiring or energy-lifting music. I give Cimba one last check over at his stall and make sure he has what he needs before getting into my head space for competition.
2:30 p.m.
The first horse is on course. Will Simpson was first in the order, and he was clear. Amanda Derbyshire and Hunter Holloway also go clear before I even get on my horse.
3:30 p.m.
So far, only three of the 20 or so combinations have put in a clear round within the allotted time. I do the boot check with FEI stewards and then my groom helps me with a leg up. I usually get on and warm up when I am around 10 horses out. I start jumping around four or five out. We do not do too many jumps, just a few fences to get Cimba's legs warmed up and his eyes open and thinking. Then we head into the ring to pre-load and give him a little tour before the start buzzer sends us off to try our luck at the track that has shown itself to be pretty difficult this afternoon.
We jump clear and within the time allowed to become the fourth and final combination to qualify for the jump-off.
4:00 p.m.
I return last for the jump-off, which is prime real estate since I'll know how the other riders have done and what time I'll need. Will and Amanda are fast, but both have a rail. Hunter goes before me and puts in a swift clear round so now I know I have to be fast and clear. Cimba and I were fast but had eight faults. We end up fourth, and we're all very happy with the result and how Cimba jumped. Cimba and I get our ribbons and head in for the victory gallop. They play the "Top Gun: Maverick" theme song for the victory gallop, which I love.
4:30 p.m.
I got to attend my first press conference and sit among top riders to discuss our jump-off and what we thought of the class.
5 p.m.
Cimba got a bath, ice boots, and bandages while I was at the press conference. I am very into our feed program, so I make all the horses a celebratory bran mash with apples and bananas. I spend some time discussing my round and enjoying the results of the day with our team and horses before heading to get some Italian food. Monday gets to run loose and is very happy as well!
8 p.m.
Every evening we do night check to give hay, water, and take one more look at the horses before heading to bed. We also give them a lot of treats. It was a great day for our team, and I'm very proud of myself. Cimba is definitely one to remember!
Have questions about utilizing BarnManager or want to give it a try for yourself? Request a live demo here!