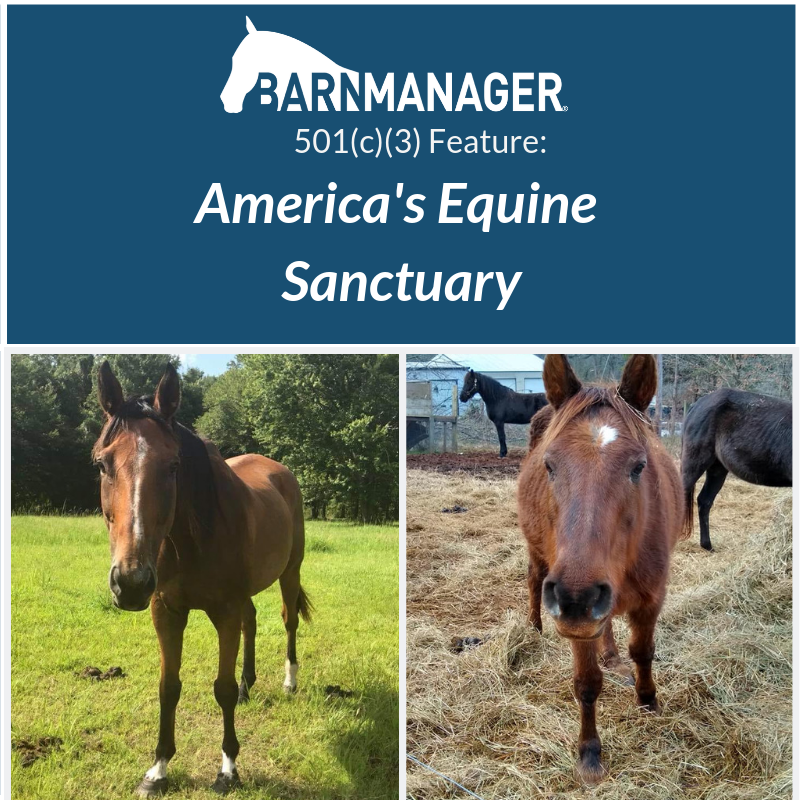 501(c)(3) Feature: America's Equine Sanctuary
Through our 'Free for 501(c)3' program, our team at BarnManager has had the opportunity to learn more about incredible equestrian non-profit organizations from across the country. Each month, we'll be featuring one such organization here on our blog!
Debbie Staley was operating Blue Shadow Farm as a full-service equestrian boarding and riding facility when, in 1985, she recognized the need for another type of equestrian facility: a home for unwanted horses.
Staley began accepting unwanted Thoroughbreds off the track, rehabbing them, and ultimately finding them new homes. As the years went by, the number and variety of horses needing homes only increased.
"In the early 2000s the economy was slow, and many horse owners needed a place that would take their horse because they could no longer afford them," said Staley, who continued to open her doors at Blue Shadow Farm to any of the horses in need, personally financing the rescue efforts.
Then in 2013, with the need for rescue and rehabilitation continuing to increase, Staley incorporated and formed the 501(c)(3) non-profit now called America's Equine Sanctuary at Blue Shadow Farm, located in central North Carolina.
"Our mission is to provide a place for horses that need a soft place to land," said Staley. "We work with county animal shelters and accept personally-owned horses if we have room. Horses and other equines are retrained as needed, made current on vet work, and placed up for adoption, if possible. We have a few that are here to live out their lives."
Another vital part of America's Equine Sanctuary's mission is education, and today, the organization offers classes at the farm on horse care, equine first aid, and nutrition, as well as facilitating speakers at local clubs and schools.
"We recently added an educational program for at-risk and low-income youth," added Staley. "These children and teenagers come to the farm and volunteer. They learn how to feed, groom, clean stalls, and other tasks needed with horse care. They 'earn' riding time and are given riding lessons. This is solely funded by donations – of money, riding boots, and helmets. By educating the youth we hope to help them understand that caring for any animal is a lifelong commitment. In the process they gain self-esteem and skills that will help them be better citizens"
Presently, America's Equine Sanctuary has six youth in their educational program, along with eight volunteers, who help care for the 16 equines currently in the rescue's care.
"We are a small operation and try to stay at 12 to 15 equines," explained Staley. "After Hurricane Florence, we accepted seven horses that needed to be rehomed due to the owners' property loss. We have found homes for three at this time."
In addition to its educational program, America's Equine Sanctuary is made somewhat unique by its focus on helping mustangs and burros.
"Many times a person will adopt a mustang from the Bureau of Land Management (BLM) and then realize the horse needs a more experienced trainer," explained Staley, who has also created BLM-approved facilities that include two stalls with an attached round pen with six-foot-tall fencing. "We accept these mustangs, work with them, and find them suitable homes whenever possible. We currently have two that were so abused they are living here permanently. One mustang is used in our educational program as a lesson horse and for demonstrations in public speaking engagements."
As with many rescue organizations, with horses coming and going frequently, organization and record keeping is paramount, which is why America's Equine Sanctuary is now beginning to incorporate BarnManager into their workflow.
"We heard about BarnManager through the A Home for Every Horse program, promoted by Purina Feeds," said Staley. "The calendar feature is useful, and there are many features that we will soon incorporate!'
Presently Staley and the America's Equine Sanctuary are raising funds to add a new stable a small covered arena.
"These are needed to be able to care for and train the horses that are here in transition. We look forward to a future of being able to assist more horses that need to call our place home!" concluded Staley.
To learn more and to find out how you can help, visit www.americasequinesanctuary.com.