One of the best parts about fall is all of the pumpkin spice-flavored beverages and goodies. Since you may not want to give your horse flavored coffee or donuts, BarnManager created a list of recipes for DIY fall-themed treats you can easily whip up for your favorite equine partner.
Oatmeal Horse Treats
Ingredients: 
1 large carrot
1 large apple
1 cup molasses
2 1/2 cups old-fashioned oats
2 tablespoons vegetable oil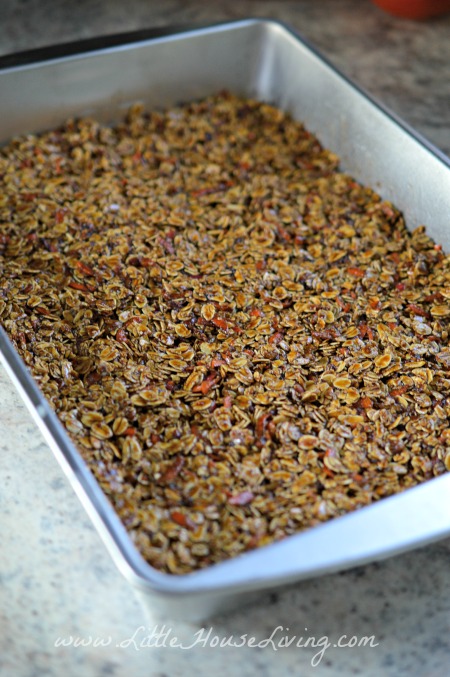 Directions: 
Preheat the oven to 400 degrees.
Shred the carrot and the apple into a large bowl.
Add in the oil, oats, and molasses. Stir to combine well so that all the oats are covered in molasses.
Pour the mixture into a greased 9-by-13 baking dish. Pat the mixture down with a spoon or with your fingers so it is flattened into the pan.
Bake at 400 degrees for about 40 minutes or until the mixture begins to get crispy.
Remove the pan from the oven and let it cool and harden slightly.
Cut into individual treats and remove from the pan.
Click here to open a printable recipe card!
Crunchy Pumpkin Horse Treats
Ingredients:
1 cup pumpkin puree (canned or fresh)
1 cup alfalfa pellets
1/4 cup flax meal
Directions:
Preheat the oven to 300 degrees.
Soak the alfalfa pellets in just enough warm water until they are completely soft. Drain any excess water.
Mix in the pumpkin and flax meal.
Spoon into quarter-sized lumps about 1" apart on a baking sheet.
Bake for about 45 minutes or until they are crunchy but not burned. The idea is to dehydrate them more than to bake them. If they are starting to burn just turn the heat down.
Click here to open a printable recipe card!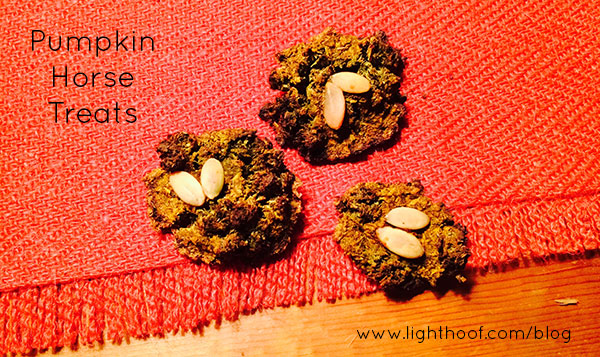 Pumpkin Oatmeal Horse Cookies
Ingredients:
4 cups whole oats
1 can pumpkin puree
2 cups water
2 teaspoons baking powder
1 3/4 cups whole wheat flour
2 teaspoons cinnamon
½ teaspoons nutmeg
1 tablespoons honey or molasses (optional)
Directions:
Preheat oven to 350 degrees.
Thoroughly mix the pumpkin puree and water together.
Add the flour, oats, and spices.
If desired, mix in the honey or molasses.
Put spoonfuls of the mixture onto a greased cookie sheet.
Bake for 20 minutes or until done.
Click here to open a printable recipe card!
Let your horse enjoy the pumpkin spice season with you by testing out one of these DIY treat recipes.
Have questions about utilizing BarnManager or want to give it a try for yourself? Request a live demo here!