Many people have dogs that go everywhere with them, including the barn. If you work at a barn or plan to spend the majority of your day there it is nice to have your dog with you. Although dogs often can be seen running around freely at stables, there are rules that should be followed in order to do this safely.
Check for Barn Rules
Before you decide to bring your dog to the barn ask the owner and/or trainer about their rules for allowing dogs on the property. Do not assume you know the rules because every stable is different. Some barns do not allow dogs at all, while others will allow dogs but only on a leash. Even when the owner or trainer brings their dogs to the barn, that may not mean other people's dogs are permitted.
Know Your Dog's Behavior
Even if your barn allows dogs, think hard about how your pet might react in that environment. For example, consider your dog's behavior with other animals, people, kids, and in a busy environment. If your dog gets anxious easily, is not good on a leash, or wanders off then bringing them to the barn may not be wise. Knowing how your dog may react under these conditions is important for everyone's safety. Consider bringing your dog for a trial run on a day when you can spend time with them. Keep your dog on a leash and observe their behavior and reactions before deciding whether another visit will work. Also consider spending time reviewing basic training skills with them while you are in the barn environment.
Safety First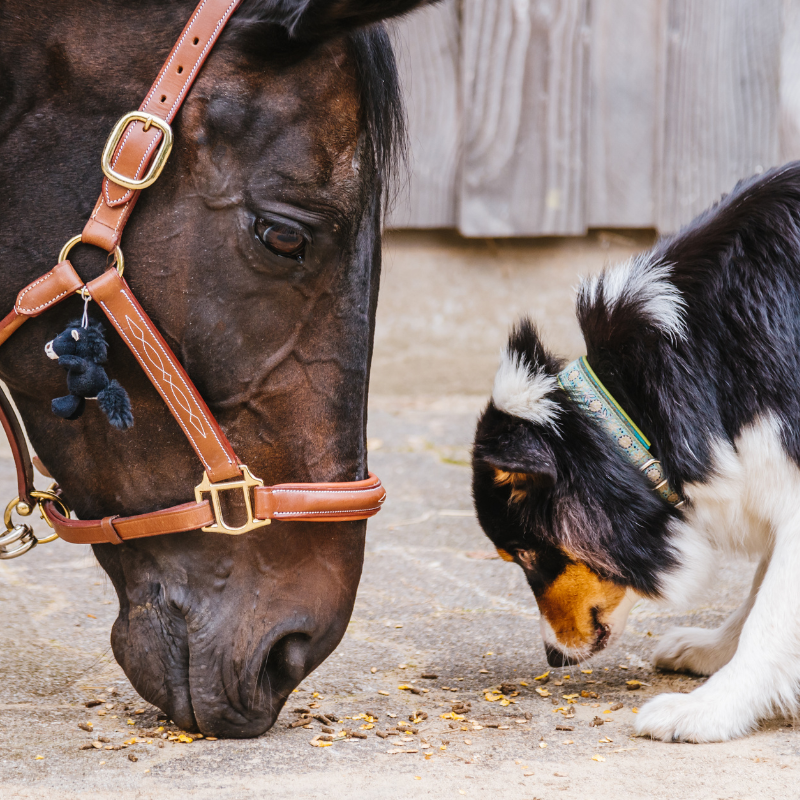 Even if you have a well-behaved dog, you must still take certain precautions to ensure the safety of others at the barn. For example, if someone is getting on a spooky or green horse and your dog is lying next to the arena, it may be best to move them away so they do not accidentally scare the horse. Similarly, do not let your dog roam free in or near the ring when a beginner is getting on to ride. Even the best-behaved dogs can have moments where they decide to chase after a bird or bark at a squirrel, and you do not want to be responsible for someone falling off their horse because of your dog. Remember that you are accountable if your dog spooks a horse, bites a person, or chews on a tack trunk. Although these are worst-case scenarios and many dogs successfully spend time at the barn, it is necessary to consider and understand the risks.
Also think about safety concerns for your dog when you bring them to the barn. You do not want them to get kicked by a horse or eat something poisonous. Always keep an eye on your dog, especially if they are loose, in order to prevent a dangerous situation from occurring.
Make Sure Your Dog Is Comfortable
If your dog is going to spend time at the barn be sure they are comfortable first. You may want to purchase a bed, water bowl, or pen that you can set up so they can rest and feel safe. Even if you decide you are comfortable allowing them to be loose most of the time, it is nice for your dog to have a quiet spot that is theirs, especially during times when they cannot roam free.
While spending the whole day with your horse and dog sounds ideal, it is important to acknowledge the responsibilities that come along with bringing your dog to the barn.
Have questions about utilizing BarnManager or want to give it a try for yourself? Request a live demo here!