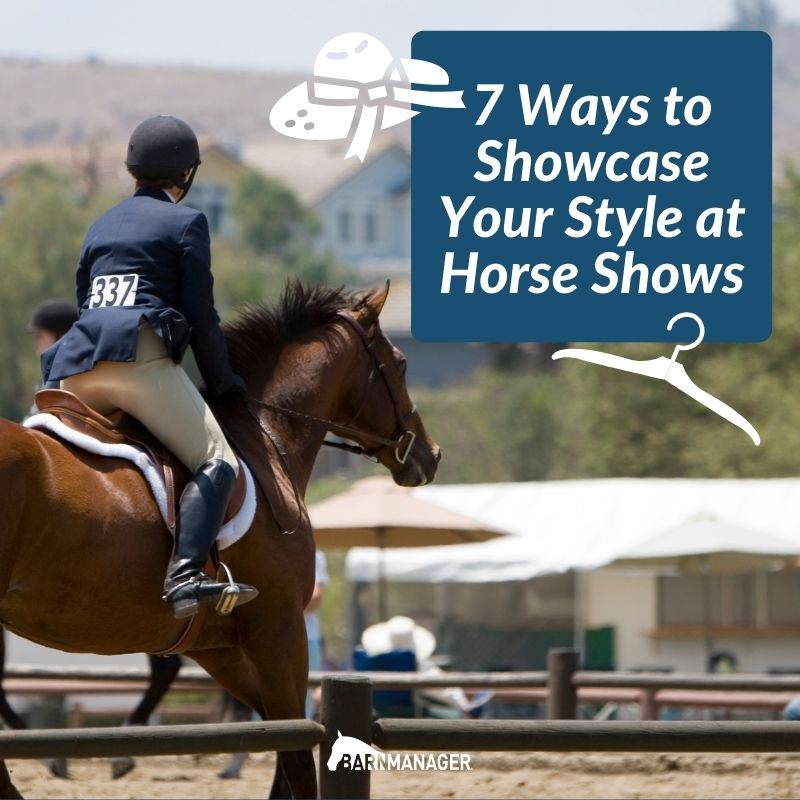 Our sport is unique in that we require a standard uniform for competition, but we are allowed freedom within that uniform to choose the clothing items we'd like. No matter the discipline, there are multiple ways you can show off your personal style while still adhering to the rules of the dress code. Here are a few ways you can personalize your horse show wardrobe according to your own taste.
1. Show Shirts.
The shirts we wear under show coats need to be light and breathable on hot horse show days, but it also doesn't hurt if they look sharp for the time spent not wearing your coat. Designs are changing by the minute. You can get show shirts in various patterns, colors, and cuts, while still only showing the white portion when you button up your collar and coat. Get some shirts that you feel good in so you can rock the look when you're done showing.
2. Socks.
Everyone loves a good boot sock, and there are so many brands taking advantage of the real estate underneath boots by designing unique and fun patterns to choose from. Find some patterns and fabrics you like best to accompany your barn shoes when you aren't wearing your boots. If your style is more classic, many brands offer plain black socks that look good with horse show outfits as well.
3. Belts.
Your belt can say a lot about your style. Some are sophisticated, some are understated, and some are vibrant and attention-grabbing. Mixing and matching belts with your competition uniform can be a fun way to show off your style and keep your pants in place at the same time.
4. Jewelry.
Many sports don't permit you to wear jewelry while competing, but most equestrian disciplines will allow it, so if you are comfortable and can perform without distraction, jewelry is a great way to accessorize. Sometimes it's fun to throw on some cute stud earrings that sparkle from below your helmet or a bracelet that serves as a good luck charm. When you're done riding, you can flaunt your bracelets and necklaces as you roll up your sleeves and unbutton your collar.
5. Outerwear.
If it's a brisk horse show day, there is an endless variety of sweaters and jackets to keep warm. Many onsite vendors sell unique and trendy options if you find yourself without one. Vests, sweatshirts, and puffer coats are also popular choices that allow you the freedom to show off your favorite patterns and colors beyond the limits of any show ring requirements.
6. Handbags.
There are lots of things you need to keep on hand while walking around at a show. So why not carry them in style? Use a catch-all, cross-body bag so you don't have to worry about it sliding off your shoulder. If you go with something more neutral, you can carry the bag with a variety of outfits, or you can get a few different bags to match different riding clothes. Some brands offer interchangeable straps for bags, as well!
7. Hats.
Even though we often forget how many long hours we spend in the sun at a horse show, it's always important to protect your skin from the sun. Right now, sunhats are a wildly popular way to keep your head and shoulders protected. Not only do wide-brimmed hats prevent any sun damage to your skin, but they also show off your style! Pretty much any horse show will have vendors with sunhats of different kinds. You can even buy them with colored accents and broches to make them one-of-a-kind. Once you buy a horse show hat, you surely won't go to any show without it.
Have questions about utilizing BarnManager or want to give it a try for yourself? Request a live demo here!