Our trainers do so much for us, so it's our time to give back to them. Say thank you for their endless hours spent devoted to you, your horse, and all they do to keep things running smoothly by gifting them something meaningful. Horse trainers can often be difficult to shop for. So we are bringing you some ideas to brighten their holiday season and help show your gratitude for everything they've done for you throughout the past year.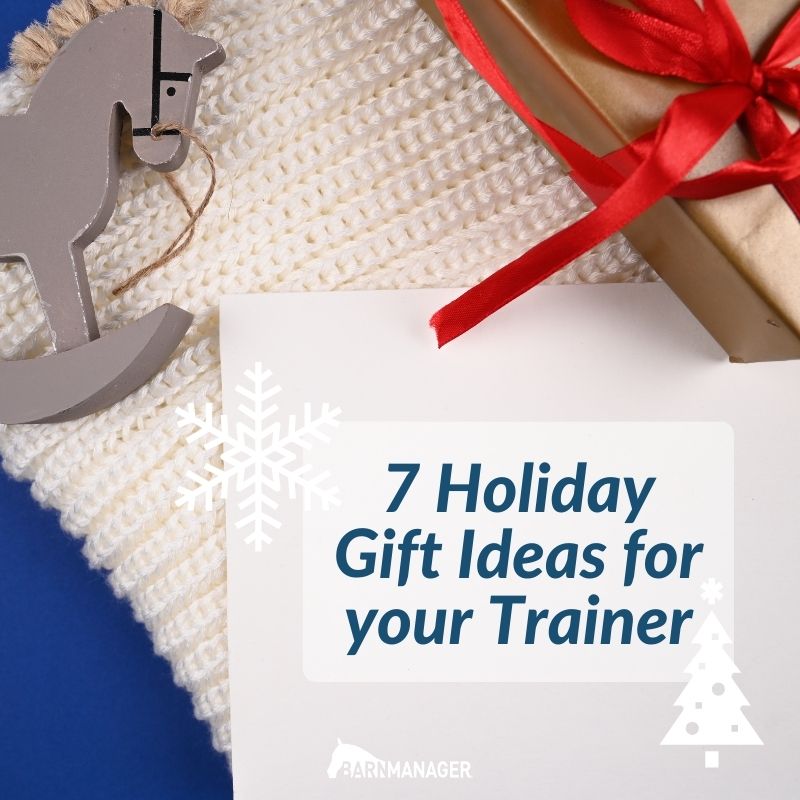 1. Gift cards.
You can never go wrong by giving a gift card and allowing your trainer to purchase whatever he or she truly needs or wants. Better yet, support a small business by choosing a local tack shop that may be struggling. If your trainer rarely eats out, give a gift card to a local restaurant (one that does take-out, since indoor dining is not recommended). Maybe gather your whole barn to pitch in on a group gift card. That way, the amount is greater, and your trainer can enjoy something really nice.
2. Customized barn gear.
This one takes a little more planning, but gear with the barn or business's logo would make a truly special gift for your trainer. It can be difficult to secure the vector form of the logo. See if anyone at your barn has design skills and can help. Some local embroidery shops can help with that as well. Once you have the vector file, you can print it or embroider it on just about anything, from hats, to sweatshirts, to saddle covers, and more!
3. Travel cup.
Horse trainers are always on the go. Gift them something they can take along on all their adventures like a travel mug or beverage container. Better yet, get one customized with barn colors or logos. Drink containers like Yeti, S'well, Hydro Flask, and others can help prevent beverages from spilling. They also do a great job at keeping your cold drinks cold and hot drinks hot. They can be super stylish, too! They're great for horse shows or just for working around the barn.
4. Picture frame.
If you and your trainer share special memories, gift a picture frame with a photo from one of your favorite memories together. Maybe it's from a horse show where you reached an important goal or from a long time ago that can remind your trainer of how far you've come together. Another great option is a digital frame.  A digital frame allows multiple people to contribute photos that rotate, so your trainer doesn't have to display just one image. Digital frames have large storage capacities, so you can continuously add to the photo collection as your memories together grow.
5. Magazine subscriptions.
There are so many equestrian publications your trainer would love flipping through. But it's something they often choose to not buy for themselves. Do some research on which publications are most relevant to your trainer's interests or discipline, and gift them a year's subscription to the magazine. Most publications now offer online subscriptions, as well. This allows subscribers to access and read even when they are on the road and can't collect their mail.
6. Homemade baked goods.
This is something that won't break the bank and will be much appreciated. Put your baking skills to the test, and whip up your own cookies, brownies, bread, or anything you think your trainer would enjoy. There's nothing like a homemade recipe, and your trainer is sure to enjoy it. People tend to appreciate the effort taken to bake something special as well. See some recipes for inspiration here.
7. A group gift.
Has your trainer been wanting to make a big purchase lately? If there's something that's beyond your price range as an individual, get the whole barn involved. Together you can make a big contribution toward what your trainer wants or needs. Maybe it's time for a new helmet, a great new piece of equipment for the barn, or a big item for your trainer's home. Try to get a good understanding of what your trainer really wants or needs this season, and if you can't quite pinpoint it, defer to a gift card, listed in #1.