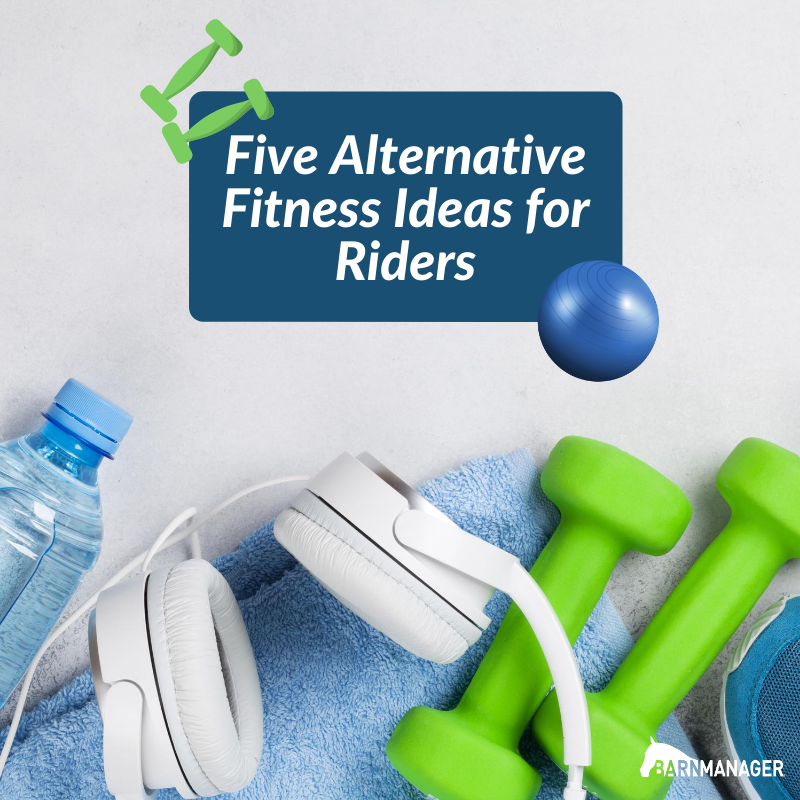 Anyone who has ridden a sport horse can make the powerful argument that what we do is, in fact, a sport. We laugh off those who say the horse does all the work because we truly know what a full-body workout it can be and the strength and conditioning required to execute the sport successfully.
But even the fittest of riders need to complement their riding with other forms of exercise. Football players do yoga to keep them balanced and focused. Why shouldn't riders work on outside exercises that aid them in their riding? Many riders already know their preferred workout method, but if you're not sure where to start, here are some ideas to expand your fitness routine outside of the saddle.
1. Pilates
Known for targeting specific muscles and utilizing smaller movements in order to strengthen the whole body, Pilates can be a great workout option for riders looking to gain strength all over. Small, repetitive movements can help solidify muscle memory and help stabilize your muscles to be a stronger and steadier rider. Many Pilates studios are offering online classes. You can also find outdoor pop-up classes near you that foster social distancing and follow COVID-19 safety protocols.
2. HIIT
Any hunter/jumper rider knows the feeling of exiting the show ring completely winded, after a very intense, but short, two-minute workout. It's hard to build endurance for those high-intensity moments since we can't really replicate them outside of a show environment. That's where High Intensity Interval Training can be your best friend (or worst enemy, depending on your workout style). Many gyms and trainers are offering virtual HIIT classes that help athletes get their heart rate up, recover, and repeat. These exercises feel like a ton of work. But they will increase your fitness level to a point where those jumping rounds will feel like light work.
3. Yoga
Though the exercises in yoga don't translate directly to what you do when riding, the benefits of yoga are evident in many aspects of the sport. Riding is a mental sport, and being strong mentally is often equally as important as being strong physically. Yoga helps to center your focus, relax your body, and prepare you to take on challenges that lie ahead. It also focuses on strength and stretching, leaving you more nimble and easing any pain or tension that may keep you from performing your best. Yoga can improve your balance as a rider, as well, keeping you centered during tough situations. Horses also benefit from balanced riders, helping to resolve any imbalances the horses may have themselves.
4. Cycling
We all know the value of a strong leg and solid core for helping your horse effectively use its hind end and jump clear rounds. Cycling is an excellent exercise to help strengthen your leg muscles and engage your core at the same time. Because it's such a high-intensity workout, cycling is a great way to get your cardio in. This will also help to increase your endurance in the saddle. Though cycling studios are mostly closed due to COVID-19, there are many ways to get stationary bikes set up in your own home, or you can buy a street bike that you can ride (safely, of course) through the hills of your city or town. Pro tip: after an intense cycling session, practice stretching deeply down through your heels with your feet in the "stirrups." This will loosen your calf muscles and help you keep your heels stretched down next time you sit in the (real) saddle.
5. A personal fitness trainer
Doing the same workout every day or not knowing what workouts are best for your goals are common issues for athletes working without supervision. Personal fitness trainers are now more accessible than ever, so if you have specific goals that you're not sure how to achieve, look into working with an expert. It doesn't have to be a long-term commitment; many trainers will teach you work-out circuits to implement on your own, after learning how to do them properly and safely. Though personal trainers are on the more expensive end of workout options, their expertise can be priceless. So if overall fitness is an ultimate goal of yours, do some research about personal fitness trainers that have experience in training equestrian athletes.
Have questions about utilizing BarnManager or want to give it a try for yourself? Request a live demo here!