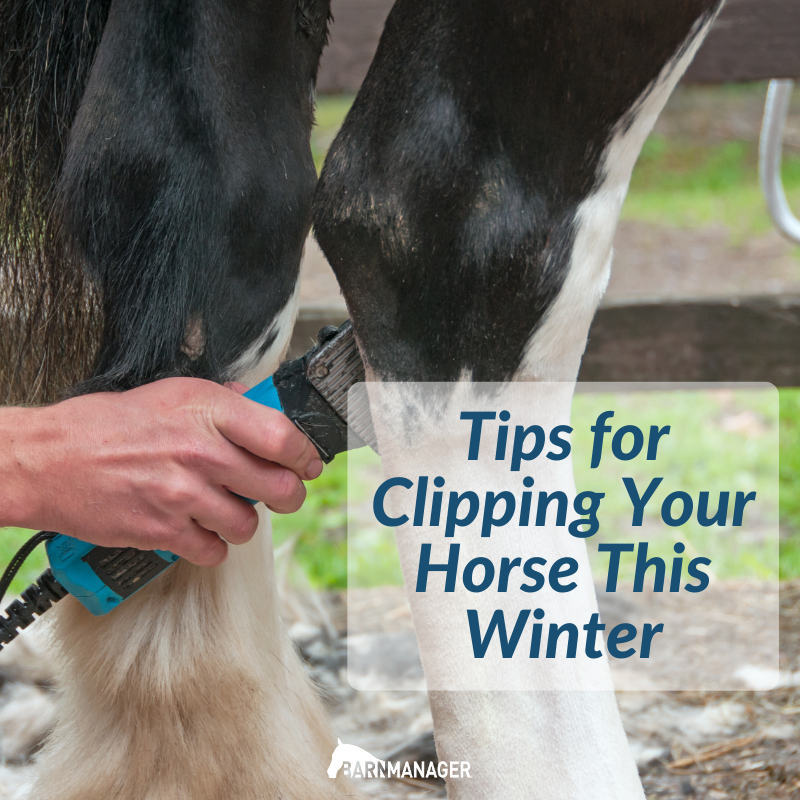 February is a tough time of year for those in colder climates with low temperatures and few signs of spring, making it feel like winter will last forever. If you are still competing with your horse, or your horse has accumulated too much hair, it may be time for another clip. BarnManager is here to provide a few tips if you want to take on the clipping process yourself.
Wear old clothes you don't care about.
The last thing you want is to wear clothes you really like and have them forever covered in horsehair, despite multiple washes. It's a good practice to have a devoted "clipping outfit" you can turn to every time. Don't even think about wearing your favorite breeches or a favorite outfit to clip your horse. Aim for old t-shirts and sweatpants that will keep you warm but you're also willing to sacrifice to horsehair overload.
Replace dull clipper blades.
Arguably the most frustrating part of clipping is when your blades don't smoothly cut through the hair, leaving rough patches on your horse's coat. Examine your clippers ahead of time and replace any blades that are no longer sharp, so you don't have to deal with swapping them out on the day you decide to clip.
Clean your horse to the best of your abilities.
If weather allows, or if you have access to warm water, give your horse a thorough bath. Excess dirt will clog up your clippers, so a clean horse is your best friend when clipping. If it's too cold to bathe, spot clean and groom thoroughly.
Allow time for breaks.
Anyone who has clipped a horse knows patience can run thin when clipping a full body. Even the most tolerant of horses can get bored and anticipate their turnout time or dinner time. The clippers can also overheat, becoming uncomfortable for the horse and causing bad behavior. Take a long break between clipping sessions if your schedule allows to minimize unwanted behavior from your horse and wear-and-tear on your clippers.
Know which type of clipping is best for your horse.
Depending on the horse's job, turnout situation, sweat level, and blanketing, the best clip for each horse varies. See a rundown of the different types of clips here.
Start large and clip against the grain.
Begin with large, flat surfaces like the shoulders and barrel, and always clip in the direction opposite the way the hair grows. It can be tricky as the pattern of horses' hair goes in different directions on different parts of the body but doing this will help you achieve a consistent length throughout. Pro tip: pull the skin out from crevices to avoid having patches of unclipped hair on the legs and face.
Keep your blades clean while working.
No matter how hairy the horse, clipper blades will fill with hair and dirt and become less effective. It's important to keep them clean so the blades have the chance to cut through the hair evenly as you go through the whole body. Use rubbing alcohol to clean and an aerosol product to keep your clippers cool as the clipper motor starts to get hot.
Eliminate lines by going back over your work.
It's painful to step back and take a look at the final product only to see lines across your horse's body from the clipper's edges. There's an easy way to fix this. Take the clippers and go in a crosshatch pattern where there are lines, still working somewhat against the grain but working in different directions.
If you find yourself clipping your own horse this winter as we anticipate the entrance of spring, be sure to follow these tips and always be smart while you are up close and personal with your horse. Though it can be a laborious process, the final product is so satisfying when you see your horse freshly clipped and ready for the spotlight.