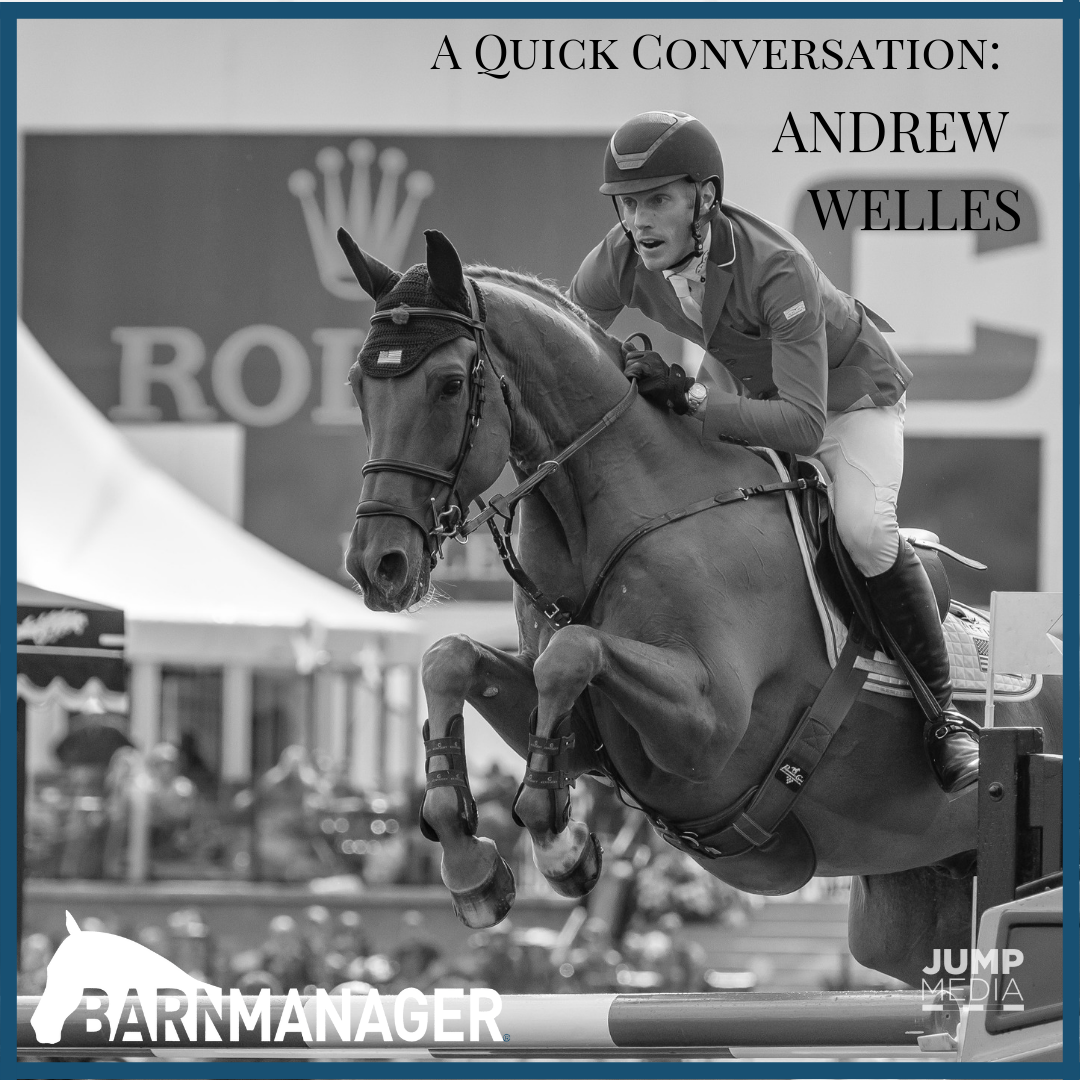 A Quick Conversation: Andrew Welles
Each month, the BarnManager team is sitting down with accomplished riders from across equestrian disciplines to learn more about how they got their start, their typical days, their biggest advice, and more!
An up-and-coming star in show jumping, Andrew Welles is known for developing horses to the grand prix level. He jumped on the U.S. team in September 2018, when he rode Brindis Bogibo in the FEI Jumping Nations Cup™ CSIO5* Calgary during the Spruce Meadows Masters tournament. With Brindis Bogibo, he also claimed top-10 finishes in the $135,000 Longines FEI Jumping World Cup™ Columbus (OH) in 2018 and the $134,000 Equinimity WEF Challenge Cup Round 9 and the $210,000 Longines Grand Prix of Palm Beach Masters during the 2019 Florida season.
Andrew's first star horse was the diminutive mare Boo Van Het Kastanjehof. They placed in the top ribbons consistently during the Winter Equestrian Festival (FL) and at the Tryon International Equestrian Center (NC) from 2011 to 2017. In 2013, they were second in the $100,000 Wells Fargo Grand Prix of Devon (PA).
Andrew, 31, grew up in Minnesota, but moved to Wellington, FL, at age 16 to further his riding career and worked for Missy Clark and Chris Kappler before going out on his own at age 22. Now Andrew and his wife, Alexandra, run Andrew Welles LLC out of Wellington, FL.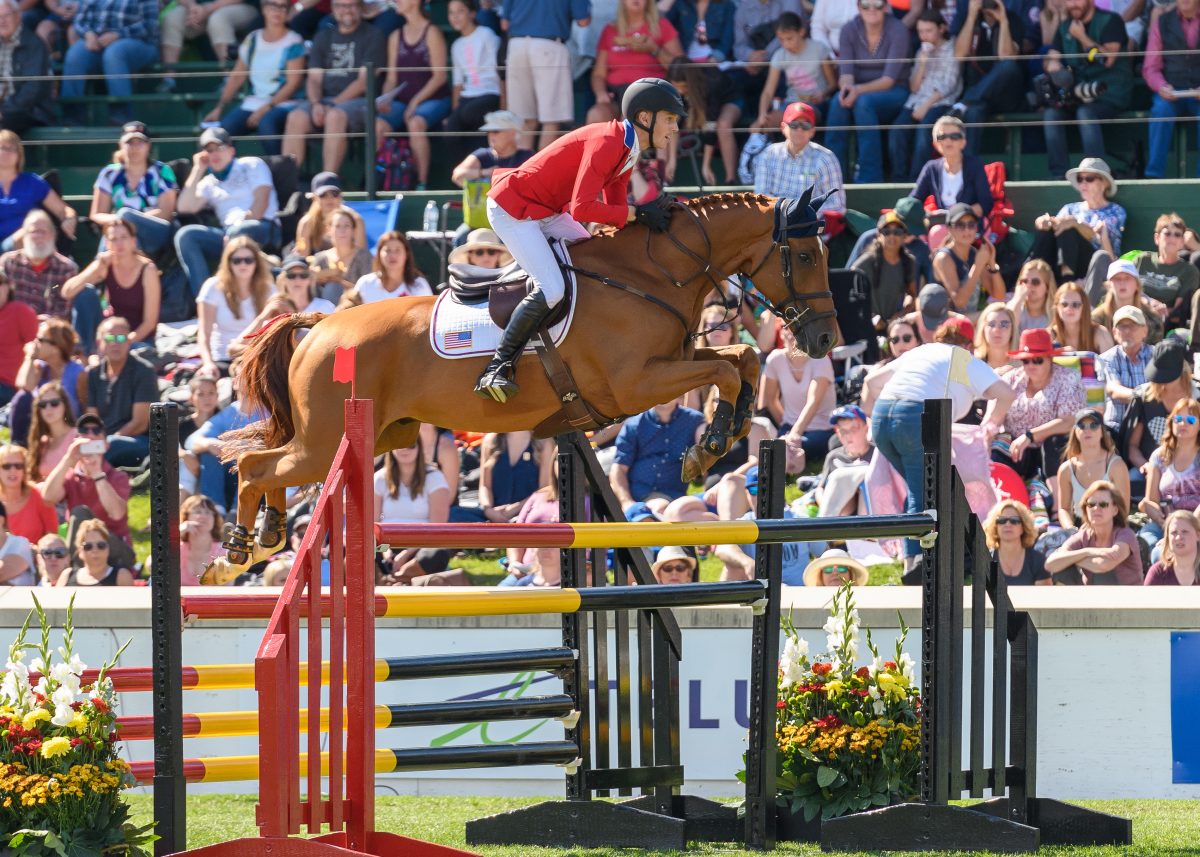 Q: What's the biggest challenge in being a young show jumping professional, and how do you deal with it?
This is a hard question to answer! There are many challenges, but at the top of my list though would be time management. There are so many demands that often there aren't enough hours in the day. I have learned that it is important to have good human resources skills so you can surround yourself with the best people and then you are able to delegate when appropriate. Sometimes the most productive and important time you spend is the time not on a horse.
Q: What horse has made the most impact on your career and why?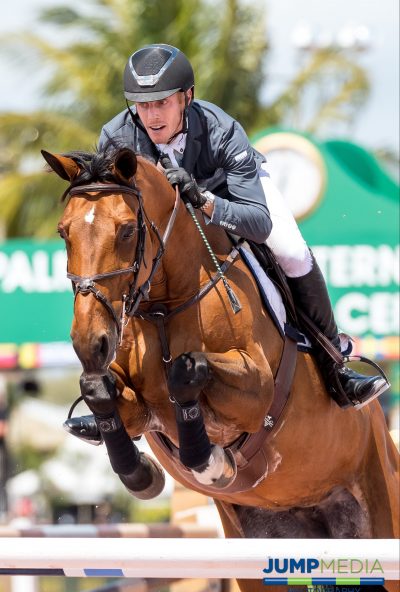 Boo Van Het Kastanjehof. She kept me relevant in the sport for the better part of eight years. I owe the horses that I have under me now to her work!
Q: Who is a mentor for you?
Chris Kappler has had a big influence in my career, both as a rider and in stable management.
Q: What's one thing you work to fix in your own riding and training?
Focusing on producing the best canter to the fence instead of becoming consumed by looking for a "distance".
Q: What's your biggest challenge in managing your barn?
Keeping up on the organization that comes from the communication with all of the vendors, farriers, vets, supplies etc.
Q: What quality do you value most in a horse?
Heart—the horse has to understand what you are asking and want to do it.
Q: What's your biggest mental struggle in your riding?
Focusing only on the next jump I have to jump, not on all of the other things that my mind has to keep track of.
Q: What do you do in your barn routine to make sure your horses are happy?
Have time out of their stalls. They get turn-out in the morning, grazing when drying after a bath, and then they graze again in the afternoon. I also find ways to work them occasionally on the trails so they get out of the ring.
Q: What's your favorite non-horse activity?
Anything sports-related!!
Q: What horse competing now would you like to ride if you could?
Big Star has always been my favorite, but for one currently competing, I'd choose Explosion W or H&M All In.
Photos by Jump Media