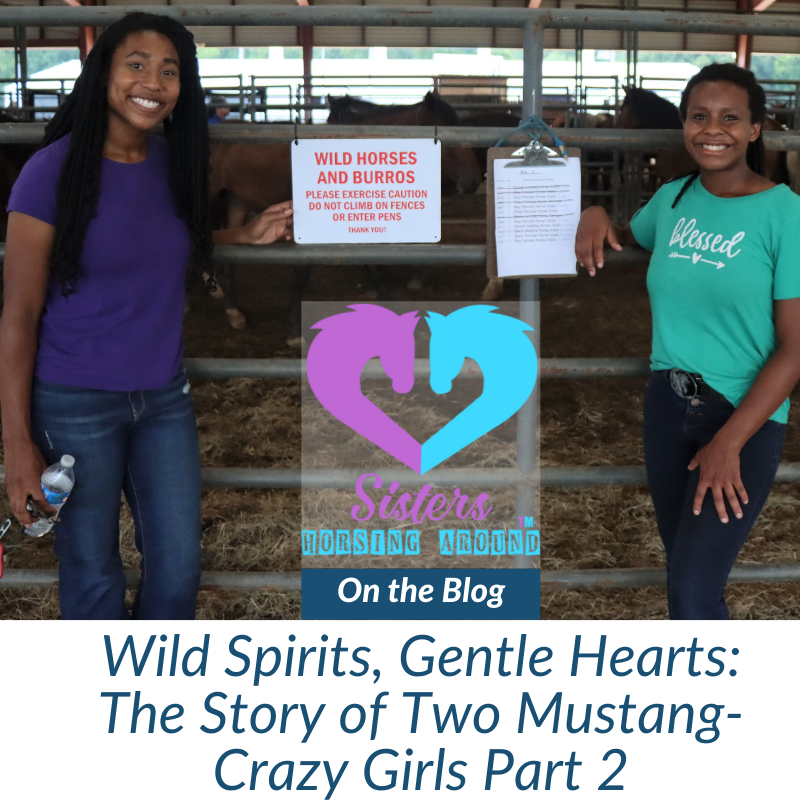 Part Two of Wild Spirits, Gentle Hearts: The Story of Two Mustang-Crazy Girls
Part Two of Wild Spirits, Gentle Hearts: The Story of Two Mustang-Crazy Girls
By Emily and Sarah Harris
Ever since we were younger, it was our dream to adopt a wild mustang. "Spirit: Stallion of the Cimarron" was our favorite movie. We wrote books about wild horses and played games about them. We watched documentaries about the wild mustang stallion Cloud and watched the movies "Wild Horse, Wild Ride," "Wild Horse Redemption," and "500 Miles." In 2016, we met the winner of the 2014 Youth Extreme Mustang Makeover, Kirsten Mew, at an event, and she shared encouraging words about training mustangs. Every year we would look at the Bureau of Land Management's Mustang auctions, always hoping that one day… just maybe… we would bring one home.
This year our childhood dreams became reality.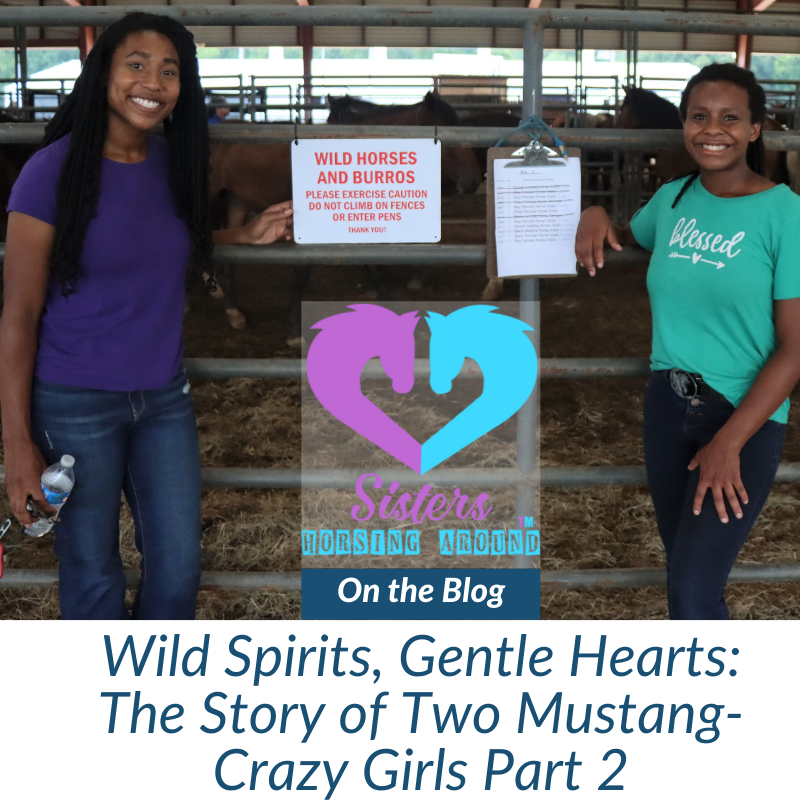 From Emily:
Finding a Filly
When the online auction started, we had already picked out several favorite horses that we wanted to try to bid on. The auction lasted a week with bids being placed on the horses throughout that time. There was a two-year-old sorrel filly that was approximately 14.2 hands that Sarah liked. We bid on her and got into a mini bidding war, but we came out on top with the winning bid of $205! We lost a bid on another mustang as her price was beyond our budget. There were horses whose bids had skyrocketed upwards of THOUSANDS OF DOLLARS, which was WAY out of our price range.
With minutes left on the clock, we searched for another mustang to bid on, but by this time the pickins were very, very slim. Then we found her, a sweet looking two-year-old brown filly. She was a hand shorter than the one we were winning, but she was quite the looker! We placed our bids and waited. Another mini bidding war ensued. With only seconds left on the clock, we waited in pure suspense. Our web browser's refresh button probably felt like a tennis ball getting whacked by a racket with how many times we clicked that button. 3…2…1… game over. WE WON! The little filly was ours for $110!
To say we were relieved would be such an understatement. We melted in our seats and let out all the built-up tension. It was happening; our dreams were becoming a reality. Now all we had to do was get them home.
Picking Up Our Mustangs
The closest pickup location for the mustangs in that auction was at an in-person BLM Adoption Event three hours away from where we lived. In addition to being a pickup location for horses sold in the online auction, the Adoption Event featured other horses and burros, all of which are unhandled and untrained, available for the public to adopt or buy for a flat price of $25.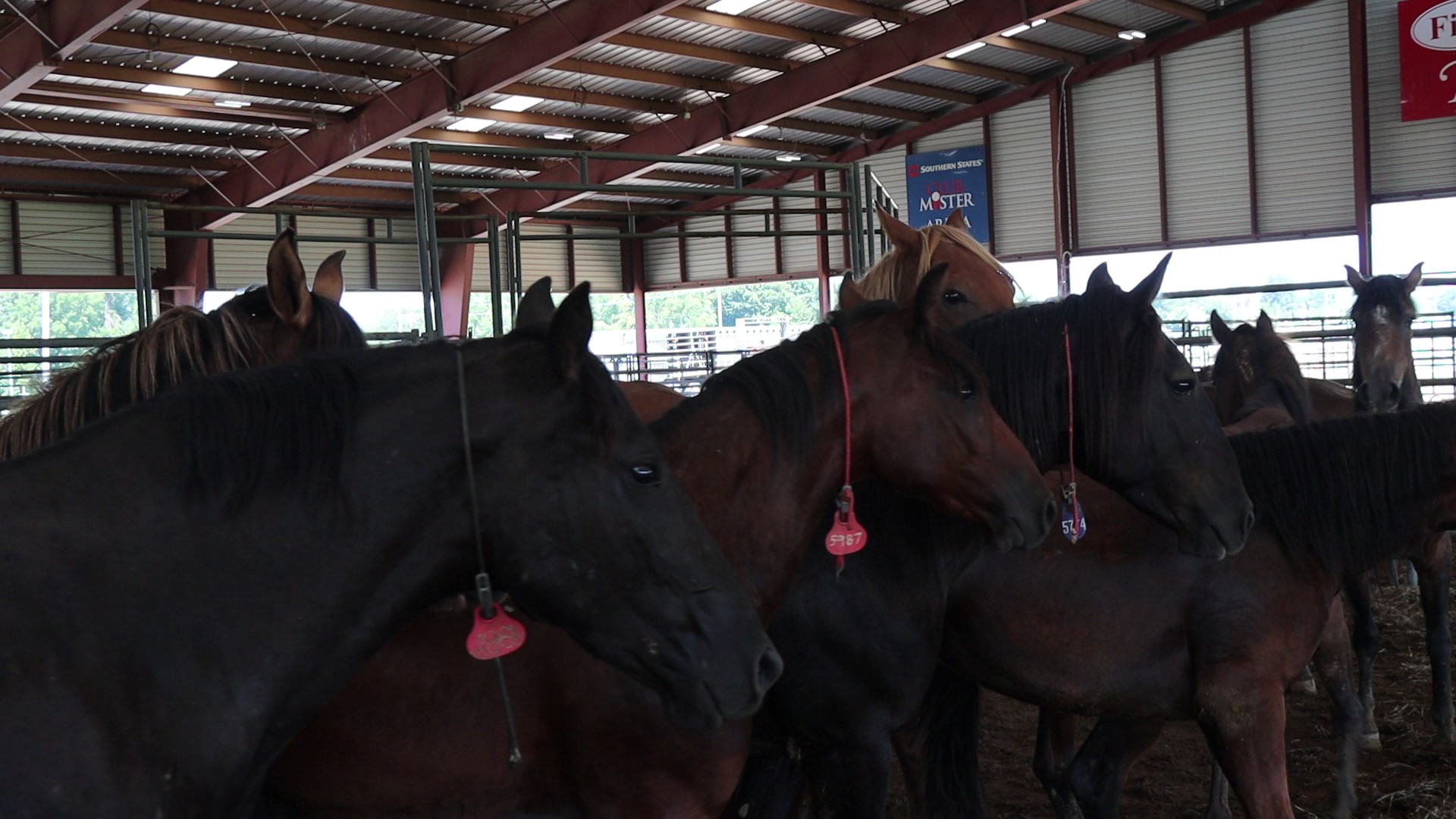 The event was held at The Meadow in Doswell, Virginia, which was also the birthplace of legendary racehorse Secretariat. When we arrived, we immediately set out to find our two mustangs. Our hearts melted as we entered the huge covered arena where the event was taking place. Holding pens full of the sweetest faces you've ever seen were looking around, wondering what on earth was going on. Despite the many people milling around, the mustangs were calm and watched with curiosity. There were bays, paints, sorrels, blacks, buckskins, creams, duns, greys, and roans.
Since we weren't told where our mustangs were, finding them was like looking for a needle in a haystack. Each holding pen had a clipboard listing the horses' tag number, age, color, sex, and state of origin. It wasn't long before we laid eyes on the first filly that we had won, confirmed by the tag number around her neck. We found our adorable sorrel filly in a pen full of sassy youngsters milling around her like a merry-go-round. She was the cutest little thing!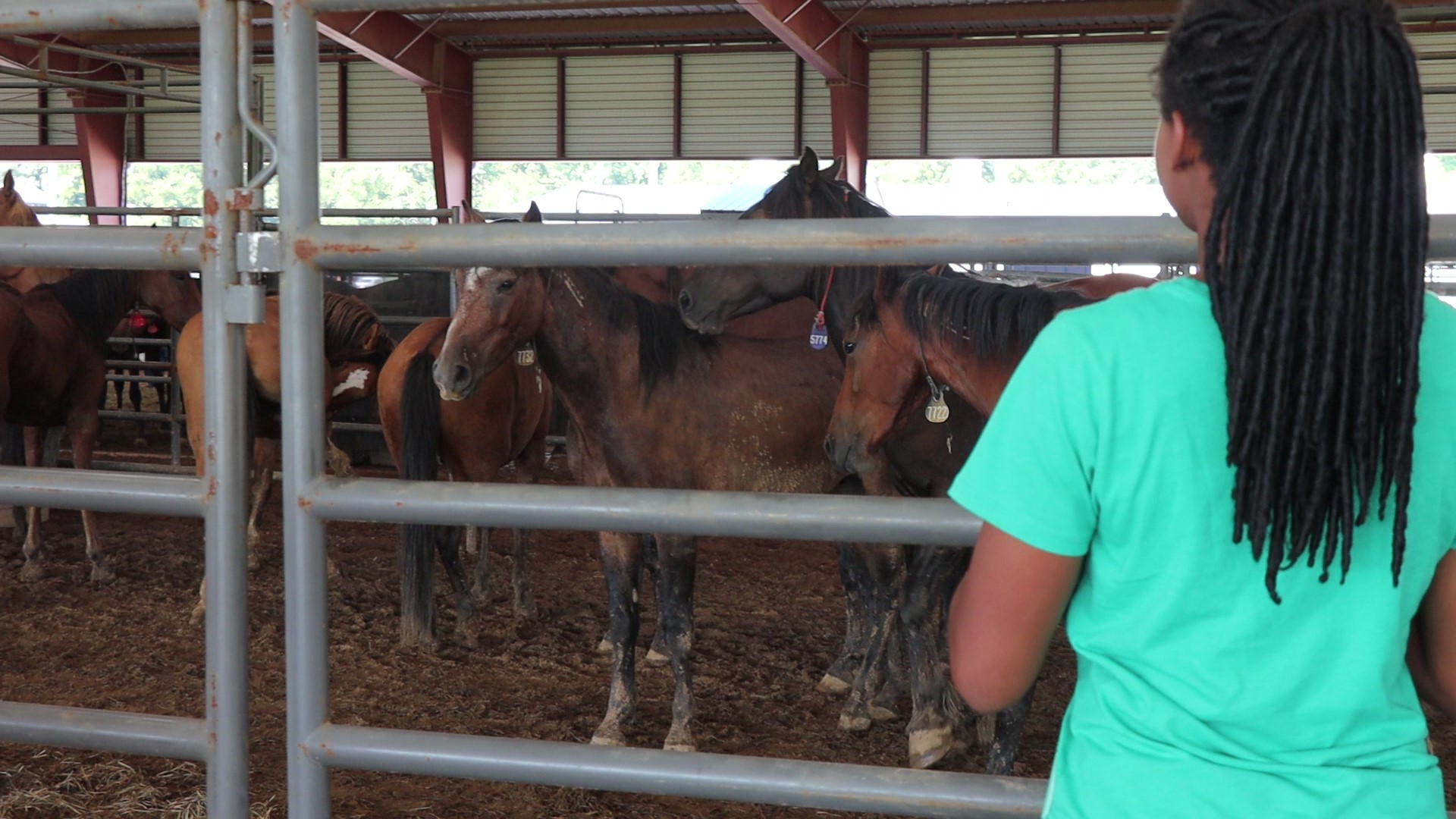 A Change of Plan
Now that we had found our first filly, it was time to find our second one. We walked around the pens, scanning them as we passed by and finally found her. She had a very distinct Andalusian-like body that stood out in the crowd of horses around her. We were beaming, until a large unsightly lump on her stomach caught our eye. Our excitement was dashed like a kite being struck by lightning. We stared in disbelief at her stomach. Could it be her? Or were we mistaking her for a gelding? Nope, her tag number let us know it was her, but the lump bulging out of her stomach looked very concerning. Something was wrong. It could be a hernia, or it could be worse: cancer.
We knew that once we signed off on her, we would instantly be responsible for her medical care. If there was something seriously wrong, then we might be in for potentially costly medical expenses right off the bat.  Disappointed, we decided to pass on getting her and looked for another mustang. Saddened, we shuffled back to our first filly's pen and tried to come up with a game plan.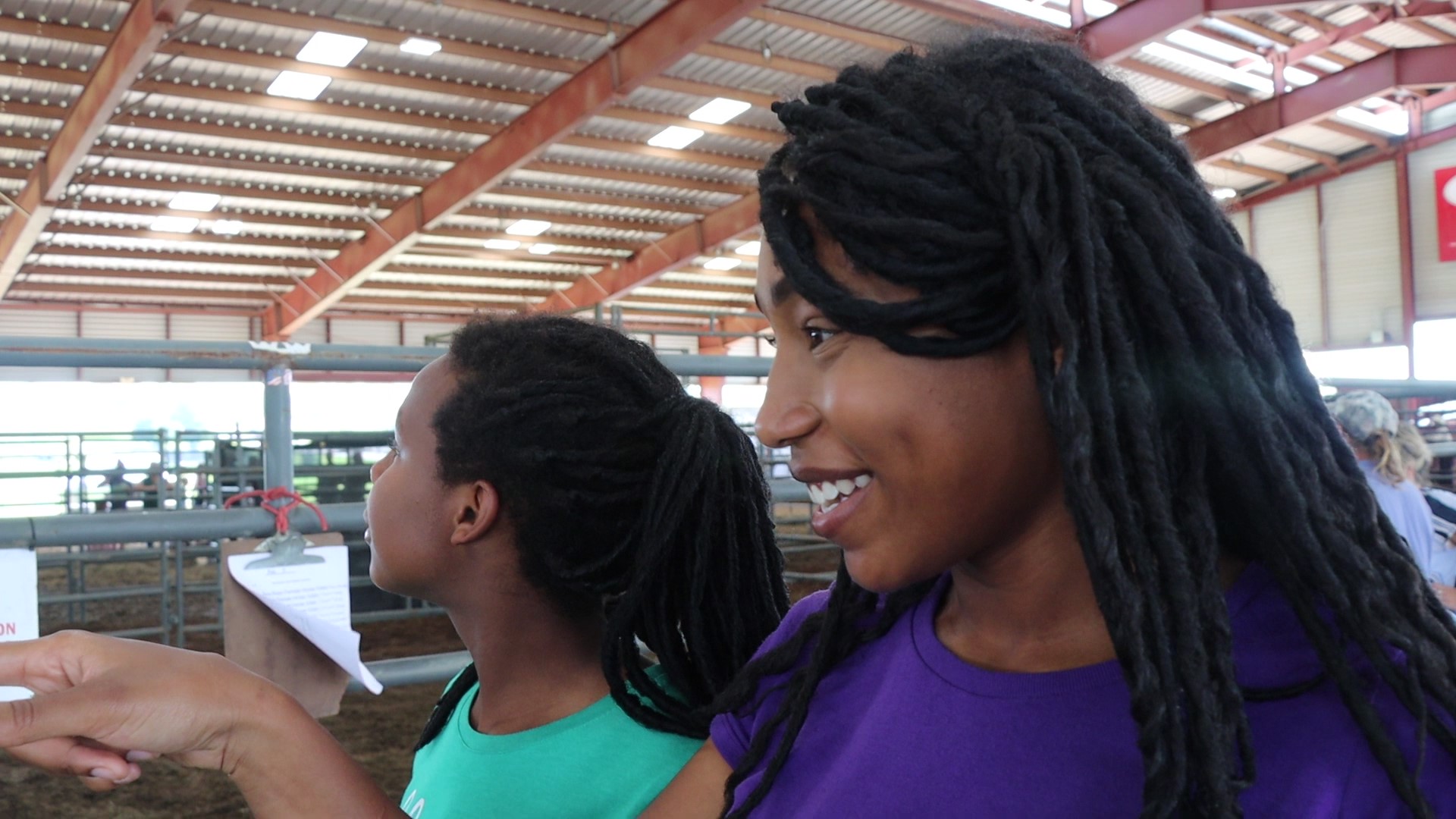 Stay tuned for Part 3 coming soon when Emily and Sarah find their final mustang and bring them home!
Find out more about the Bureau of Land Management Wild Horse and Burro Adoption and Sales Program on their website: https://www.blm.gov/programs/wild-horse-and-burro/adoptions-and-sales.
Have questions about utilizing BarnManager or want to give it a try for yourself? Request a live demo here!