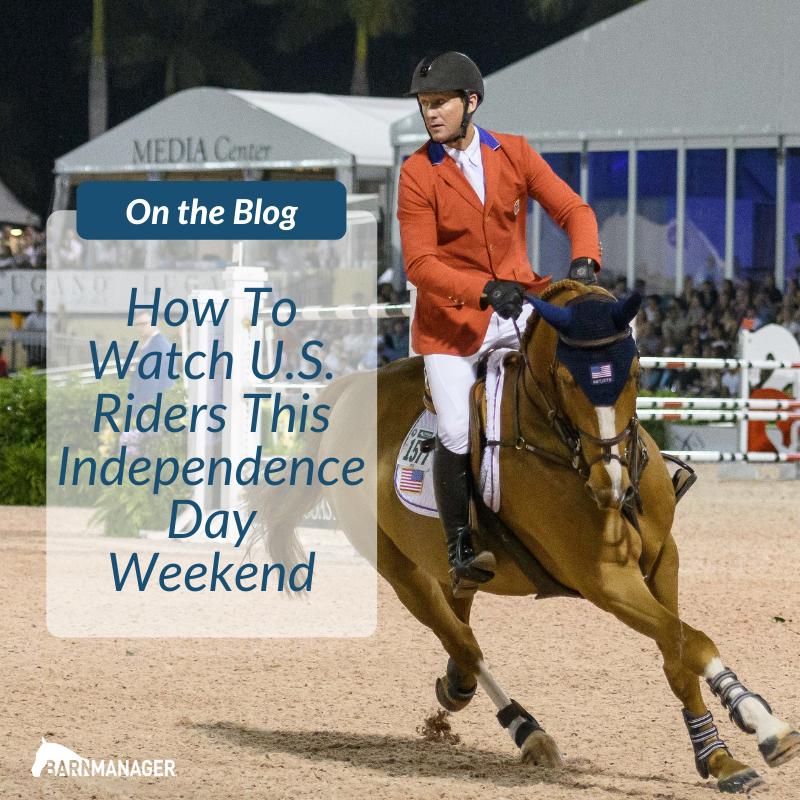 It's officially July, which means the Olympics are less than a month away. The United States has now named its teams for Eventing, Dressage, and Para Dressage. Chef' d'Equipe Robert Ridland has yet to narrow down his shortlist of show jumpers. They have one final weekend to put on their best performances for the selection committee. Since this weekend is the 4th of July, there's no better way to celebrate than by watching American riders contend for a coveted spot on the team at the various observation events happening in Europe.
The United States Dressage team will be Adrienne Lyle, Steffen Peters, Sabine Schut-Kery, and Nick Wagman, while Boyd Martin, Liz Halliday-Sharp, Phillip Dutton, and Doug Payne will represent the United States on the Eventing Team in Tokyo. The Para Dressage Paralympic Team will consist of Beatrice De Lavalette, Rebecca Hart, Kate Shoemaker, and Roxanne Trunnell. The show jumping team is the final team to be selected to represent the United States in 2021.
Spend your holiday weekend cheering on the U.S. show jumpers from afar as they compete at the following international competitions.
CHIO Rotterdam
In the Netherlands, CHIO Rotterdam is underway with the FEI Jumping Nations Cup on Friday, July 2, which can now be streamed on demand on FEI TV and ClipMyHorseTV. McLain Ward, Beezie Madden, Adrienne Sternlicht, and Lucy Deslauriers jumped for the U.S., landing them in seventh place. All other jumping classes at CHIO Rotterdam can be viewed on Horse & Country's streaming platform, H&C+. On Independence Day, watch the Longines Grand Prix of Rotterdam CSI5*. U.S. riders will compete individually for the title and potentially a spot on the Olympic team.
The Royal Windsor Horse Show
Happening simultaneously is the prestigious Royal Windsor Horse Show in the U.K. Here, U.S. riders Kent Farrington, Laura Kraut, Brian Moggre, and Jessica Springsteen are contending for a spot on the team. The feature event will take place on the 4th, so grab your patriotic snacks and tune in while you celebrate. The entire event can be streamed for free on the Royal Windsor website and on demand via ClipMyHorseTV, plus Facebook Live for select classes. H&C+ will also be streaming a replay the €500,000 Rolex Grand Prix on Sunday, July 11, if you miss the live event.
Ones to Watch
Though all shortlisted riders have incredible accolades to their names, some have been on fire in recent events. 19-year-old Brian Moggre is fresh off a win with Balou du Reventon in the Sopot Grand Prix CSI5* in Poland. Teammate Lucy Deslauriers finished second, just behind Moggre, with Hester. Kent Farrington and Gazelle recently topped the Hubside Grand Prix CSI5* with a blazing fast jump-off. Jessica Springsteen took home the win the week prior in the Hubside Grand Prix CSI4* with RMF Tinkerbell.
McLain Ward was named the Leading Rider at Knokke Hippique CSI5* last week after showing incredible consistency across the entire event. He also snagged a win with HH Azur in the Old Salem Farm Grand Prix CSI3* and jumped a double-clear for the U.S. in the Nations Cup of Rome with Contagious. Laura Kraut had a stellar performance at LGCT Valkenswaard, taking the win in the Global Champions League of Valkenswaard. She also recently took home an impressive second place in the Grand Prix of Rome CSI5*.
It will, no doubt, be a tough choice for show jumping Chef d'Equipe Robert Ridland as he watches the top U.S. show jumpers put forth their final effort in these competitions this weekend. Grab your watermelon, crank up the grill, and get ready to watch some incredible international show jumping. It is sure to be a preview of the excitement to come in Tokyo in a few short weeks.