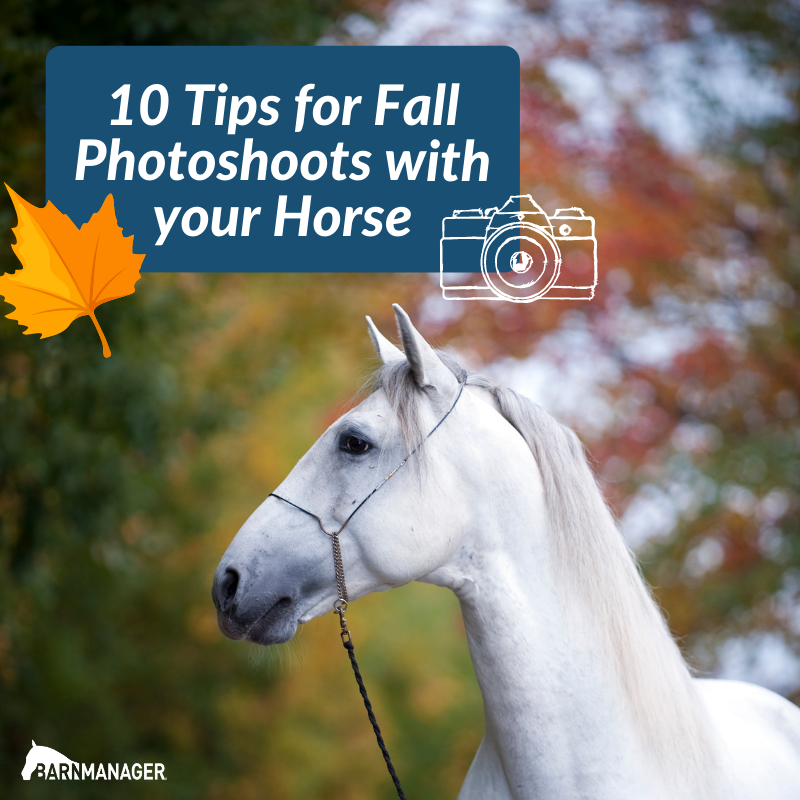 Fall is a great time of year for photo shoots with your beloved horse. Not only is the weather such a nice temperature in most parts of the country, but the foliage is so beautiful it just demands to be photographed. Follow these tips if you want to schedule a photo shoot this fall!
1. Head to social media to find a great photographer near you.
Photographers like to share their best content on their social accounts, so browse through a few to pick the style you like best, choosing from those who can easily come to you. Asking in Facebook groups is another good strategy; photographers will often comment, and you can quickly check out their work to see what you like best.
2. Look at the weather for the week to minimize your chance of rain.
This can get tricky if you plan too far in advance. The worst thing is to schedule a photo session and have the rain come pouring down at that exact time. It doesn't need to be bright and sunny, but try to look ahead as best you can to avoid rainstorms when scheduling your session. Most photographers will gladly reschedule in the case of rain.
3. Do your research to find out when the foliage will be at its peak where you live.
Each area starts showing signs of fall at different times. If the reds, oranges, and yellows of the fall season are important to you, look up online when your area's fall colors will be the brightest and try to schedule in that time frame. If the leaves don't change color in your area, you have much more flexibility.
4. Wear clothes you don't mind getting dirty!
Not only will you be subject to the dirt that comes with being around horses, but sometimes photo shoots can be laborious, especially if your horse is a handful. Wear something easily washable, as you may end up with some green slobber or a little sweat on your clothes.
5. Try to stick with solid-colored clothes.
This is important if you're aiming for a colorful background, but often busy, patterned clothing can overwhelm an image. Pick a hue that complements your horse's coat, and avoid bright hues, as sometimes these can become oversaturated if you want to enhance the background colors.
6. Groom your horse really well.
This may seem obvious, but arrive early to make sure your horse is as clean as possible. This is especially important for white and grey horses; try to clean them up as if they're going to a horse show.
7. Aim for late evening for the best lighting.
The sun will be setting earlier in the fall, so pay attention to what time the sun starts to dip behind the trees each evening. You can still take lovely pictures even after the sun has set.
8. Identify the prettiest spots around your farm ahead of time.
The light won't last long, so you don't want to waste any time pondering where to head next for more photos. Pay attention to the way the light hits in certain locations on your farm during the later evening hours. Your photographer can also help you determine which spots are best but try to have a few in mind before the session begins.
9. Bring peppermints with you.
Not every horse is going to naturally find something to occupy its attention while you take pictures. If your horse tends to be more difficult to entertain, give the photographer (or a third person) peppermints in wrappers to crinkle to get your horse's attention and ears forward.
10. Lastly, smile!
The best horse portrait sessions really capture the unique bond between horse and rider, so try to show off your love for your horse and how happy he or she makes you. Go for some cute poses, funny shots, and affectionate ones, as well. Hopefully, it will be a fun experience with beautiful photos you can treasure forever!