Working student positions can be wonderful opportunities for young riders to get a taste of the equestrian industry. This type of job can often differ in expectations, duties, and benefits so it is necessary to understand all of the details before agreeing to the position. Continue reading for a few crucial points to understand and discuss before taking on a position as a working student.
Type of Barn
It is important to think about the type of barn you would like to work for when you start the working student job search. Farms of all levels and disciplines often offer working student opportunities. While some people may want to work for a top hunter barn that travels to shows every week, others may prefer working at a facility with a busy lesson program or pony camp. If you are unsure about what type of farm you would like to work for it may be best to talk to several to get a feel for what seems most beneficial for you.
Responsibilities and Training Opportunities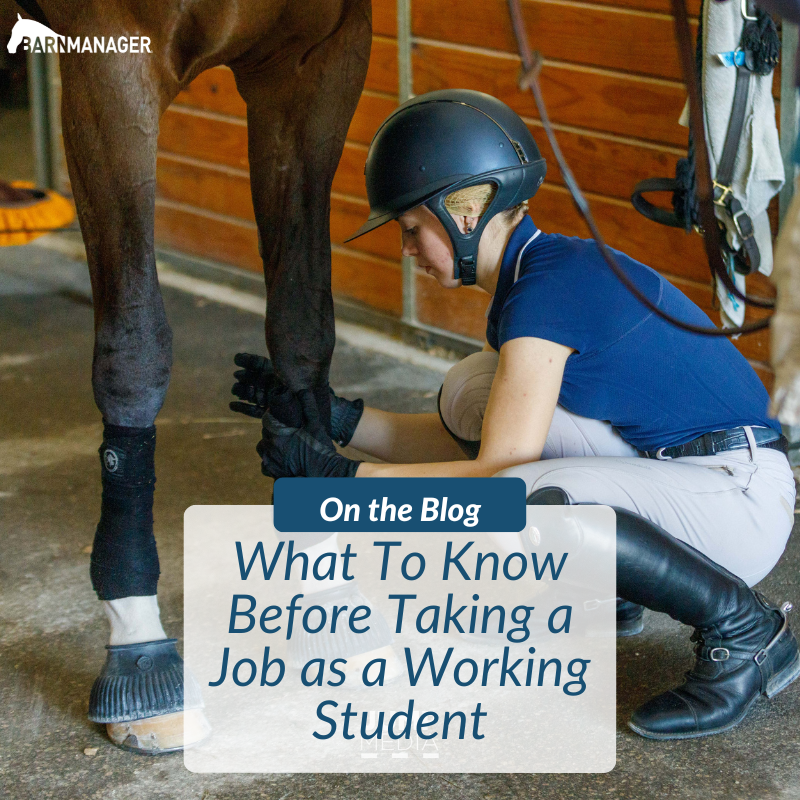 Similar to any job, it is necessary to be clear on what your job duties will be before accepting a position. Since some working student jobs require prior experience and others do not, be sure you can handle all of the tasks your employer expects you to complete.
Although working student positions often include training, you need to be honest about your level of experience. If you are talking to a trainer about a working student position and the tasks seem beyond your abilities, make sure you are upfront about what you are capable of doing. Do not agree to do jobs that you are not able to successfully complete. Employers are often open to teaching working students, but it is important to have the discussion ahead of time.
Riding Opportunities
Some working student jobs offer riding opportunities while others do not. Be sure you are clear about whether or not riding will be part of the job, especially if this is important to you.
Payment
Working student jobs are not always paid positions, and it is important to know that upfront. This is often dependent on the employer, level of experience, type of position, and length of time. Another important topic to discuss is housing if it is something you would need. The employer may provide housing if it is a longer-term situation such as a job during an entire winter circuit. Some barns may offer a small stipend and more riding opportunities as payment. This is an important factor to know ahead of time so you can plan accordingly.
Travel
If you take a job at a show barn it is necessary to ask about their travel schedule and if you will be expected to go. This is especially important to ask about if you are still in school or have other responsibilities. Make sure you will have housing and travel expenses covered if you are expected to attend horse shows.
Working student positions can give young riders a behind-the-scenes look at what it takes to run a barn. Make sure the farm is the right fit for you so that you can get as much out of the experience as possible.
Have questions about utilizing BarnManager or want to give it a try for yourself? Request a live demo here!