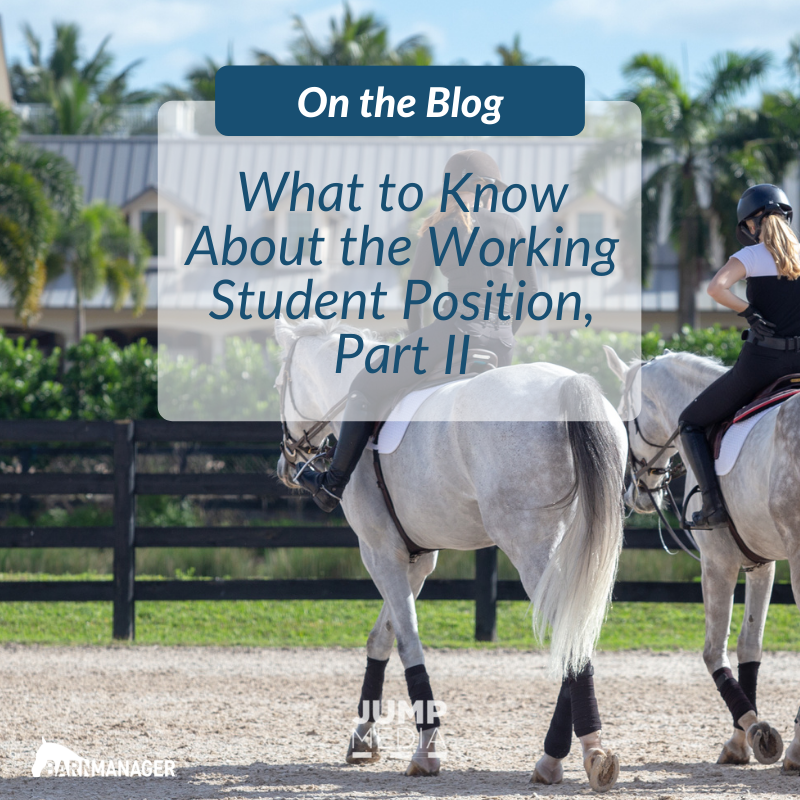 Help Wanted: You've Been Hired as a Working Student. Now What?
If you read our first blog about working student positions and how to navigate the hiring process, you may be looking for more resources on how to be a dependable working student and get the most out of the experience once you begin. Since we have had multiple working student opportunities, we are here to offer words of wisdom as you take that next step. If you have made the decision to accept a working student position, here are some things to keep in mind as you get started.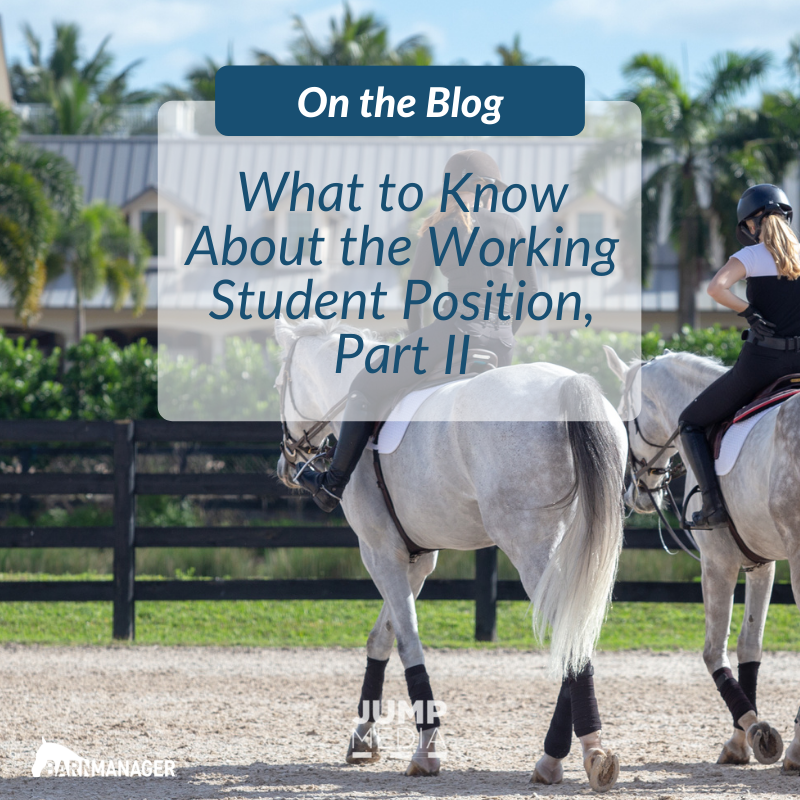 Be an Asset
Training facilities are looking for someone who is positive, hard-working, adaptable, competent, and efficient. Someone who already has experience with horses is preferred, but many facilities are willing to accept someone who doesn't have experience and will train them along the way. If you embody the qualities they are looking for, then you will become a valued member of their team.
Keeping that in mind, always strive to be an "A+" worker. Our parents taught us, "Whatever your hand finds to do, do it with all your might." Following these wise words helped us tremendously, and it will do the same for you.
Never forget that attitude is important. If you have a good attitude and are pleasant, having you at the barn will be a joy. A good attitude in addition to a good work ethic will certainly make you a valuable asset.
Be humble and quick to learn. Despite the experience and knowledge you may already have, don't act like you know everything. Be open and willing to handle tasks the way your trainer prefers, even if the process is different than what you may have experienced elsewhere. Be flexible and quick to adapt.
Pay attention to everything at all times. Some of the things you will learn are taught directly, others are caught indirectly. If you are unsure or don't know about something, don't be afraid to speak up. Ask questions to get a better understanding, because being inquisitive is how you learn.
Manage your time well. Prioritize, organize, and discipline yourself and your time. Keep a personal record of your time if the facility or trainer does not have an existing system. In your records, include when you arrive, when you start and complete major tasks, and what time you leave each workday. This record will help you and the facility keep your lines of communication open. It will also help you compare your time worked with the rewards of your labor by tracking both working hours and lesson hours.
Valuable Lessons
When you accepted the position of working student, you may have been thinking of saddle time, but don't forget school is always in session. From the time you arrive at the barn until the time you leave, there is so much to learn. As mentioned before, there will be plenty of direct and indirect learning opportunities. Being around different horses, watching the trainer teach various students, and carrying out your job responsibilities are all opportunities to learn new things.
Through your work experience, you will learn how to be quick and efficient. There is quite a bit to do from sunup to sundown. From your hands-on exposure to the different horses at the barn, you will quickly realize that not all horses are the same. There will be some that are easy to handle, compliant, and well-behaved. Others will be a test of your patience and require you to think creatively to deal with their behaviors. You will learn how to think on your feet and come up with ways to handle unexpected situations.
As a working student, you will learn so much about how to take care of horses, how to manage a barn, and how to become a better rider, but you will also learn lessons applicable to life outside of the barn, such as how to deal with people. As a working student, you will deal with many types of people that come into the barn, all of which will have different personalities and methods of working. Through these interactions, you will learn how to work with others, how to avoid issues, and how to handle conflict when it does arise.
When you consider the amount of work you put in compared to the riding instruction you receive, bear in mind these other "lessons" you will learn. It may seem like there is little reward for your hard labor, but always consider all the advantages. As a working student, you really are accumulating a wealth of knowledge.
Feeling Discouraged
As with everything in life, you will have good days and bad days. You will certainly get discouraged at some points because being a working student is a lot of work. It will get repetitive and old at times. You will get tired of dealing with some people, especially the ones who are harder to work with. There will be bad days dealing with the horses. You might even get hurt, both physically and emotionally. Mistakes happen and you may get chastised for it. It will sometimes seem like everything is going wrong and you may want to quit. You will sometimes feel unappreciated.
When it gets hard, you will need to reevaluate whether you want to continue in this position. We encourage you not to make any rash decisions when you are feeling low. Taking a break to gather your thoughts and emotions will help to process what to do next.  Also, talk to someone you can trust to share how you are feeling. Having someone listen who can offer you sound, wise counsel is very helpful at times like those. Maybe ask your boss if you can have some time off. If he or she says yes, use that time to reflect on the true importance of the experience
Last Words
Working students can be crucial to riding facilities. Many rely heavily on their working students to keep horses healthy and the facility functioning. Being a working student can help you toward your goal of becoming a better rider. If you embark on this new adventure, we encourage you to use it as an opportunity to build your resume, and then graduate with the advantage of experience.
Have questions about utilizing BarnManager or want to give it a try for yourself? Request a live demo here!