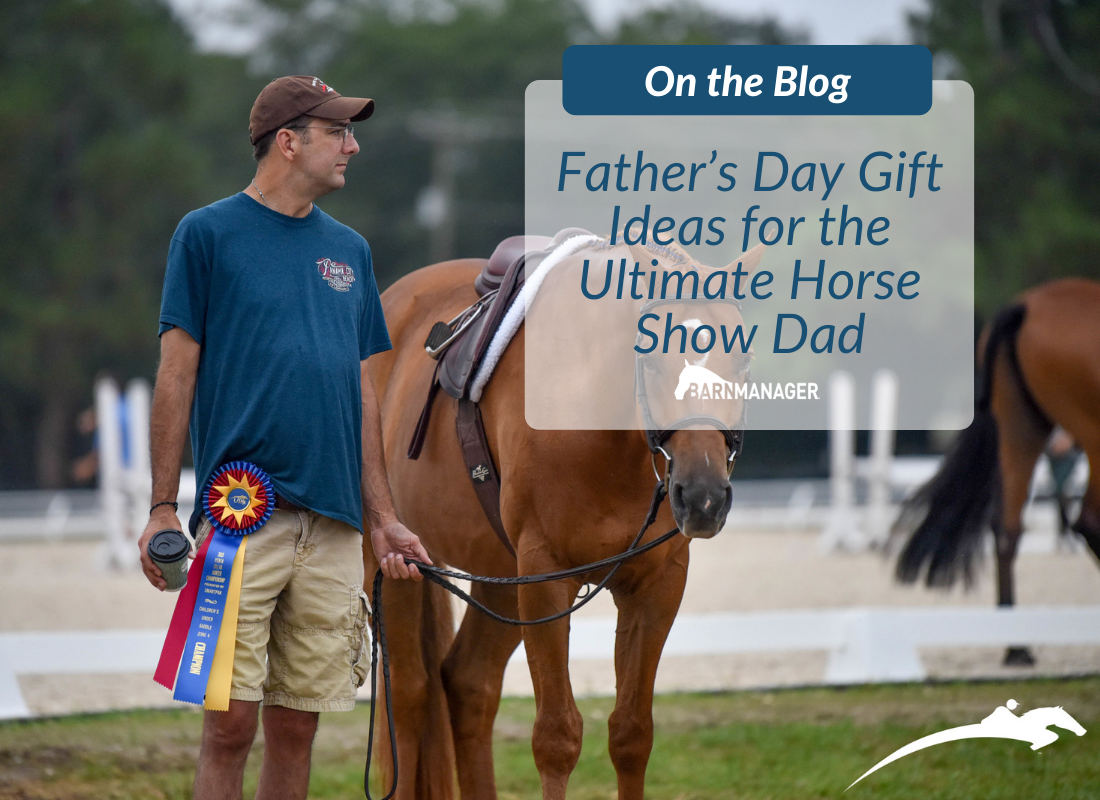 Father's Day Gift Ideas for the Ultimate Horse Show Dad
If you're one of the many who delays Father's Day shopping until the last minute, BarnManager is here to provide gift ideas for dads who support their kids at horse shows. We all know horse shows can be frustrating and boring at times for parents, who invest a great deal of time in support of their kids' hopes and dreams in the competition ring, so express your gratitude and give him something he can use while cheering you on from the sidelines. Even if your dad rarely makes it to a horse show in person, but is extremely supportive from afar, these gifts can be enjoyed away from the showgrounds, as well.
Often horse shows are full-day commitments, so packing snacks and drinks is a must. Help your dad keep all the food and beverages cold with a high-tech cooler from Yeti or a similar brand. These coolers are easy to transport, look super cool, and are stellar at their job of keeping things cold on hot days.
2. Drink holder
No matter what your dad likes to drink at horse shows, there are surely koozies or tumblers that can keep his beverage of choice cold (or hot) all day while he's on the move. There's nothing worse than getting a cold drink on a hot show day that turns lukewarm only 20 minutes later. This will help dad enjoy his beverage all day long while he waits for you to show!
The sun can be annoying when trying to watch horse show rounds, especially early in the morning. Find a cool style from your dad's favorite sunglass brand and maybe opt for something trendy he hasn't considered yet. He will likely trust his kids' expertise about what styles are "in" these days, so this will help keep him looking good while being able to enjoy all your rounds without the sun getting in the way.
4. Branded gear from the horse show
Some competitions sell branded merchandise in a variety of styles, so you can get your dad a hat or golf polo that he can sport both at and away from the show. If he golfs, he can wear these items out on the links to show that he's a proud horse show dad. Think about what your dad likes to do in his free time and choose your branded gift accordingly.
Not every horse show offers extensive seating, so give your dad a comfy place to sit no matter where you are competing. Go for one that's easily portable so he can pack it up and toss it in the car, and consider the extras, such as cupholders and built-in umbrellas for shade.
We all appreciate a good dad joke, so you can help him up his sense of humor by gifting a comical t-shirt that pokes fun at being a horse show dad. He may only wear it around the house, but everyone's sure to laugh when they see it.
Horse shows involve quite a bit of physical activity, so buy him a fitness tracker that rewards him for the number of steps he takes following you around the show grounds all day. These typically double as wristwatches, as well, so he won't be late for your class start time if he wanders off somewhere!
8. Travel duffle or overnight bag
If your horse shows are typically out of town and overnight stays are required, maybe upgrade his travel gear by buying him a cool duffle or overnight bag to pack all his things and be ready to hit the road.
Is your dad a big-time griller? Get him a portable grill and he can be the life of the party at all horse shows. When lunch time rolls around, he'll be so excited to whip out this fancy portable grill and make lunch for everyone in the barn. Grilling at the horse show is a great way to bond and also guarantee you'll have good food, instead of relying on whatever vendors are available.
No matter the gift you choose, be sure to express how grateful you are that your dad supports your horse showing, whether it's in person or from afar. Above all, if you can, try to spend some extra time with your dad this Father's Day. No gift can beat quality time together, so try to focus on him and create some new memories.