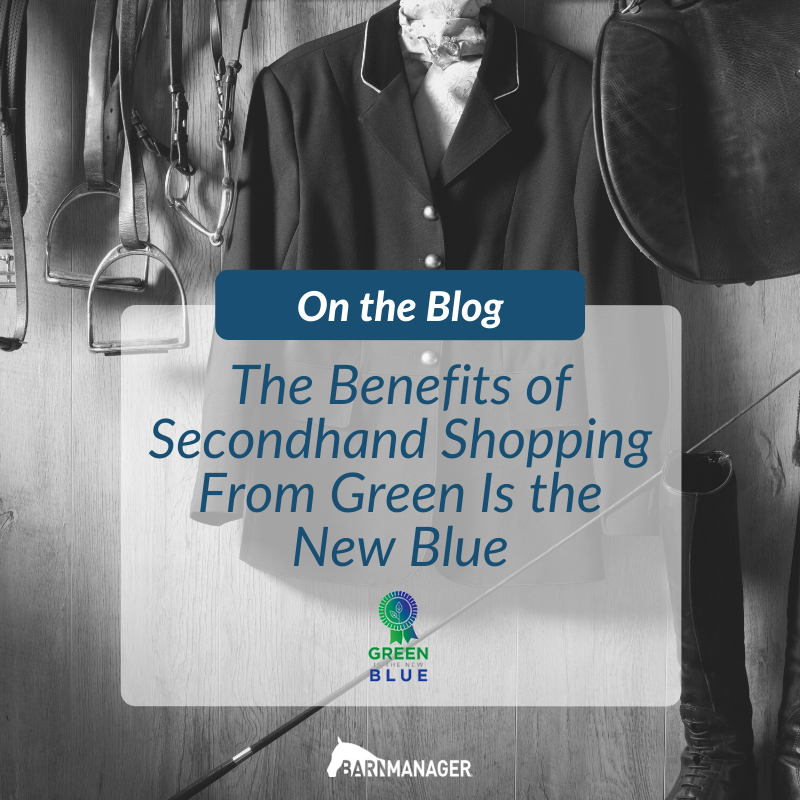 The Benefits of Secondhand Shopping From Green Is the New Blue
At Green Is the New Blue, we are often asked for recommendations on sustainable equestrian fashion, such as breeches and boots. Although we always look for sustainably sourced products, we believe the best way to buy many items is used.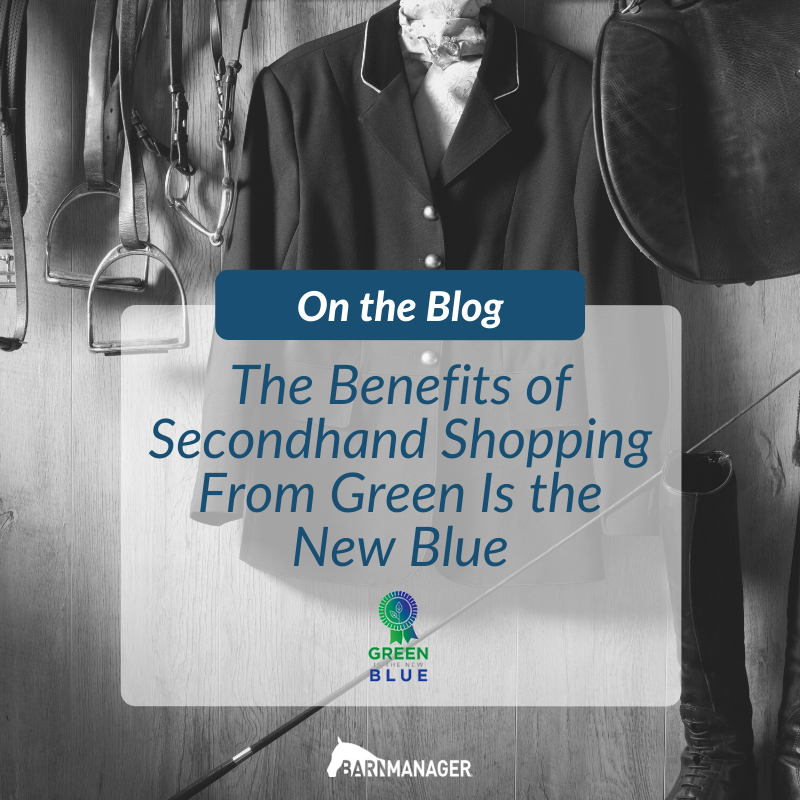 Purchasing used clothes is an obvious form of recycling. A pair of breeches can find a new home with someone who will give the item a new life. Depending on product type, a used purchase can make a big difference when it comes to environmental issues like climate change. Leather goods, such as boots, bridles, and saddles, are made from leather sourced from the cattle industry, which requires significant land and water use. We understand the need for show-quality tack, but there are plenty of beautiful older and functional pieces that still look great for schooling.
There are other benefits of choosing to buy secondhand clothing and tack, too. Generally, there is little to no product packaging associated with used clothing and tack, which minimizes waste. Also, by purchasing secondhand, we help to divert unwanted items from a landfill. Plus, of course, the price tag is more attractive. Used items often cost much less than new ones, even though in many cases they are barely worn.
Where To Buy
On Course Consignment in Wellington, Florida, is one of many great places to find quality used items. They feature popular brands like Tailored Sportsman, Animo, Charles Ancona, EIS, and more. The equestrian consignment store fills a gap in the local community, connecting quality secondhand items with riders who need them. Owner Jacquie McCutchan meticulously inspects items to make sure they are in quality working condition. On Course Consignment has a wide variety of top-quality items for sale, from riding attire to tack and other barn equipment.
Another great resource to check out is the Grazers App. Similar to the popular secondhand clothing app PoshMark, Grazers is geared specifically toward equestrians. Two amateur riders, Casey Norton and Jennifer Burke, created the app. Grazers serves as a platform to connect horsemen, who can easily sign up as vendors and list their items for sale. Items ship directly to the buyer from the vendor. This remote consignment shopping app has everything you need across multiple disciplines, from saddles to show attire.
If you are in the market for a new saddle, don't forget that most major saddle brands have used options available. Many offer a wide variety of models and years. There are also plenty of dealers that specifically sell quality used saddles, such as Old Dominion Saddlery or Sport Horse Saddlery. Well-maintained saddles retain their function for many years. You can purchase a used saddle knowing it will still serve the same purpose as a new one. You can most likely still find the proper fit for both you and your horse in a used model.
When Not To Buy Used
The only time we recommend buying new is when you are in the market for a helmet. As safety certifications and features continually improve and adjust, helmets expire after a few years and especially after significant falls. Helmets can appear in good condition, but you never know if the previous owner wore it during a fall. We love secondhand shopping, but helmets just aren't worth the risk. Safety comes before all else!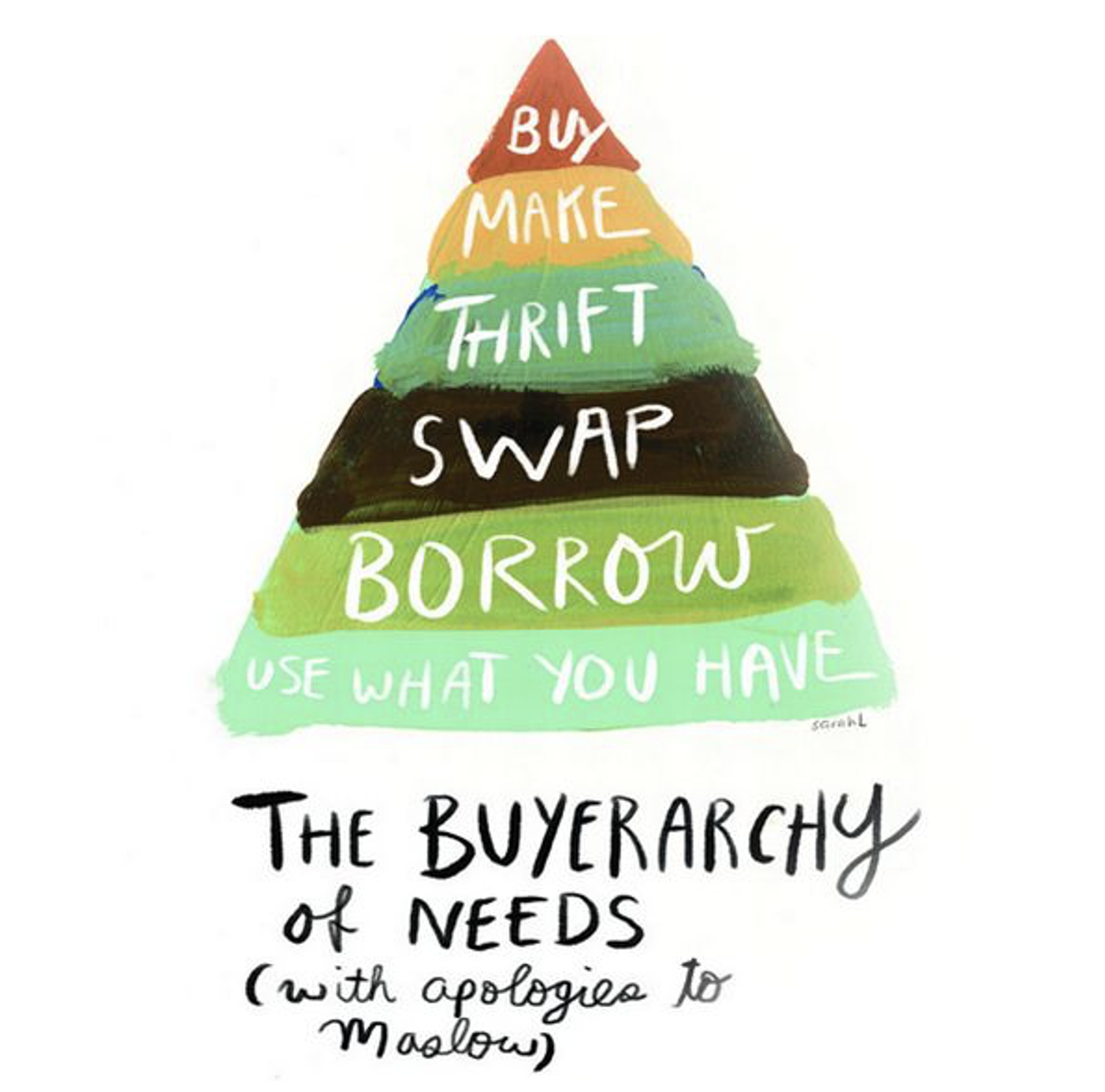 Artwork by Sarah Lazarovic
How To Sell or Donate
If you have riding clothes that you are not able to consign or sell, consider donating to The Rider's Closet or your local therapeutic riding program. The Rider's Closet was designed to ensure riding apparel is accessible to those in need, including those from scholastic programs, pony clubs, camps, equine charities, and individual riders.
Finally, we recommend keeping tabs on your local equine Facebook groups. There are many different groups to buy and sell clothing and equipment. People snatch well-priced items up quickly, so turn your notifications on! This is a great resource to sell your own tack and clothing quickly. There aren't consignment fees associated with the sale.
Remember, the ultimate goal is to keep usable items out of landfills by connecting them with those who need them. As much as we advocate for supporting eco-conscious brands, the most sustainable choice is always to buy used.