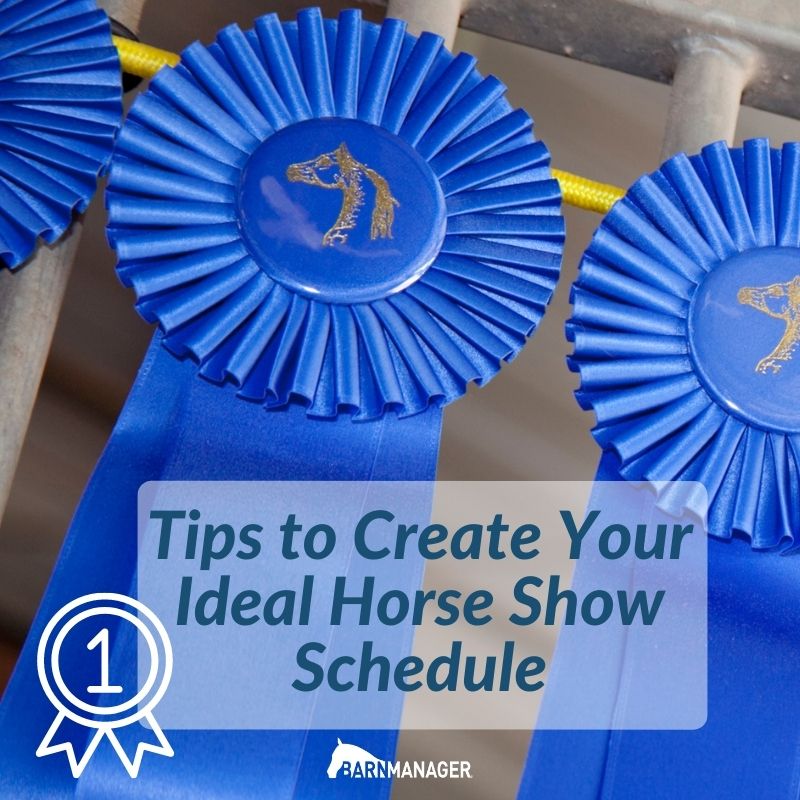 Tips to Create Your Ideal Show Schedule

1. Identify your competition goals.
What do you want to accomplish with your horse this year? If you just want to get into the show ring and have fun, maybe you don't need to go to the highest-rated competition. You can simply look for well-run events in your area. If you are trying to earn points for a specific year-end award, set your sights on shows that include those classes. It's also important to look at the level of competition you'll be facing. If you know your jumper isn't the fastest, aim for smaller shows with fewer entries per division so your results can be better. If you are trying to sell your horse, aim for some larger horse shows where you'll be seen by more people, including those watching on livestream.
2. Set your travel parameters.
How far are you willing to travel to show? If you know you don't want to go further than two hours from home by car, map out all the potential shows that meet that criteria and then compare other factors. If your travel radius is wider, identify what destinations you'd most like to visit and look at the shows in those areas.
3. Break down your budget.
Horse shows are expensive, no matter how you go about them. But some are costlier than others, so break down where your money will be going for each horse show you are interested in attending. Try to identify ahead of time what your costs will be so you can weigh your options. For example, stall fees are not the same at every show, but it's a fixed cost so you can count on it whenever you travel to show. Braiding, hotels, food, entry fees, and transportation costs are also important line items you can estimate for each show you are considering.
4. Know your priorities as an exhibitor.
Not all horse shows are equal experiences for the exhibitor. Some may not match your personal comfort level regarding COVID-19 procedures at the present time. Others may not offer state-of-the-art facilities or healthy, on-site food choices or convenient high-quality hotels and lodging, all of which can be big factors for some people. There are lots of important experience-related items to consider when choosing a horse show.
5. Talk with your family.
When you are horse showing, it will likely impact the schedules of those in your close circle. If family members depend on you for certain responsibilities, make sure you arrange for those to be taken care of in your absence. It's also important to compare family schedules to avoid missing an important event while away at a show. Often schedules will conflict, so it's crucial to plan ahead and prioritize.
6. Know where your friends are showing!
Though it's not the most important thing, you spend most of your time at a horse show not riding. For some, it's important to be in good company during your down time. See where your friends—whether they ride at your barn or not—are planning to compete. Then you can hang out ringside and meet up for dinner, when it's safe to do so again.