A Quick Conversation: Hannah Selleck
Each month, the BarnManager team is sitting down with accomplished riders from across equestrian disciplines to learn more about how they got their start, their typical days, their biggest advice, and more! We're asking the same five questions and sharing their answers with you!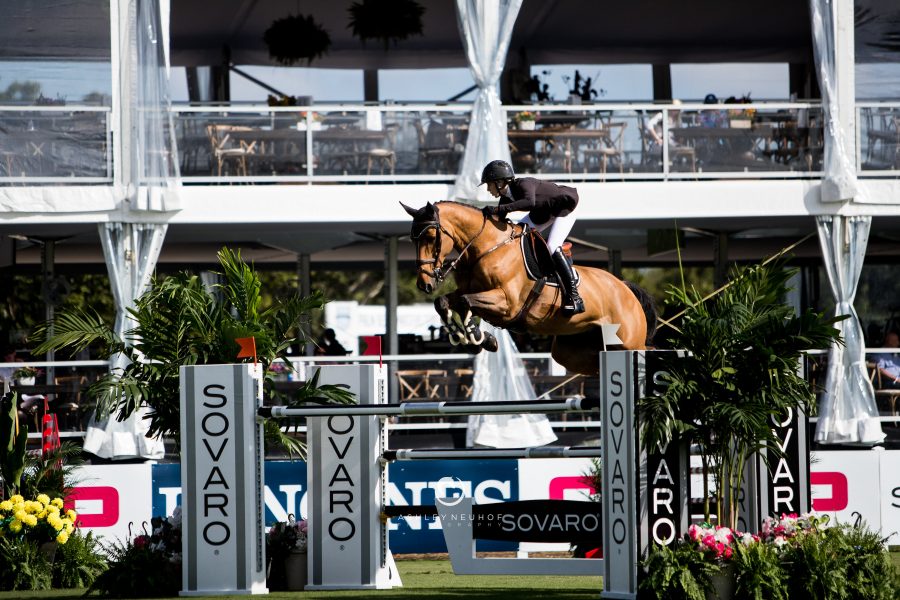 Hannah Selleck, 30, has made a name for herself as a successful jumper rider – most recently with her mare, Barla – but the Los Angeles, CA, native's equestrian endeavors aren't limited to the grand prix ring. In 2010, Selleck founded Descanso Farm, a boutique breeding operation dedicated to producing high-quality sport horses within the U.S. Now, nearly eight years later, the young horses of Descanso Farm are seeing great success in both the jumper and hunter rings – as is Selleck.
BarnManager caught up with Selleck amidst her busy winter competing at HITS Coachella in California where she is showing Barla and bringing along the hopeful future stars of the sport!
Q: What was the first horse or pony that got you started?
We lived on a ranch, so I was always surrounded by different animals: cats, dogs, sheep, rabbits, cows, and horses. My dad had Western horses that he had from filming some of his Western films. He enjoyed trail riding, and I started riding when I was four. My first pony was a small black Shetland pony named Sheba.
Q: What's your favorite riding moment or memory?
I have a few. I would say winning both individual and team gold medals at the 2008 North American Junior and Young Rider Championships and winning the USEF Talent Search Finals that same year.
Then, more recently, seeing our Descanso Farm bred horses winning in the show ring. It's such a great feeling as we're now beginning to see the goal through. For a while, when they're very young and in the field, it doesn't feel like as much of a tangible thing if you've never done it before. Now, we're seeing it working and we're seeing them really develop into great horses, and it's very rewarding.
Q: What's your number one goal right now?
Getting back in show ring after breaking my leg last summer. I showed for the first time midway through Thermal, and my goal is to be back in the FEI classes by the end of March.
Q: On a typical day at home, what's your schedule?
The last six months or so my schedule has been a bit different than usual. I would typically start riding every morning at farm by 8 a.m. We normally take Sundays or Mondays off. Right now, I am still making physical therapy a priority a couple times a week, so those days I start early with my physical therapist, then workout with my trainer, then head to the farm and ride the remainder of the day. On the days I don't have PT or my personal trainer I still like to get a workout in after I ride doing spin, tennis, or swimming.
Q: What's one piece of advice you would give to young, up-and-coming riders?
Immerse yourself in the sport and in learning more about the horses – not just the riding. Spend time taking care of them and getting to know them. It's so important and can go a long way in your success.
Photo Credits: Top Image – Ashley Neuhof Photography. Bottom Image – PhelpsSports.com