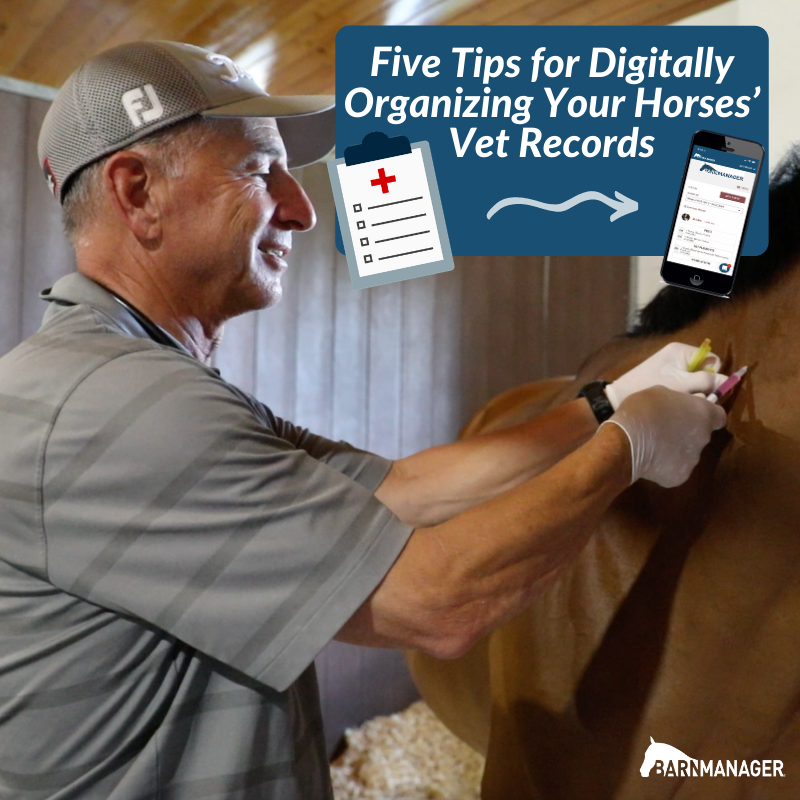 Five Tips for Digitally Organizing Your Horses' Vet Records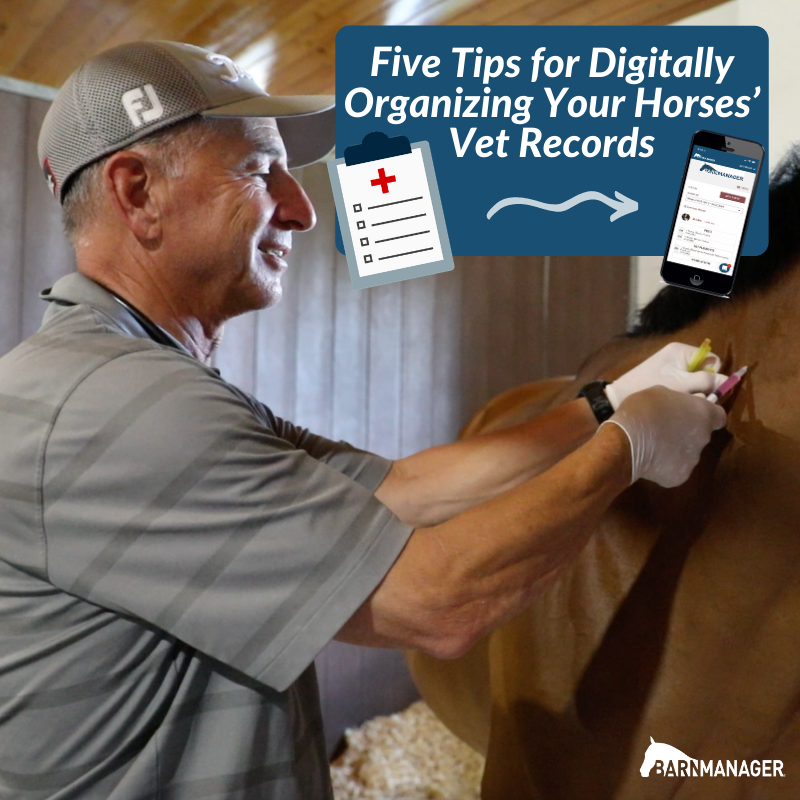 If you're anything like our BarnManager team, odds are that remembering to schedule your horse's next vet appointment, farrier visit, or chiropractic work is easier than recalling that it's time for your own trip to the doctor or dentist.
However, even though our horses and their needs are often front of mind, keeping track of everything can get overwhelming – especially when you factor numerous horses into the mix.
At a top show barn like Stonehenge Stables – home to upward of 50 hunter, jumper, and equitation horses at any given time – the veterinary records and paperwork can pile up quickly.
"We had numerous binders to keep track of our vet records. Not one or two, but five," said Kris Ende, barn manager for Stonehenge Stables. "We had a separate binder for the vet that would come in and do all of the chiropractic work. We had a binder for just FEI horses. We also had to split the binders between Florida and New Jersey, so there was a lot of paper at any given time and a lot of notepads. And notepads would get lost and then suddenly reappear when you were looking for another notepad!"
Now, Kris and the Stonehenge Stables team utilize BarnManager to store their veterinary records, so we asked Kris and a number of other top barn managers to share their strategies and tips for doing the same. Here are five of the most common recommendations:
1. Attach the records provided by the vet to your horse's BarnManager profile. When Stonehenge's vets began emailing records and reports from their visits, rather than providing printed copies, Kris decided it made sense to go digital and begin using BarnManager.
With BarnManager, any PDFs or JPGs can be quickly saved from an email and attached to a horse's BarnManager profile via your computer, phone, or tablet. In the case of a paper record, you can simply snap a photo with your phone and attach the photo to the horse's profile. This allows you to still maintain all the details of the veterinary records, but instead of using lots of paper or having to flip through numerous binders, everything is in one location at your fingertips and is easily searchable. 
2. Add your own notes in a format that works best for you. In addition to attaching the veterinary records, barn manager's like Katie Haley of Beacon Hill Show Stables suggest utilizing your own notes in a format that works best and is most useful for you.
For Katie and the Beacon Hill team, that means an individual vet record page for each horse for each year.
You can watch Katie explain how they use this feature here: 
[embedyt] https://www.youtube.com/watch?v=XZv7G35PdO4[/embedyt]
3. Utilize the "tags" feature. Within BarnManager, unique tags can be added to each record or note. For instance, "vaccines" could be a tag that allows you to find all horses' records that pertain to vaccinations.
 Here's a look at what that looks like on a computer, with input from Miranda Valentine, barn manager for Deeridge Farms and CMJ Sporthorses:
4. Use the calendar and set reminders. The BarnManager calendar feature is another great tool to get an overview of past and upcoming appointments, and reminders can be set notify you within the BarnManager app or by email of anything upcoming.
Miranda also recommends utilizing the calendar to note daily or more common therapies such as shockwave treatments or time in the AquaTred.
5. Share access with those who need it. Since BarnManager's records are all housed digitally, you don't need to worry about passing around binders or ensuring that paperwork gets to the right place or into the right hands. Instead, you can easily grant access to your BarnManager records to as many members of your team as needed.
Have questions about utilizing BarnManager or want to give it a try for yourself? Request a live demo here!