Competing in a night class under the lights can be overwhelming for both horse and rider. Although it is technically just another class, the atmosphere can be intimidating, especially if it is your first time. Continue reading for a few tips from BarnManager on how to successfully conquer a night class.
Practice Under the Lights
Competing under the lights is very different from showing during the day. It may take your horse a little time to adjust to the different lighting and shadows that can appear. If possible, it is best to ride your horse in this type of setting before entering the show ring with them. Some horse shows allow hacking in the ring the morning before the show starts while the lights are still on. This is a great way to allow your horse to experience the effects of lighting in the ring and on the jumps themselves. Riding in these early morning conditions can also help you identify sections of the arena that may become spookier as the light changes. Another option is to arrange to visit a nearby farm that has an outdoor arena with lights where you can practice at night.
Plan Your Horse's Schedule
When you show during the day you typically prepare your horse in the morning. When competing in a night class, it makes sense to rethink your preparation schedule. For example, you will probably want to lunge and/or ride your horse later in the day than usual. It is important to think through this new schedule to avoid your horse being in its stall all day or rushing last minute to lunge them.
Feed at an Appropriate Time
When competing in a night class, be sure to feed both yourself and your horse before the start of the competition. Plan your horse's meal early enough to allow them time to properly digest their food before going to work. Depending on when the class starts and where you go in the order, you may be able to eat dinner beforehand as well. Even if you prefer not to eat a full meal before competing, make time to have a healthy snack before you show.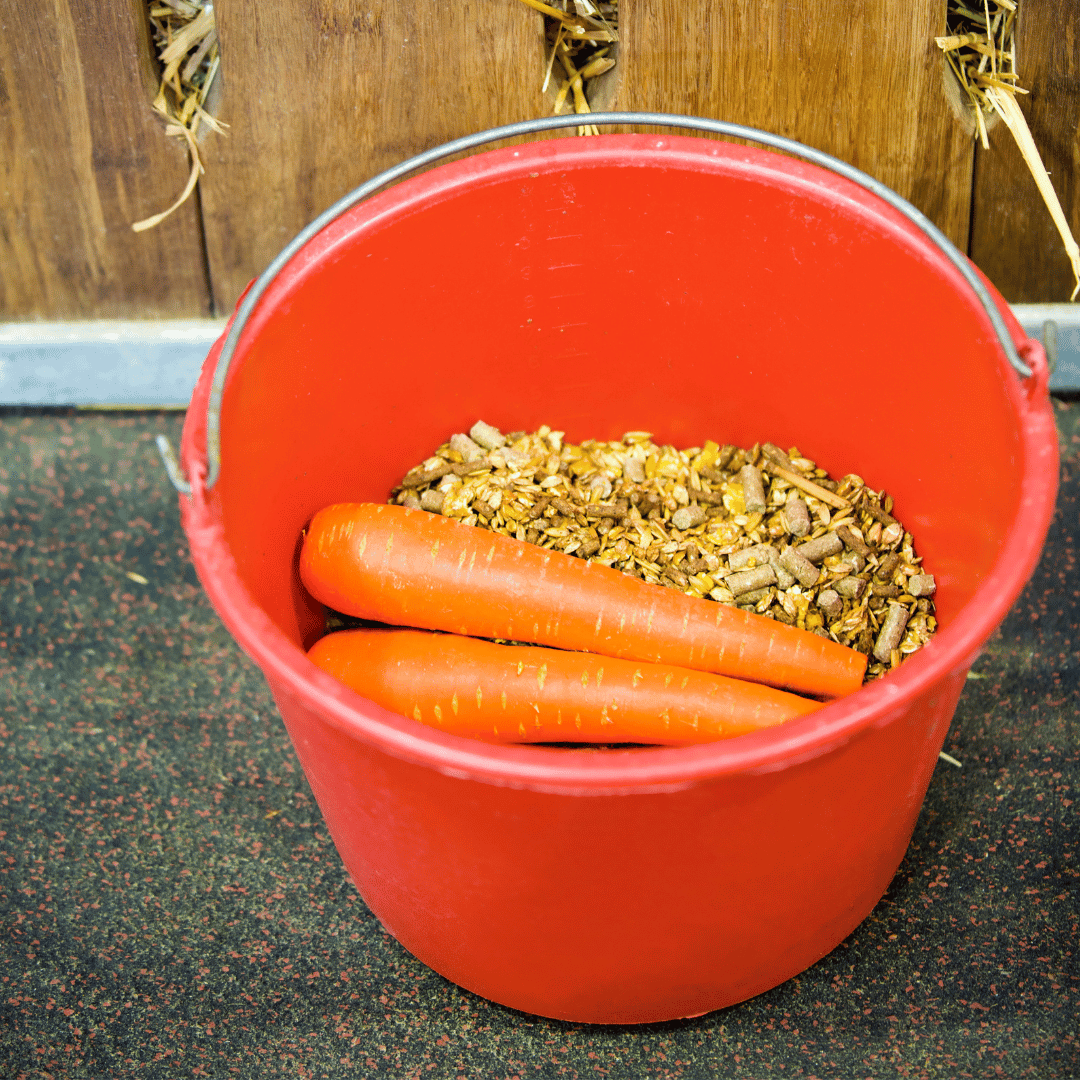 Organize Equipment
Night classes can bring out a lot of nerves in riders, so it is important to plan ahead to help you feel as relaxed as possible. Organize and set out all of your equipment early.  Think through the timing of your day since it will be very different than your typical show schedule. Write it down on paper or on your phone so you can refer to it when you get busy. These kinds of steps will allow you to focus on your plan for the night class instead of worrying about lots of last-minute details. Consider also laying out and organizing your aftercare products and wraps so that process will go smoothly once you are done showing. Night classes often require early mornings and late nights so having everything in place can help save time and energy.
Complete Additional Tasks Early
Plan to complete any additional tasks you have scheduled for that day as early as possible so you have time to focus on the night class. This may include riding other horses, organizing equipment, finishing up work-related items, or doing schoolwork. You do not want to be distracted while you are trying to get your horse ready, walk the course, create your plan, or watch other riders go in the class. Make sure you leave enough time for yourself to take a moment at the ring and go over your strategy for the course.
Take a Breath and Enjoy
In the end, a night class is just another competition. Do not put too much pressure on yourself, and remember to trust the partnership you have with your horse. Before you enter the ring, take a deep breath, pet your horse, and make sure to enjoy the learning experience.
While showing under the lights may look like a piece of cake when you watch the live streams, it is often a difficult setting for certain riders and horses. Successfully competing in a night class is a skill that requires practice, preparation, and the ability to stay calm under pressure.
Have questions about utilizing BarnManager or want to give it a try for yourself? Request a live demo here!