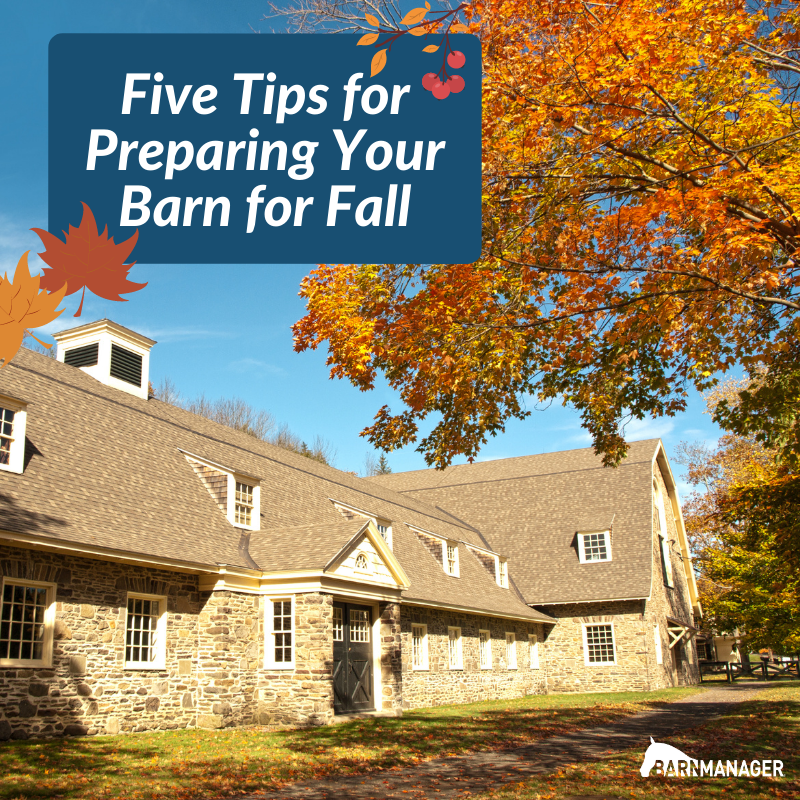 Five Tips to Prepare Your Barn for Fall
1. Organize your blankets
Cold nights will start creeping in before you know it, so make sure each horse's lightweight sheet is identified and cleaned, especially those who may be clipped. Keep tabs on the temperature lows each night as summer begins to turn into fall so you don't lose sight of the nights when your horses may need light blanketing. Also have the heavier blankets ready to go so winter doesn't sneak up on you and leave you unprepared.
2. Make a plan with all the students (and parents) at your barn
It's back-to-school time, which means busier schedules for most families that may board or train at your farm. Make sure you keep in touch with those who may be heading back to school so you can help manage their horses and their riding goals despite their busier schedules. This communication will lead to more successful outcomes for everyone as many commitments are being juggled by all parties.
3. Inspect your farm for damage or deterioration
Winter is prime time for problems such as leaky roofing, broken fences, loose hinges, insulation problems, footing issues, and more. You don't want to save these fixes for the middle of winter, when they're hardest to repair. Survey your property for signs that things may need attention. Be sure your windows and doors are functioning properly to seal in the heat during the cold nights to come. Check on your water tanks and insulated pipes to be sure you won't face any issues when freezing temperatures hit. If anything needs adjusting, the fall is the perfect time to make those repairs.
4. Have a severe weather plan in place
The fall can also bring with it the chance of severe weather in many parts of the country. The east coast may face hurricanes, so be sure to identify an inland location in case you need to evacuate yourself and your horses. Research how to prepare a farm structure for high winds and heavy rain ahead of time. Other parts of the country may see other severe weather risks, such as wildfires. If you find yourself facing evacuation, many horse show grounds and larger facilities will accept evacuees and offer horses a place to stay out of harm's way.
As fall turns into winter, heavy snowstorms can put those up north at risk, limiting access to necessities for the horses. It helps in this scenario to have 10% more supplies on hand than you normally need to keep your stable safe and healthy in case of a weather shutdown. Above all else, stay tuned in to the news this fall so you won't be caught off-guard if the weather starts to get dangerous in your area.
5. Decorate!
There's nothing more fun than breaking out the fall décor as the leaves begin to change. The best part of decorating for fall is that decorations can stay up through November, so you can enjoy your efforts for a long time. Use horse-safe decorations to add some fall vibes to your barn, including pumpkins, string lights (out of reach of horses), scarecrows, and more. If you have jumps in your arena, add some hay bales, pumpkins, and colorful gourds to make them festive. You can even plan a socially distant Halloween party to get the whole barn involved in a fun activity.
Have questions about utilizing BarnManager or want to give it a try for yourself? Request a live demo here!