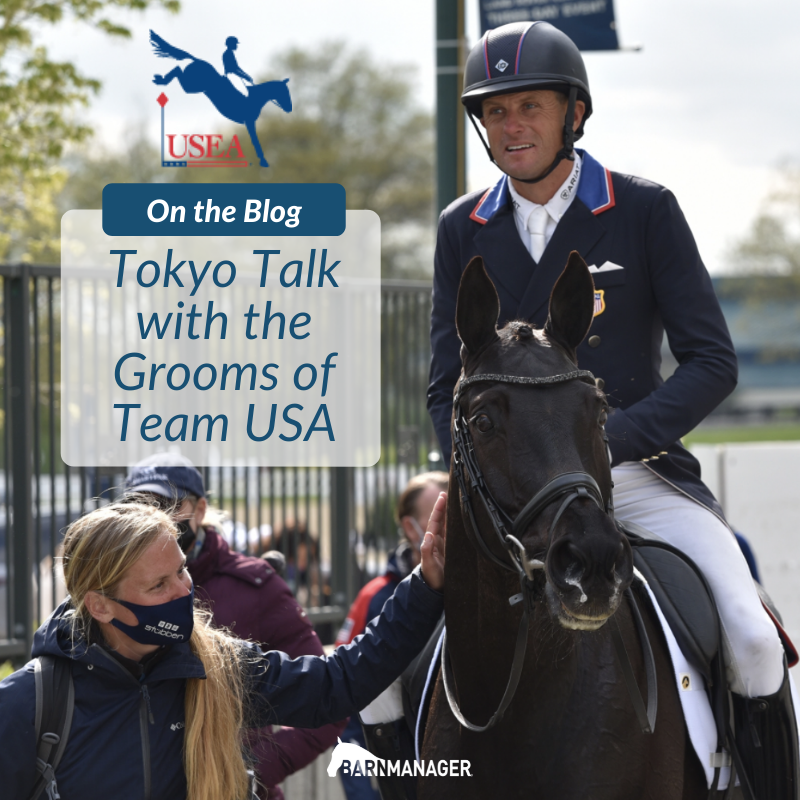 Tokyo Talk with the Grooms of Team USA
Written by Catherine Austen for the United States Eventing Association (USEA)
We know a lot about the athletes representing the USA on our Tokyo team, but what about those essential people, the grooms? Catherine Austen finds out more about Courtney Carson, Emma Ford, Bridget London, and Steph Simpson in this edition of Tokyo Talk.
Courtney Carson, groom for Vandiver and Doug Payne
Where are you from, and how did you get into horses?
"I was born in St Louis, Missouri, and grew up in Southern Illinois. My mom got me into horses as a young girl – she'd always wanted to have horses growing up.
How did you get your current job?
I was trying to find a real "big kid" job and decided I really liked the grooming – I just hadn't found the right situation, and Doug and Jessica [Payne] happened to be looking, so I just sent them an email.
What are the best things about your job?
It's the little things I love – yes, being competitive at the big events is great, but it's the little things, like the young horses having a good experience at their first event, it's our working students having the great show jumping round they've been looking for. It's watching my five-star horse nailing all four changes in a test. It doesn't have to be winning a five-star; it's the day-to-day things you don't really think about.
What's "Quinn" like?
He is a really interesting horse. He's picky about his food – sometimes he wants to eat his hay out of a haynet, sometimes he wants to eat it off the ground, some days he only wants grass. He's a bit particular that way, but he's 17, and he's done the job for a long time, so he's allowed to be that way. Honestly, he's an old soul and the most genuine horse you could ever meet. You could hack him around on the buckle or gallop around a five-star.
What are your expectations of Tokyo – and your hopes?
It's going to be really, really hot!
My expectations personally are to enjoy the moment because it's what everyone dreams about, and if you had told 10-year-old me, or even 25-year-old me a year ago, that I'd be going to the Olympics, I'd have laughed and told you you weren't telling the truth.
I would like to have a sound, healthy horse at the end of it who has hopefully finished in good standing, and for Team USA to bring home three really good solid results would be huge. I think that's possible – we have the team to do it. I'm looking forward to it!
Emma Ford, groom for Z and Phillip Dutton
Where are you from, and how did you get into horses?
I grew up in North Devon in southwest England, and I was pretty much on a horse in the womb. My whole family rode, so I really have been involved with horses from birth. I grew up on a farm, so in the summer, my dad would set up the straw bales when they were baling for me to jump bareback on my pony while Mum and Dad were having a picnic. I always feel we were so lucky and so fortunate. We certainly didn't have money, and I used to get all the free ponies. It was a running joke that I'd always fall off once a week and how much ground I 'bought.' I will never forget those summers – they were perfect.
How did you get your current job?
Basically, it was a bit of a no-brainer. I worked for a lady in Massachusetts – I worked for her for seven years; we came up through the sport together. When I started, she had Preliminary horses, and by the time we finished, she had a string of 12 horses and was riding at Advanced. I flew horses over to England to compete at Blenheim for her, and after that trip, I thought, 'I want to do this full-time, be on the team, and this is the way I'm going to do it.' Two years later, the job opened up with Phillip, and it was a bit of a no-brainer to take the position.
What's Z like?
I've been with Z since he's been with Phillip. We've had him since the beginning of his 7-year-old year. He did Preliminary and was ready to move up to Intermediate, and he actually came to me as a very 'internal' horse – he would stand at the back of the stall and hated being turned out. And so I worked a lot with him on just getting him used to people and to have people around him. It wasn't that he was nervous around people or anything; he just never interacted with them.
I think over the years, he's really turned into quite the personality – when you're grooming him and when he has his massage, he tells you exactly where he wants you to press a little harder or back off. He loves having people around him, and he loves photographs. We've turned him into a horse who wants to be out 24/7 now, and he really wants to please; he tries very hard for Phillip. He wants to understand his job, and he does – ultimately, he loves his job.
What are your expectations of Tokyo – and your hopes?
I'm rather looking forward to the horse flight, actually, because I won't be on a plane of 350 people! Obviously, this year is a very different year, but I know nothing of Japan, and I think that will be very interesting.
We all are going to be very careful with and aware of the humidity for the horses. Ultimately we need little luck on our side, and hopefully, the horses will produce the best results they can.
Steph Simpson, groom for Tsetserleg and Boyd Martin
Where are you from, and how did you get into horses?
I grew up in a really tiny town in Vermont on a dairy farm, so I never really did horses as a child. I became interested in them through friends and family and then did animal science in college and decided I wanted to be a working student or groom. The riding didn't actually start until I was 18, but then had lessons and evented at a low level.
How did you get your current job?
I actually groomed for another Australian in the area, Dom Schramm, and then Boyd called me one day and asked me if I wanted the job. I was freelancing at the time, so that was that.
What do you enjoy most about it?
I enjoy getting to know all the different horses and their personalities. I obviously spend a lot of time with them, so getting to know each one and their quirks and their little weird characteristics is fun for me.
What's "Thomas" like?
Well, Thomas is the love of my life! He's good – he's quirky, though. He doesn't let other people touch his face – he does let me now, though, after three years of trying. He's just a quirky guy; he's very curious, he wants to know what's going on all the time, on his terms.
What are your expectations of Tokyo – and your hopes?
I think we've been prepared really well for the heat, but I think there are a lot of variables. Luckily, this is not my first trip abroad, so I know what to expect as far as transporting horses, and the logistics of that are concerned. However, especially with Covid, none of us really know what's going to happen. If you work at an upper-level place, you want to go to the top of the sport. Luckily for me, Boyd's a very competitive person, and so am I. So, I'm really lucky that I get to be at the Olympics and experience that vibe.
Bridget London, groom for Mai Baum and Tamie Smith
Bridget London, the groom for traveling reserve Tamie Smith's Mai Baum, recently became a real estate agent in the Seattle area after working for Smith for several years. When Elisabeth Halliday-Sharp had to withdraw from contention, Smith stepped into the role of traveling reserve and asked London to come along for the ride.

"Grooming is not just brushing, I know a lot of people think that. It's tacking the horse, bathing, braiding, walking, feeding, and managing just about everything the horse does," London told K5 News in a recent interview. She continued, "I won't be the one personally competing. I am pretty excited to be a part of it in any way that I can. I've been close with Tamie for a while now and I'm so excited for her. I know they will do great."

We wish all of these hardworking grooms a safe and successful Olympics. Your hard work does not go unnoticed!
Have questions about utilizing BarnManager or want to give it a try for yourself? Request a live demo here!