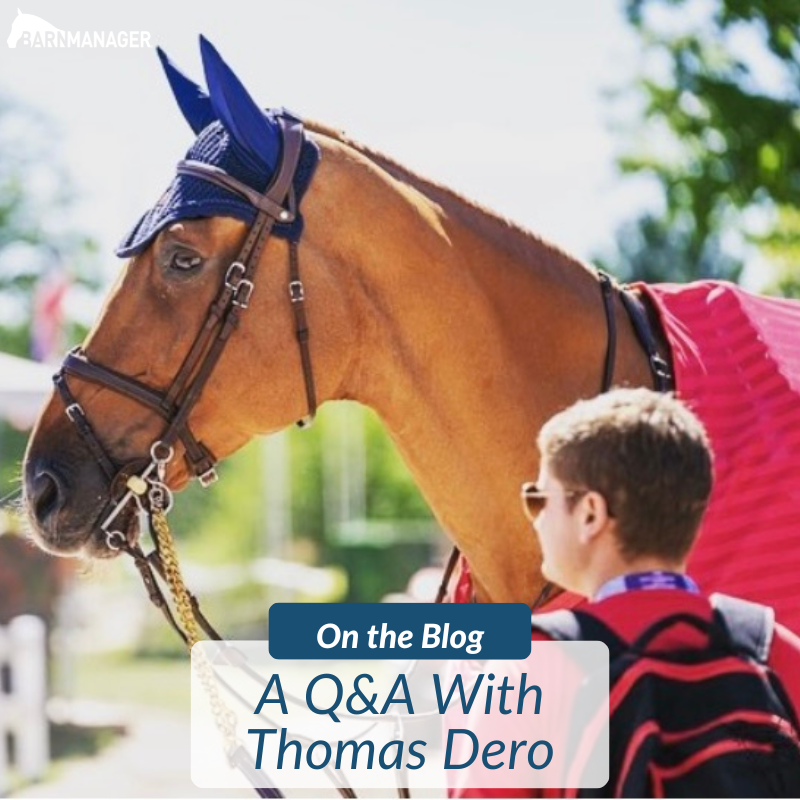 BarnManager Q&A With: Thomas Dero
BarnManager Q&A With:
Thomas Dero, Groom for Canadian show jumping athlete Sara Tindale, located in Wellington, FL, and Écaussinnes, Belgium
What are three things that are always in your ring bag?
In my ring bag, I always keep candies and treats, all my back boots, and an aluminum spray liquid bandage.
What is the most helpful habit that you practice at the barn?
I always try to keep the barn as clean as possible. That means doing tasks such as dusting and sweeping multiple times a day.
How do you foster a great team environment in your business?
We often do group activities with all of the grooms and riders after work. We do things like having a barbeque or going out to a restaurant. I find that this helps create a friendly atmosphere. It is important for everyone to get along and work well together, especially during long days when we all try to help each other out.
What's your best tip or hack for grooming and horse care? Where did you learn it?
My favorite hack is not to wash the horse too often, especially if it's not necessary. I use Vetrolin or Santa Fe™ coat cleaning and conditioning products to keep them dirt-free and shiny. I learned this tip at my last job when I was working for a rider in the United States.
What is your favorite equestrian competition and why?
My favorite competition is Spruce Meadows in Canada. I have so many great memories from that venue. The atmosphere of the show is incredible. Even as a groom when you bring your horses to the big international grass ring the feeling is just incredible and even more so when there's a large crowd.
If you were a horse, what would you be and why?
I think I would be a Shetland pony because they have big characters, and they eat all day long. I think that is a good description of who I am!
Have questions about utilizing BarnManager or want to give it a try for yourself? Request a live demo here!