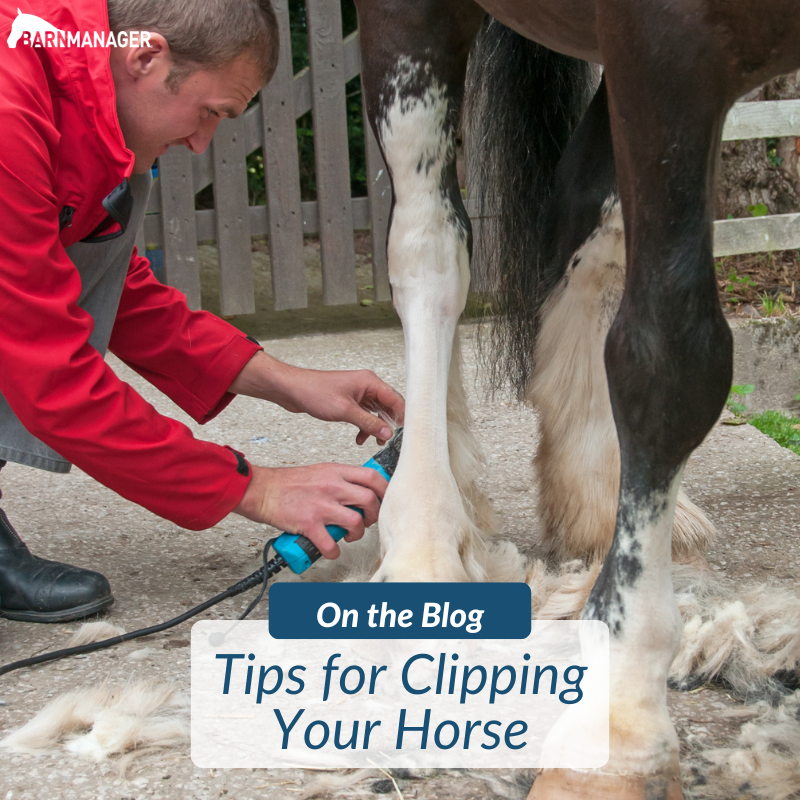 Tips for Clipping Your Horse
As winter weather approaches it is time to start thinking about clipping your horse. Whether you are in a colder climate for the season or travel south with your horse, clipping is a good option if you plan to keep them in consistent work. Completing the task yourself can be a big undertaking so make sure you are fully prepared. Read on to learn about BarnManager's top tips for a smooth and successful clipping job.
Check Your Blades
The first step in clipping your horse is to check your blades. Make sure the blades are new or newly sharpened, so it is easier to cut through the hair. Dull or dirty blades will not only make clipping more difficult and time-consuming but can also cause a poorer-looking result. It's also a good idea to have an extra pair of blades handy just in case.
Prepare Your Horse
If the weather allows it, bathing your horse beforehand will make the task much easier. Clipping a dirty horse dulls your blades more quickly and can also result in more visible lines in the horse's coat. After bathing your horse, spray a mane detangler on their coat to help the blades go through the hair more smoothly. Be sure to wait until your horse is completely dry before starting to clip. Clipping a horse while they are still wet can clog the blades. If bathing is not an option, spot-clean and brush your horse as well as you can and use a vacuum if you have one to remove extra dirt from their coat. Another way to clean up your horse without giving them a bath is to rub them down with a warm damp towel. This can remove a lot of extra dirt without soaking them to the skin.
Another tip is to braid your horse's mane to one side. This makes it easier to clip that area of their neck, especially if your horse has an unruly mane. Use elastics to tie up the braid when you start clipping the side of the neck that their mane lays on.
If you are doing a trace clip or leaving a saddle or spur patch, start by using chalk to outline where you want to clip. This will help ensure that everything will look even on both sides of the horse's body when you are done.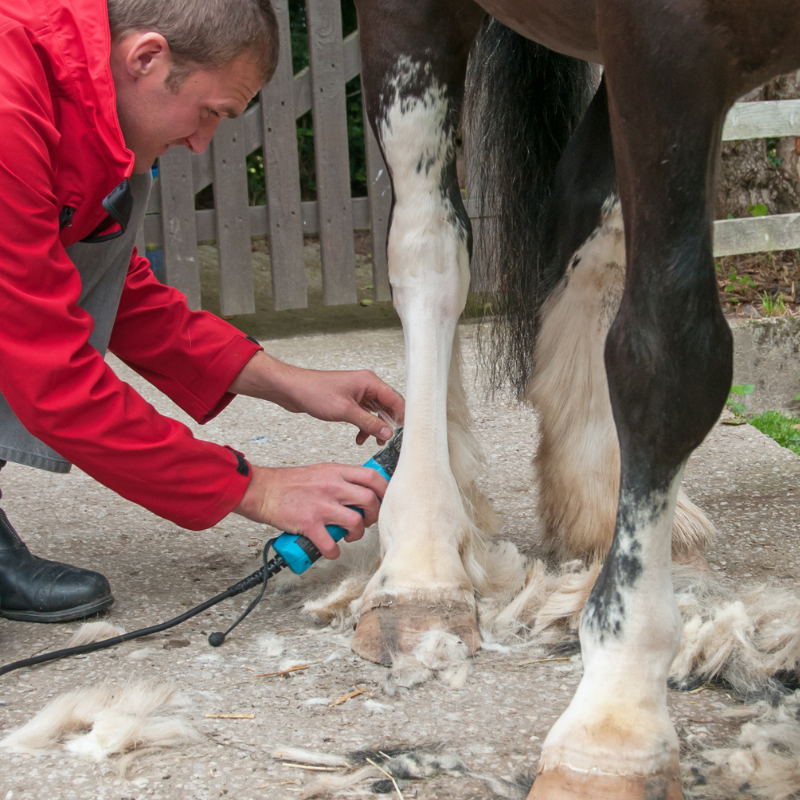 Time To Clip
The first rule of thumb is to clip against hair growth. Adjust the angle and direction you are clipping as you go depending on the area you are working on. It is also important to remember that horses can be sensitive when you clip certain sections of their body. Many horses do not like their legs, ears, stifle areas, or stomachs clipped so it is helpful to have someone hold them during that process. Clipping a horse's face can also be tricky especially if they are sensitive or fidgety.
Take Your Time
One of the most important things to remember while clipping your horse is to take your time. This is especially important if your horse is sensitive to clippers or is not accustomed to the process. If clipping is new to your horse go extra slow, keep an eye on how they are reacting, and give them short breaks. It's just as important to make it a positive experience for the horse as it is to do a good job clipping.
Oil and Cool Your Blades
Oil your blades every five to 10 minutes while you clip to ensure they continue to run smoothly. Also spray your blades regularly with an aerosol cooling product as you work. Depending on how thick and dirty your horse's hair is, blades can heat up quickly so make sure to check them often. If they are getting too warm, turn them off for a couple of minutes and spray a cooling product on them. Before you resume clipping, double-check that they have returned to a cooler temperature. Clipper blades that are too warm can be uncomfortable for your horse. Using a long-bristled brush to remove hair from the blades when you take a break will also make the process go more smoothly.
Go Over Your Work
As you are clipping be sure to go over your work and reclip certain sections multiple times. This will reduce lines or any missed areas. As you reclip, slightly change the angle of your clipping to help get rid of lines. Once you are finished, brush your horse off and wipe their body with a warm damp towel. This will get rid of any loose hair clippings and allow you to see any areas that need more work. You may have to run your clippers over certain areas several times to successfully remove lines.
Clipping your horse can be a daunting task at first but becomes much easier as you get the hang of it. Don't be afraid to ask your barn friend for help or company to make the time go by faster. And remember, practice makes perfect!
Have questions about utilizing BarnManager or want to give it a try for yourself? Request a live demo here!