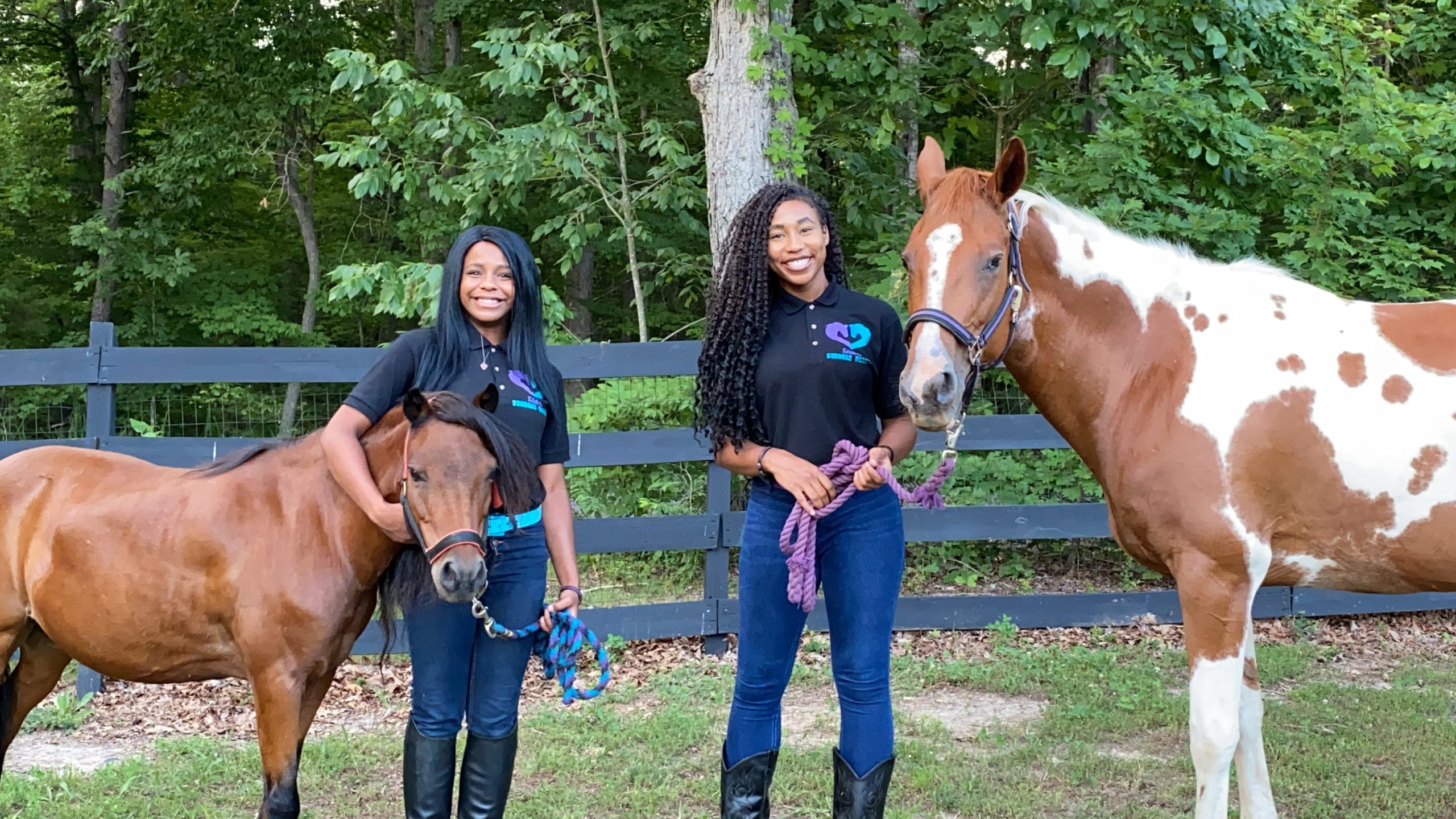 Meet Emily and Sarah, the Sister Duo Behind Sisters Horsing Around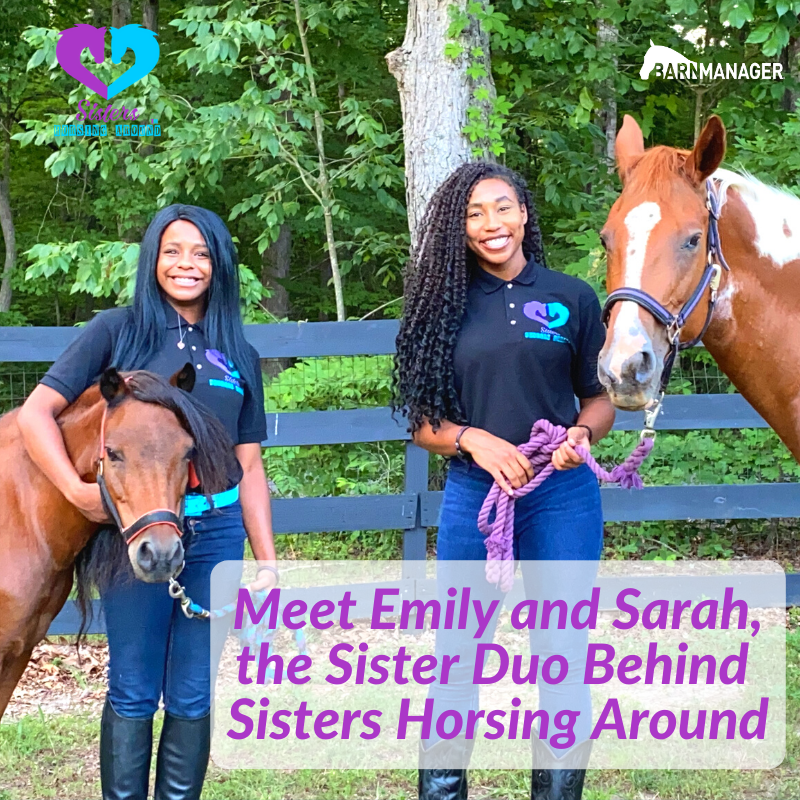 BarnManager is excited to welcome new guest bloggers Emily and Sarah Harris, a.k.a. Sisters Horsing Around, to provide exciting and informative content to our blog readers and horse fanatics everywhere. Emily, 23, and Sarah, 16, are horse-crazy sisters who want to share their passion with the world.
You may remember them from a previous article on the BarnManager blog where they recalled meeting Stacia Klein Madden and visiting her barn, Beacon Hill Show Stables. If you have a hard time remembering who is who, Emily has curly hair and is a diehard purple fan.  Sarah has straight hair and loves the color blue. We are thrilled to have this dynamic duo back again. Without further ado, we will allow Emily and Sarah to introduce themselves:
[embedyt] https://www.youtube.com/watch?v=b1B4LirUoh8[/embedyt]
About Us
We are from Virginia and we consider ourselves an anomaly because of our unlikely obsession with horses in combination with our family and racial background. From a racial perspective, not only is it unusual to be a young black girl who loves horses, but it is also unusual considering our family background that our parents would have not just one, but two daughters who are absolutely horse crazy. None of our family members have ever been involved with horses.
Our parents don't know where this love came from at such an early age with no family influence, but it certainly seemed that we were born with a passion for horses. With our parents' support throughout childhood, we both read tons of books and magazines and watched videos of well-known horse trainers until our parents gave in to the request for a horse, which was a present for Sarah's eighth birthday. Our second horse came as a gift for Emily at Christmas three years later.
Since then, we have owned several horses during our horse journey, including Allie, Amazing Grace, Genesis, Rowdy, Dancing Shadow, Stella, and Promise. Our current horses are Amazing Grace, Rowdy, Genesis, and Promise. Rowdy is the only gelding in the herd, Amazing Grace was a former rescue horse, Promise is a pony, and Genesis is our youngest horse with the others being in their late teens. Despite the stark differences between all our horses, they all have taught us valuable lessons that we still use today.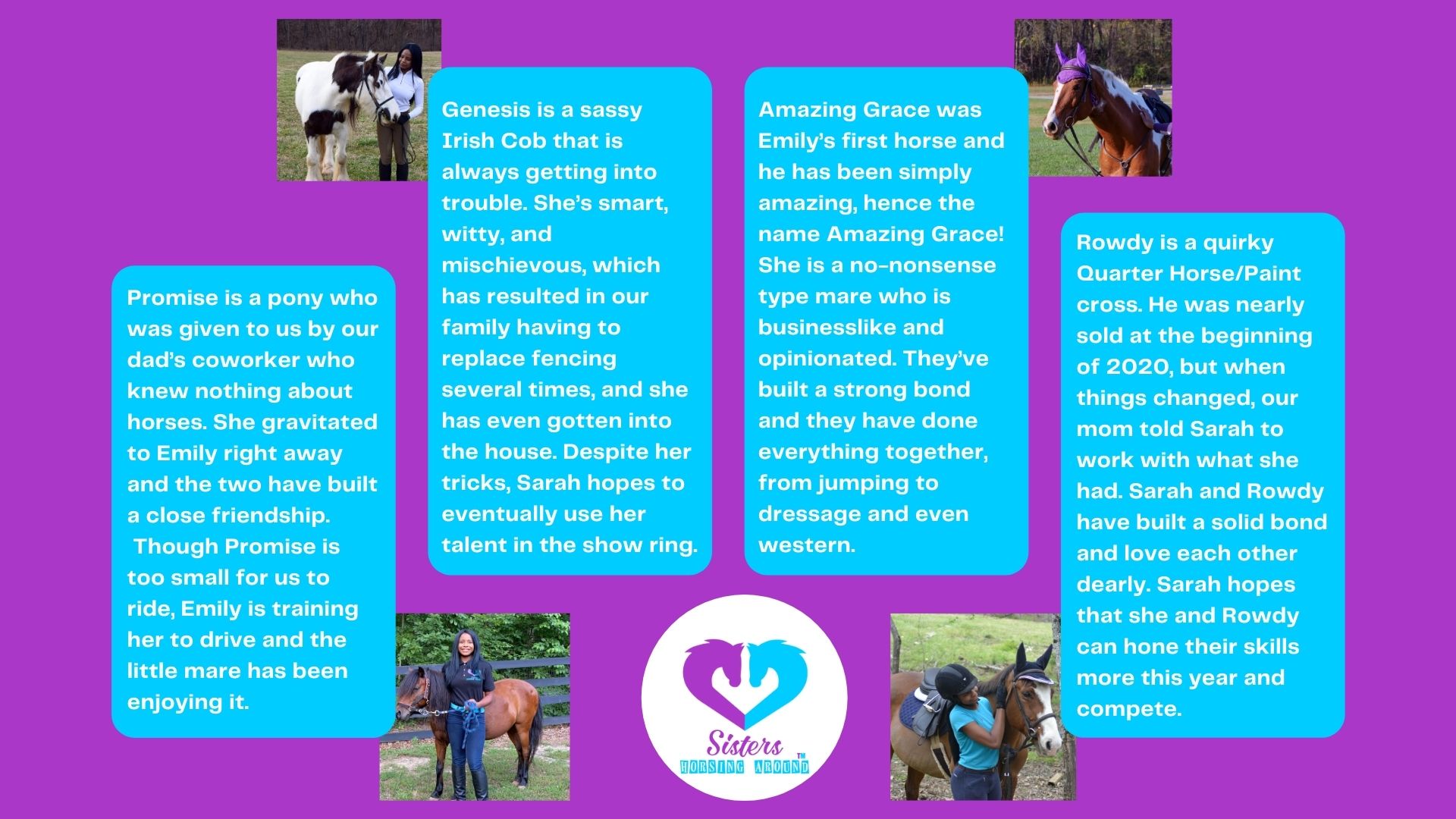 We are are 4-H alumni and served as President and Vice President of our county's 4-H horse club before Emily aged out. We are both members of the United States Pony Club with USPC certifications in all of the certifying disciplines. Emily is currently a delegate of the USPC National Youth Board and is Co-Chair for her Regional Youth Council. Emily is also a certified Open Horse Show Judge.
Now onto the big stuff.
We started Sisters Horsing Around in 2018 in an effort to put into motion the things our mother had spoken to us about when we were younger, such as how blessed we were to have horses and how not many black children had the same opportunities we did. She would often tell us that she wanted us to remember those in our black community and when we "got big," meaning make it big in life, she wanted us to provide an opportunity for others to get involved with horses.
Sarah, who was around 9 or 10 years old at the time, responded, "why do we have to wait until we get big?" Because of those conversations, we thought of ways to put that in action and not delay, and the idea for Sisters Horsing Around was born. We have been trying our best since then to provide an opportunity for others to learn about and get involved with horses.
Our Goal
We use our Sisters Horsing Around YouTube channel, website, and social media accounts to educate non-equestrians about the horse world. As passionate horse enthusiasts, we hope that the content we create will help bridge the gap between those outside the horse world and those inside the horse world.
Being first generation horse people, we didn't have the privilege of having someone hold our hands and guide us as we navigated the equestrian world; we just dove right in. Because of our plunge into the horse world, we had to learn everything firsthand. Now, we want to make it easier for others to get into the horse world. We want to be for others what we wish we had when we first started. We strive to be your equestrian "tour guides."
When it comes to riding, we both have an understanding of multiple disciplines. We ride Western and English in multiple disciplines in each. Because of our experience in multiple disciplines, we strive to bring awareness about the different disciplines to help dispel the prejudices incurred by misunderstanding. We want to help others see the good in each discipline and are always ready to engage in conversations on the topic.
Giving Back
We also partnered with a 501c3 nonprofit organization called The STAND Foundation headquartered in Washington, DC. STAND is short for Strengthening Thoughts and Nurturing Dreams and the foundation works to reach children and young adults in underserved communities and also endeavors to inspire youth to pursue positive decision-making skills through nature and equine-based programs. Because of our like-minded goals, we joined forces with the organization and actively participate by providing equestrian instruction for the equine programs and camps facilitated by the foundation.
[embedyt] https://www.youtube.com/watch?v=8n48axxMnng[/embedyt]
As the voices behind Sisters Horsing Around…
…we want others to see what makes the equestrian world so exciting. The horse world is enormous, and we want to explore every inch of it and take you with us on the journey. We want others to experience the joy that one can have with horses and to encourage others to embark on a horse adventure of their own.
If you want to learn more about us you can visit our website, http://www.sistershorsingaround.com/. You can watch our videos on our YouTube Channel, Sisters Horsing Around, and see what we are up to on our Facebook, Instagram, and Twitter accounts.