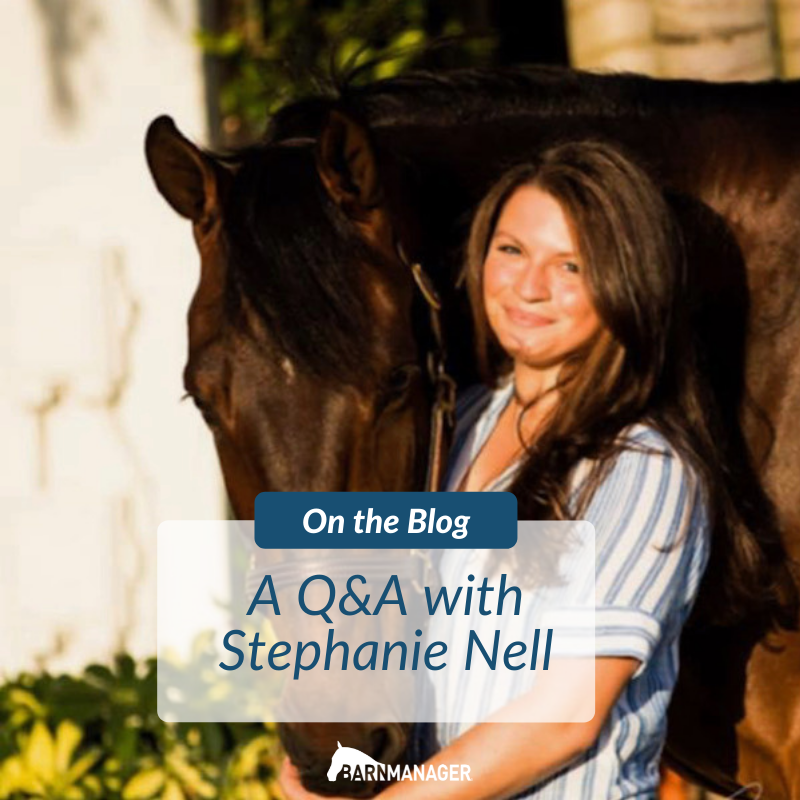 The BarnManager Q&A With: Stephanie Nell, groom for Olympic gold medalist Rodrigo Pessoa
The BarnManager Q&A With:
Stephanie Nell, groom for Olympic gold medalist Rodrigo Pessoa


What are three things that are always in your ring bag?
Stephanie: I always have the safety vest, sugar cubes, and a towel!
What is the most helpful habit that you practice at the barn?
Stephanie: Routine – things don't always go according to plan with this job, but it's good to have some sort of consistency for the horses to keep them level headed (and for the people).
How do you foster a great team environment in your business?
Stephanie: Communication, all the way. Unfortunately, we aren't all mind readers, so if we need something or have any concerns, we need to speak up. If we need to know something, ask!
What's your best tip or hack for grooming and horse care? Where did you learn it?
Stephanie: A mixture spray of witch hazel and vinegar for irritated skin. At my first job, I took care of a chestnut mare with highly sensitive skin, so every now and then we would have a rash breakout. To suppress the rash, I would spray that mixture once or twice a day. I swear it's magic in a bottle!
What is your favorite equestrian sport and why?
Stephanie: Show jumping through and through. I'm always in awe when I watch horses, especially the ones I care for, compete at the highest level of the sport. It makes me feel luckier to do what I do every time I'm on the side watching them go.
If you were a horse, what would you be and why?
Stephanie: I think I'd like to be a wild Icelandic pony. They live in a beautiful part of the world and are known to be tough and sturdy, yet kind and curious.
Have questions about utilizing BarnManager or want to give it a try for yourself? Request a live demo here!