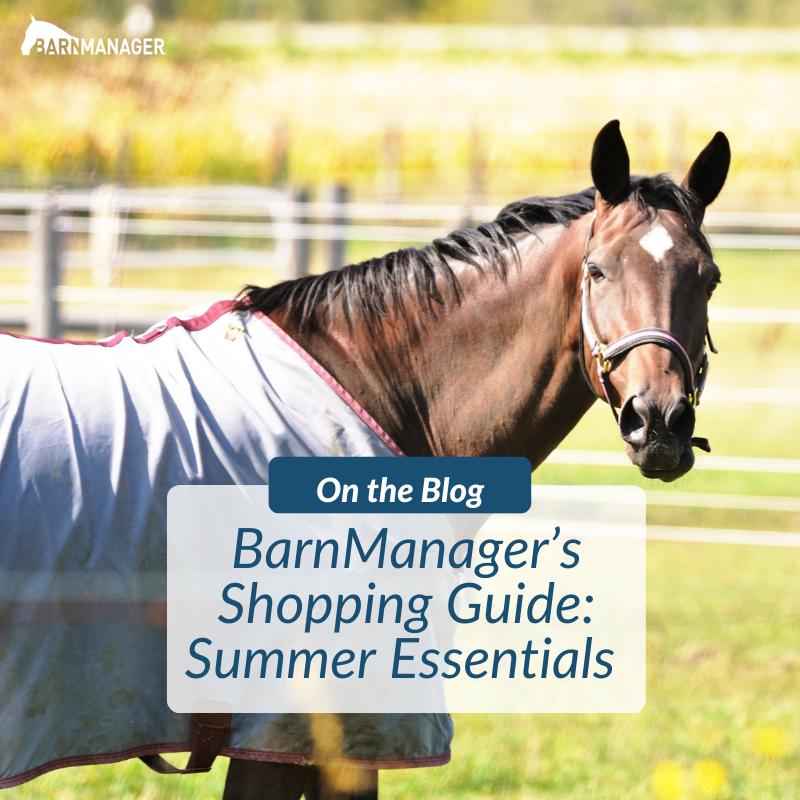 BarnManager's Shopping Guide: Summer Essentials
Entrepreneurial equestrians are always coming up with new products for both the horse and rider. Testing out every new invention is more than most people can handle, so keep reading for BarnManager's favorite summer must-haves for equestrians and their equine partners.
For the Rider:
Long Sleeve Sun Shirts
Protecting yourself from the sun during the summer is a necessity. Long sleeve sun shirts with ventilation are a great way to stay cool while also helping to prevent skin damage. These shirts often have a collar to protect your neck from the sun as well. Go with a brand that makes the shirt in a light or moisture wicking material. Have fun choosing from lots of fun patterns and price points to suit your needs.
Mesh Show Coat
Over the years, show jackets have evolved from heavy wool to lighter technical materials. These changes have been wonderful for summer horse showing. Many jacket manufacturers now also offer styles featuring breathable mesh material that are also machine washable. Mesh show coats are very comfortable to ride and compete in due to their lightweight and stretchy material. Mesh coats are on the pricier side but they can be a worthwhile investment for long, hot, and humid horse show days.
Sun Visor
Although many helmets now offer styles with a larger brim, consider the option of purchasing a clip-on sun visor. Clip-on visors provide more coverage from the sun's rays and allow for the flexibility of removing them when riding indoors. One thing to remember about them is that they can fly off in windy conditions, so plan accordingly.
Sport Sunscreen
Sunscreen is extremely important whenever you are outdoors, but especially during the summer when you spend all day outside at the barn. Finding a good sunscreen to use while riding can be challenging. Some sunscreens feel too heavy or can wash away when you sweat. Look for products that are specifically designed for sports. They will protect you longer and continue working even if you are sweating. Sunscreen sticks are a good option for equestrians because they are easier to apply on the go and do not drip in your eyes when you sweat. Consider zinc- and mineral-based sunscreens that are better for your skin and the planet. If your horse has a pink nose you may want to put some on them as well!
For the Horse: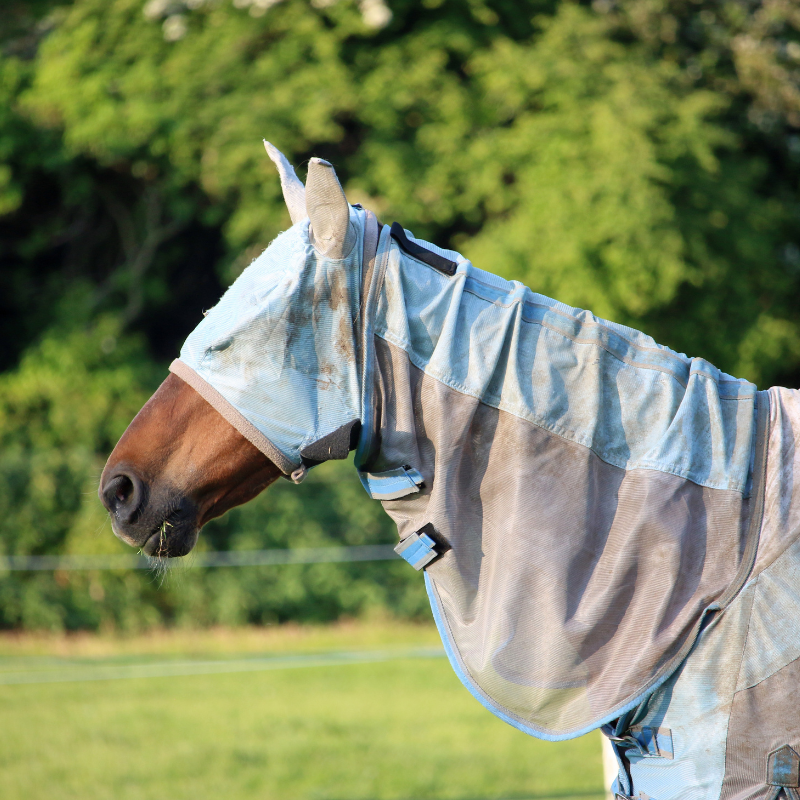 Ice Boots
Ice boots have a variety of benefits for horses and can be used throughout the year, but boy, do they feel good after a workout in the heat of summer. Icing your horse after exercise can help reduce and prevent any swelling, cool their tendons, and aid in treating injuries.
Soundproof Ear Bonnet
Unfortunately, summertime often means a lot of flies. Ear bonnets help keep flies away from your horse's ears. Consider looking into soundproof ear bonnets, especially if your horse tends to be a little spooky. Although you cannot use these in the hunter or equitation show ring, soundproof ear bonnets can be used in the jumper ring. They are also a great idea if your horse is sound-sensitive while trail riding.
UV Protective Fly Sheet and Mask
Flies can make summer turnout problematic. Depending on the location of your farm and the paddocks themselves, the fly population can cause your horse to be very agitated while in turnout. Investing in a fly sheet and mask can help minimize the annoyance of flies while your horse is in the field and while you hand graze them. There are also UV protective fly sheets and masks that help protect your horse's coat and eyes from the sun.
Invest in a few of these summer essentials to make sure you and your horse are ready to handle the sun, heat, and flies this season.
Have questions about utilizing BarnManager or want to give it a try for yourself? Request a live demo here!