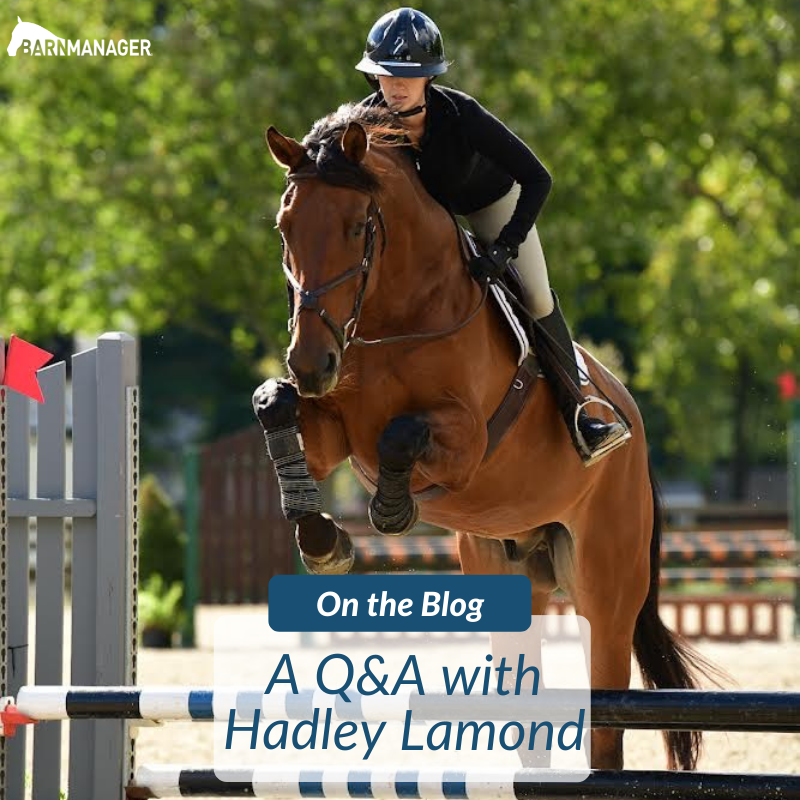 The BarnManager Q&A With: Hadley Wheaton Lamond
The BarnManager Q&A With:
Hadley Wheaton Lamond, rider and trainer located in Connecticut
What are three things that are always in your ring bag?
I always carry small microfiber cloths in my bag. I use them for last-minute touches on my boots, horse, or tack before I go in the show ring. They are really convenient to put in my bag and do a better job than regular towels. I also try to keep a crop and spurs in my bag. I recently went to a show and accidentally forgot spurs. Luckily, I had a friend there who let me borrow a pair, which saved the day. I can't stand riding without gloves or a hairnet, so I always make sure to have extras of those in my bag as well.
What is the most helpful habit you practice at the barn?
Being consistent is the most important and helpful habit I practice right now. I'm definitely less motivated in the winter since I live in Connecticut and don't go south. Keeping myself and my horses in a routine is crucial. I try to keep on top of things like having my tack and equipment organized, making sure my horses still look show ready, etc. I find this creates less stress and anxiety down the road.
How do you foster a great team environment in your business?
When I travel to teach or groom, I try to have a positive mindset. Working 10 to 12 hours a day is exhausting and the days can be unpredictable. I try to keep team spirits up by smiling and having a sense of humor. I find that even small things like saying thank you can have a big impact on someone, especially if they are not having the best day.
What's your best tip or hack for grooming and horse care? Where did you learn it?
Until recently I always bought the more generic and less expensive brushes. I started buying HAAS brushes and they're completely worth it. I saw someone using that brand in a TikTok so I decided to try them.
What is your favorite equestrian competition and why?
I don't know if I have a favorite, but I really loved showing at Tryon International Equestrian Center. The layout, amenities, and vendors made the show very convenient and enjoyable. The rings and stables were also nice. I would definitely like to show there again, and hopefully, I will be able to show in a derby. Their recent derbies have looked like a lot of fun.
If you were a horse, what would you be and why?
I always tell my students I would be the worst horse to ride. I think sometimes we forget how patient and willing horses can be. I personally don't see myself being the most "tolerant" horse. For this reason, I would probably be sitting in a field somewhere.
Have questions about utilizing BarnManager or want to give it a try for yourself? Request a live demo here!