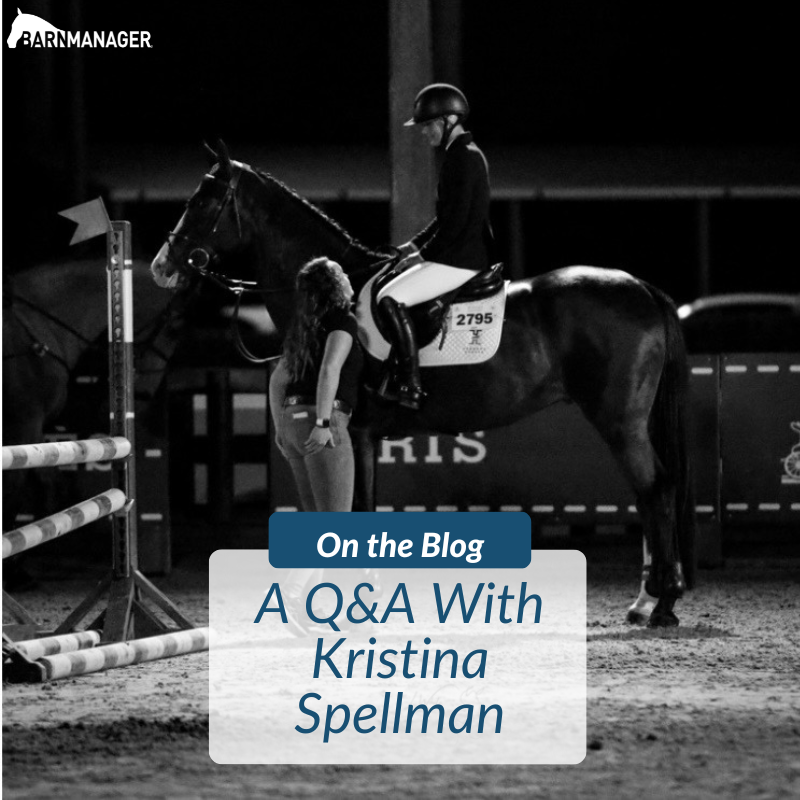 BarnManager Q&A With: Kristina Spellman
BarnManager Q&A With: Kristina Spellman
Kristina Spellman, Manager for Hubbard Horses LLC, located in Wellington, FL
What are three things that are always in your ring bag?
I always keep treats, vet wrap, and a towel in my ring bag.
What is the most helpful habit that you practice at the barn?
I find that it is very helpful to follow a daily routine to stay organized.
How do you foster a great team environment in your business?
I try to always promote open communication. I find communication to be important when you are part of a team because it's the best way to make sure everyone is on the same page about the horses' care and the schedule. This way nothing gets overlooked and everything runs smoothly. Also, I think it is really important to have a positive attitude even during difficult days.
What's your best tip or hack for grooming and horse care? Where did you learn it?
My best tip is to curry a lot. I have learned this through working for a number of top professionals in the industry.
What is your favorite equestrian competition and why?
I really enjoy Tryon International Equestrian Center in Mill Spring, NC. It's a beautiful facility with great footing. Also, on days when you're not competing it is nice to take the horses out on the cross-country field.
If you were a horse, what would you be and why?
I would be an amateur jumper because I'm reliable and always try to have a really good attitude. Plus, I know my owners would spoil me!
Have questions about utilizing BarnManager or want to give it a try for yourself? Request a live demo here!