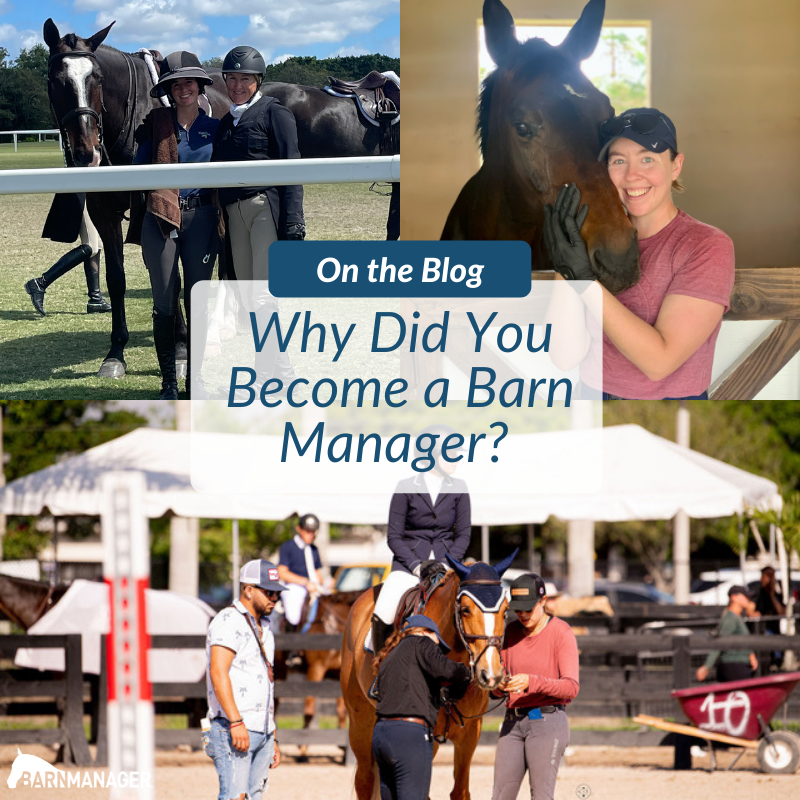 Why Did You Become a Barn Manager?
Kelly Campbell
Manager for Eight Oaks Farm Inc., based in Middleburg, VA, and Wellington, FL
What is the story behind you becoming a barn manager?
I went to Skidmore College in Saratoga Springs, NY, and grew up just 30 minutes away. I was on the IHSA team and fully immersed in the riding program. When everyone else would go home for breaks or for the summer, I lived close enough that I continued to ride at school full time. My coaches (Cindy Ford, Belinda Colgan, and Karen Hurff) were always kind enough to let me show one of the school's horses, and I worked off my show bills. Even during the summer, we still had a barn of around 40 horses that needed care. I did a lot of horse care, turning out, rehabbing horses, and —honestly—a ton of laundry. When we would go to shows, I would do basic grooming duties, stall cleaning, getting horses ready for the ring, etc. As the summers went by, they gave me more responsibilities.  The college required my coaches to take time off during the summer, so I was always there to help when they were away. These years were when I realized that horses were all I wanted to do. After college, I started off as a groom and slowly worked my way up through different jobs to where I am now, the barn manager at Eight Oaks Farm Inc. for Johnny and Kitty Barker.
What is your favorite part about being a barn manager?
My favorite part of being a barn manager by far is the horses. I can't even think of what another answer could be! I am very lucky to work with a great group of horses at Eight Oaks.  It is so rewarding to get to know each horse, figure out what keeps them happiest, and watch them succeed.
Krista Goosens
Manager for Brianne Goutal LLC and the Propp Family, based in Wellington, FL, and Long Island, NY
What is the story behind you becoming a barn manager?
I rode competitively as a junior and as an amateur through college and grad school. After school, I worked a corporate 9-to-5 job in alternative energy. While I found my job interesting, I hated the lifestyle, and I really missed the horses. I had almost no free time for riding, and sitting in an office every day just wasn't for me. I reached out to some old friends in the horse industry, and someone connected me with Jill Shulman at Back Country Farm. She happened to be looking for a new manager/assistant trainer at the time, and everything fell into place very quickly. I started with the Shulmans in the fall of 2012 and haven't looked back!
What is your favorite part about being a barn manager?
My favorite part of being a barn manager is definitely seeing the progression of horses and riders over time. I love getting a new horse into the barn and seeing how they change and develop. I've been working with Brianne Goutal and the Propp family for about three and a half years now, and I'm very proud of the fact that our program prioritizes the horses' health and happiness above all else. We really try to take our time to get to know each horse and what works or doesn't work for them in a competitive program. Some need more structured flatwork and fitness regimes every day, while some prefer a more laid-back approach. I really enjoy seeing how the horses thrive in our barn and how the kids grow with them and develop as riders. I feel very fortunate to be able to work with such amazing animals, and seeing them win at the highest level never gets old.
Kiira Lizza
Manager for Grafton Ridge, based in South Salem, NY, and Wellington, FL
What is the story behind you becoming a barn manager?
I've been involved with horses my entire life and have always been very passionate about horse care. I was lucky enough to grow up as a working student for Nona Garson, which gave me a taste of the top level of the sport at a young age. After graduating from Skidmore College, I went on to work for Anne Kursinski, Amanda Steege, and Leslie Howard grooming, managing, and riding up to the five-star level. I took a break from horses in 2017 and worked in corporate America. I moved to England in 2019 to earn my MBA from Warwick Business School. After graduating with another corporate job, COVID forced the company to close down. I was in Wellington at the time, so I started freelance working with horses again. A friend was working for Michael Delfiandra and Vanessa Roman at Grafton Ridge, and they happened to be looking for a barn manager. The rest is history!
What is your favorite part about being a barn manager?
My favorite part is the horses! I love treating each one of our horses as if they were my own. I love learning different ways to make the horses happier and healthier in their day-to-day lives and in their jobs. A close second would be working for Michael Delfiandra and Vanessa Roman. They have been an amazing pair to work for, and I feel lucky to be a part of their business. I think it is really important to find professionals that respect your expertise and time. Being a barn manager—especially at this upper level of the sport—can feel like a 24/7 job, so it's important that the people you're working for acknowledge the time and effort you are putting into their business. I'm very fortunate to be part of such a great team.
Have questions about utilizing BarnManager or want to give it a try for yourself? Request a live demo here!