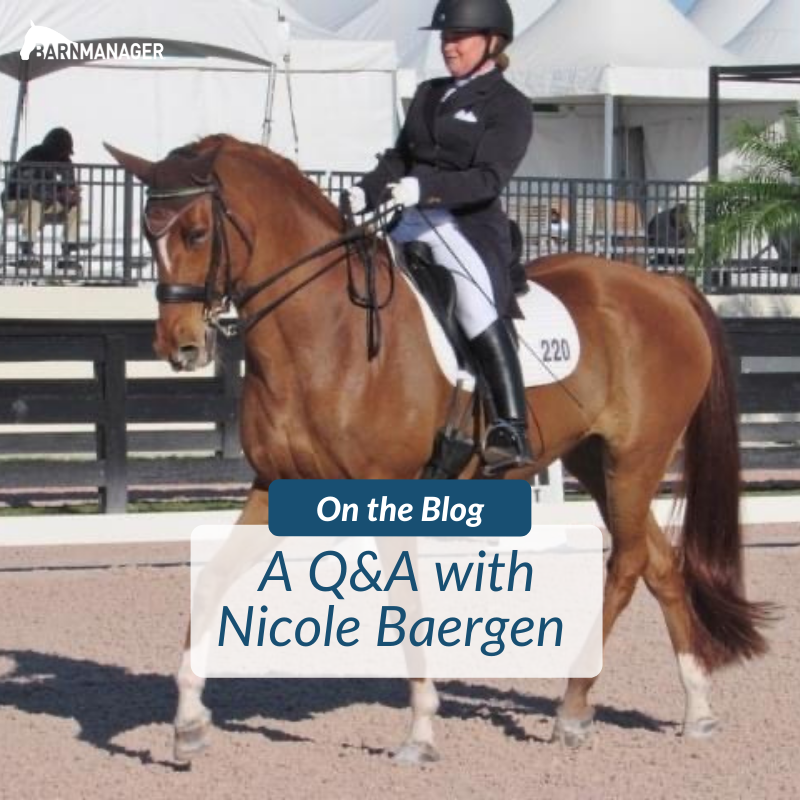 The BarnManager Q&A With: Nicole Baergen
The BarnManager Q&A With:
Nicole Baergen, Groom and Manager for Jan Brons Dressage, located in Wellington, FL
What are three things that are always in your ring bag?
I always carry fly spray, towels, and a hoof pick with me to the ring.
What is the most helpful habit you practice at the barn?
I think it is important to pick horses' feet before leaving their stall to keep the aisle clean and neat. I also believe that all equipment and grooming supplies should have a "home" or specific spot where they are stored. It is helpful for people to know where to put things after they use them, so things don't pile up at the end of the day.
How do you foster a great team environment in your business?
I try to schedule group activities outside of the barn. It gets everyone excited and looking forward to doing something together. I actually use Groupon a lot because it's a great way to find local things to do. Plus, it's easy on everyone's budget.
What's your best tip or hack for grooming and horse care? Where did you learn it?
I love my tails. I'm big on conditioning and trimming them weekly. Also, currying is so important. I love my metal curry to massage the body. I then use a rubber curry to get the legs and the in-between places. I learned these grooming tricks when I was in high school and spent a summer as a working student for Nancy Later. She was a stickler for the details. I'm so grateful to have had her guidance, which helped lay the foundation for me to be doing what I do now.
What is your favorite equestrian competition and why?
I love them all. I don't think I could pick one. I enjoy being able to constantly meet so many people and learn from them at different shows. Plus, I have had the pleasure of working with some amazing horses.
If you were a horse, what would you be and why?
A Shetland pony! I may be small, but I'm mighty.
Have questions about utilizing BarnManager or want to give it a try for yourself? Request a live demo here!