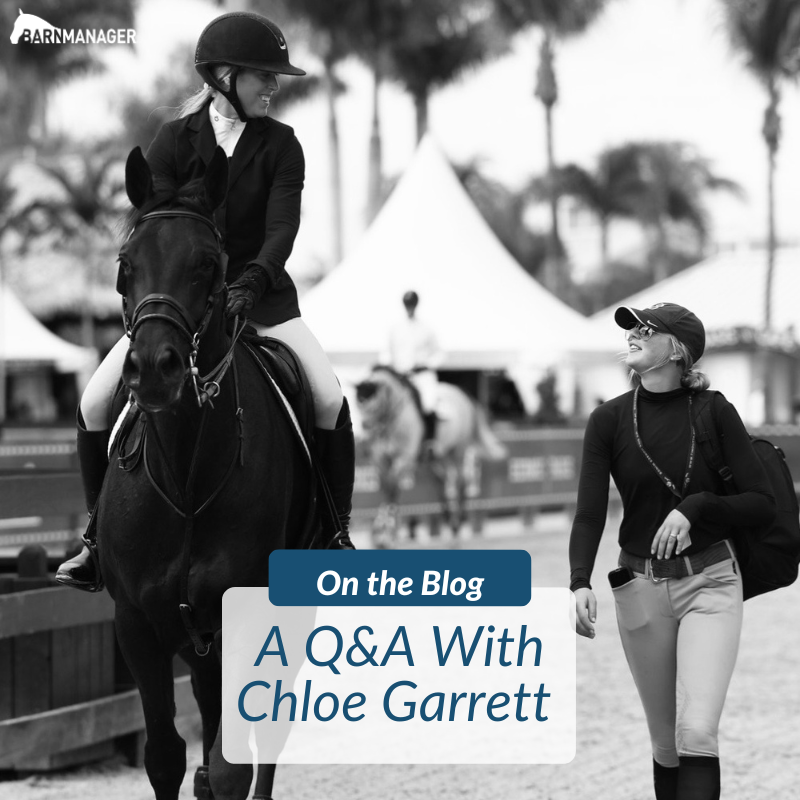 BarnManager Q&A With: Chloe Garrett
BarnManager Q&A With: Chloe Garrett
Chloe Garrett, manager for Sarah Scheiring of Bellwyn Farm, based in Wellington, FL
What are three things that are always in your ring bag and why?
The first thing I always have in my ring bag is vet wrap because you never know when your horse will lose a shoe or get a nick on course. I also have boot polish for touch-ups between rounds and, of course, cookies.
What's something you learned early in your career that has stuck with you?
Early on in my career I got the opportunity to work with a lot of young horses, and to this day they are still my favorite part of the industry. I learned a lot of patience from them, and even though it's a bit of a trivial answer, I really notice this is lacking in the sport. Even when working with seasoned horses, it is important to take a step back and really say to yourself, "They are just animals, and they don't have to do what you're asking of them." Taking time to build a strong relationship with every horse that walks through the door is something that I put a lot of value in, and sometimes all it takes is a little bit of patience.
Who inspires you the most in the industry and why?
One of my biggest idols for as long as I can remember has been Lee McKeever. I look up to him for a lot of reasons. I admire his invaluable knowledge of the horses and the sport, his work ethic, and his ability to always be on the same page as McLain Ward. Above all, I think what stands out to me is their team. You don't see a lot of professionals maintaining long-term relationships in the way that they have, and I think it reflects greatly on how much value McLain holds in Lee as his second-in-command.
What is your best tip for staying organized during a busy show day?
I think there are a lot of ways to stay organized during a busy show schedule. Starting the night before, creating a really solid plan, and sticking with it are all important, but as everyone in the industry knows, just because you made a plan doesn't mean it will run accordingly. I rely heavily on my staff to be one step ahead because timing is everything.
Another huge part of a busy show schedule is communication with the in-gates. A staple of a great horse show is its staff, and I try to maintain good relationships with everyone I see on a daily basis. AJ Holmes who works at the in-gate at the International Arena during the Winter Equestrian Festival is a great example of an individual who keeps the busy days running smoothly. When timing is everything, you rely on the rings to be on schedule so you know exactly when you should have your horses ready to show. For example, AJ's communication with the competitors, staff, and other rings is the difference between being organized and ready to go versus being lost in a chaotic moment. It really takes a village.
What is one horse show you have never been to but would love to attend?
I have never been to Aachen, Germany, and I would definitely say it is a bucket list show for me. The atmosphere, the ring, the jumps, all of it. It's really a class venue, and I would love to experience it one day.
Mares, geldings, or stallions and why?
Over the years the horses that have impacted me most have been mares. I have a love for all of the horses I work with but I think that although mares may be harder to get on your team, once you win them over they fight for you the most. At the end of the day, I think the horses that are the most successful and rewarding in and outside of the ring are the ones with the most heart.
If you were a horse, what would you be and why?
If I were a horse I think I would be an Amateur-Owner Hunter. I love what I do in the real world but there's something that sounds nice and satisfying about working hard for cookies on the weekend and making an owner really happy.
Have questions about utilizing BarnManager or want to give it a try for yourself? Request a live demo here!