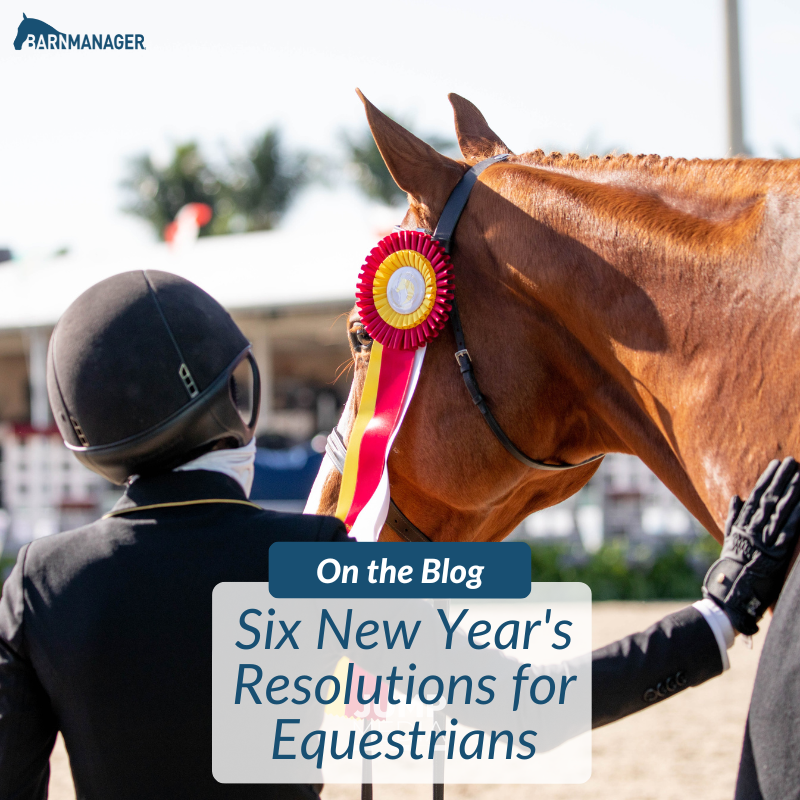 Six New Year's Resolutions for Equestrians
Have you chosen your New Year's resolution for 2023? If you are considering any equestrian-focused goals this year, keep reading for a few ideas from BarnManager.
Fix One Habit
Every rider has one bad habit they are always being reminded about during lessons. Instead of having a broad goal to become a better rider, try focusing on improving that one flaw. It may be something small like lowering your hands, not leaning to the right, or keeping your shoulders tall. Every time you ride, keep that one habit in mind, rather than a long list of things, and before long you will see progress.
Add More No-Stirrups Work to Your Routine
This year, try to make every month "No Stirrup November." Begin with small steps, like adding it in for 5 minutes once a ride and then build from there instead of torturing yourself once a month or only doing it when your trainer asks for it in a lesson.
Take Care of Your Tack
Cleaning, oiling, and conditioning tack are extremely important tasks that often get skipped. Leather tack is expensive and the more regularly you take care of it, the longer it lasts. This year, make a plan to clean your saddle, bridle, martingale, boots, and other leather equipment after every ride and oil and condition the leather once a week.
Organize Your Paperwork
Organizing your horse's or barn's paperwork is a daunting task, but a necessary one. Making sure paperwork like health certificates and lease agreements are up to date and in an organized location is key. If you are organizing your barn's paperwork, set aside time once a month to confirm all information is current, new horses have been added, and everything is still in the correct place.
(Did you know? BarnManager can help you organize all of your paperwork so that it is in digital form, easy to access, and readily available.)
Spend More Quality Time With Your Horse
Whether you are a professional, junior, or amateur rider, you probably have a busy schedule that makes it hard to spend time with your horse. Between riding, showing, work, and school, finding free time to just be with your horse can be tricky. Promise yourself you will carve out a little time during most visits to the barn to groom, graze, or simply hang out with your horse. Even if it's only for an extra 10 minutes, this quality time will give you both a well-deserved break to relax together.
Be Grateful
It is all too easy to compare yourself to other riders, owners, or trainers in this sport. This year, make a point to be grateful for the opportunities and horses you have instead of focusing on what others are doing. Everyone has their own path so make the most of yours and take time to be thankful for the horses and the people you have in your life.
For 2023, stick with a few simple, specific resolutions rather than big, overwhelming ones that are difficult to maintain. Before long, you will find your new year becoming more enjoyable!
Have questions about utilizing BarnManager or want to give it a try for yourself? Request a live demo here!