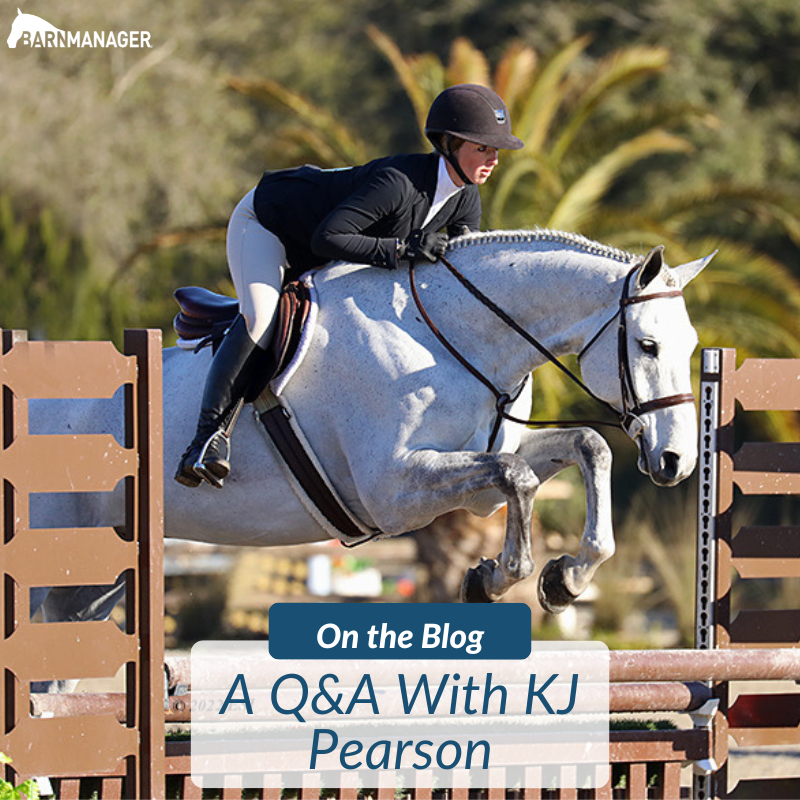 The BarnManager Q&A With: KJ Pearson
The BarnManager Q&A With:
KJ Pearson, Manager and Rider at Hunt Tosh Inc, located in Milton, GA
What are three things that are always in your ring bag?
I normally do not have a ring bag, however my dirt bike always comes to the ring with me. Three essentials that are in my trunk are Advil, hairnets, and candy that Maddie Tosh and I always keep close by.
What is the most helpful habit that you practice at the barn?
The most helpful habit that I practice at the barn is starting early. I like everything super organized. Getting the horses ready and the barn organized early helps the day go a lot more smoothly.
How do you foster a great team environment in your business?
We do a lot of things together as a team. Whether it's going to a horse show, or finishing up daily barn chores at home, everyone always pitches in. The Toshes are like family to me, so we are a very close team. Maddie and I do things like getting everyone lunch or having ice cream parties and game nights when we are at home to show how much we appreciate all that our team does.
What's your best tip or hack for grooming and horse care? Where did you learn it?
The best hack I have is probably for fixing blemishes such as a spur rub or covering up stained white knees and socks. White chalk, black chalk, and baby powder can make magic happen when you are trying to cover up a stain or rub. Ruben Cruz, who is Bobby Braswell's head groom, taught me that a few years back and I still do it to this day.
What is your favorite equestrian competition and why?
My favorite horse show hands down is the Bluegrass Festival at the Kentucky Horse Park where the USHJA International Hunter Derby Championship and Green Hunter Incentive Championships take place. It's my favorite week of the year, and the entire team looks forward to it. USHJA puts on such a good show for the young horses and asks them all the right questions. "Derby Finals" has such a special place in my heart; there's no feeling like walking down the ramp during the final round at night.
If you were a horse, what would you be and why?
If I was a horse, I would for sure be an endurance horse. My friends all joke with me that I am the energizer bunny because I'm always going.
Have questions about utilizing BarnManager or want to give it a try for yourself? Request a live demo here!