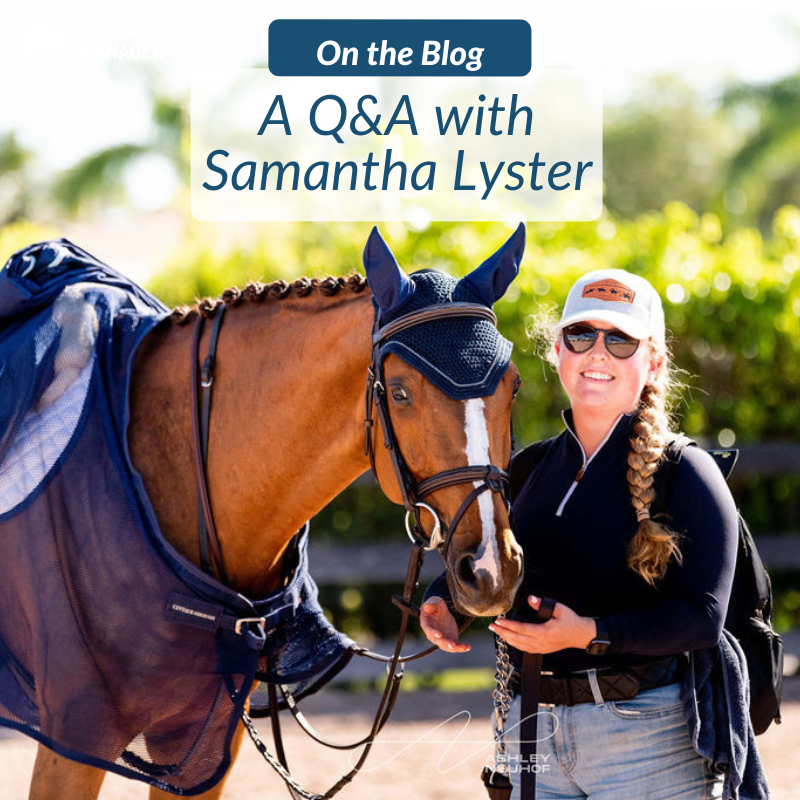 The BarnManager Q&A With: Samantha Lyster
The BarnManager Q&A With:
Samantha Lyster, Head Groom at Artemis Equestrian Farm, located in Wellington, FL, and Greenwich, CT
What are three things that are always in your ring bag?
I always have a leather hole punch, a pair of scissors, and Band-Aids. They seem a little silly, but they are the things I'm most often asked for at the ring, both by the people I work for and by other grooms who don't have them handy.
What is the most helpful habit that you practice at the barn?
Patience. It is still something I struggle with, and it is often easy to forget. It can be applied in all situations, with both horses and humans.
How do you foster a great team environment in your business?
This can be difficult unless you're lucky enough to have a group of people that get along instantly. I think it is important to keep everyone informed of the day's plan, even if it doesn't necessarily apply to them, because it keeps the whole team feeling involved. Also, make sure to be aware of how everyone does things a little differently and make an effort to include their ideas.
What's your best tip or hack for grooming and horse care? Where did you learn it?
If you think you've curried enough you haven't, and you should keep going. Also, try to use different types of curry combs. The best way to get a horse to shine is to really stimulate their skin, get those natural oils working to your advantage, and remove all that dead hair and dirt. I learned that from my coworker, Jose Rios. He also pointed out the importance of having multiple curry combs like a mitt, a thick rubber one, and a metal one. They all have their own job.
 What is your favorite equestrian competition and why?
I've only been once, but I really liked Lake Placid. The show itself had a great atmosphere, and the town was super neat. The surrounding areas had lots of places to explore!
If you were a horse, what would you be and why?
If I were a horse, I would probably be someone's quarter horse they trail ride. I really like to be out and about and explore new areas and sights!
Have questions about utilizing BarnManager or want to give it a try for yourself? Request a live demo here!