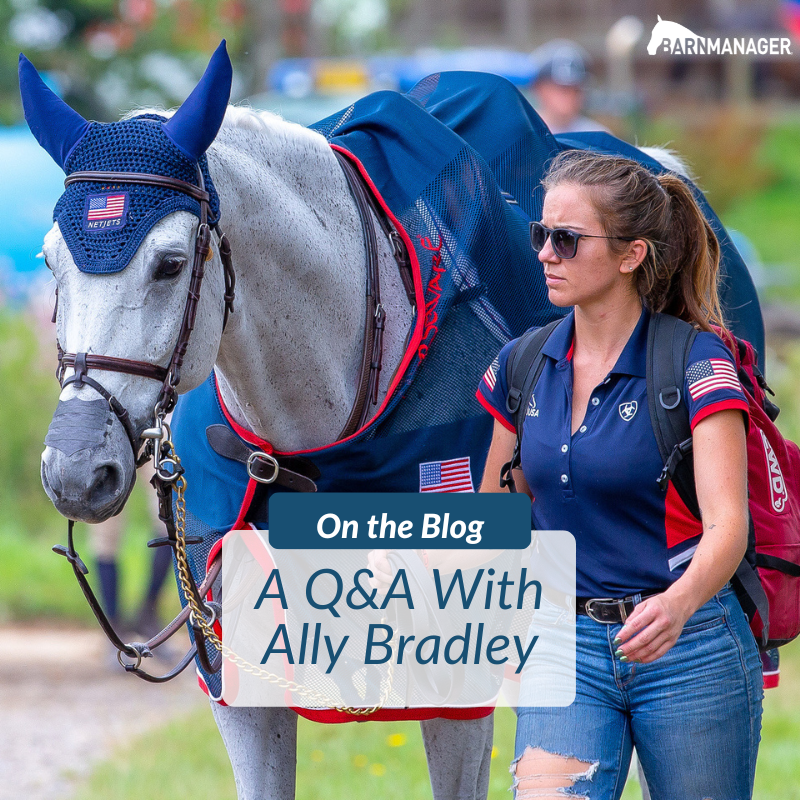 BarnManager Q&A With: Ally Bradley
BarnManager Q&A With: Ally Bradley
Ally Bradley, show groom for Catherine Tyree, a young professional show jumping athlete based out of Wellington, FL
What are three things that are always in your ring bag and why?
My ring bag is a small tack room, to be honest. It of course comes with the usuals, but I will not go anywhere without a stud tree, Advil, or my spare rope halter. All three have proven to be useful on the days that make you say, "Well that wasn't supposed to happen…"
What's something you learned early in your career that has stuck with you?
Early in my career, I was working for Neil Jones while Mavis Spencer was still riding for him. Mavis taught me that there are many ways to do something correctly as long as you keep good horsemanship in mind. There is no one true path to success with horses. You have to leave room for error and stay empathetic with both the horses and humans around you. There has to be a space for differences in styles and personalities. Nothing in the barn belongs in a "box."
Who inspires you the most in the industry and why?
My industry inspiration would be my childhood trainer, Kathy Slack, who is really more like my mom. When she started her career in horses, it was more of a side gig to teach a few lessons and enjoy her own horses while she worked as a nurse. She bought a small building with land and built the stalls inside the structure herself. Before you know it, she went from two horses to five to 10. Now, 25 years later, between two separate business operations, she oversees 80+ horses and countless riders and students. She does this all while being an incredible mom, instructor, philanthropist, and mentor. Kathy is the coolest person and the one who inspired me to go to Wellington and start grooming. I am grateful to her for everything she has done for me through the years.
What is your best tip for staying organized during a busy show day?
When the days get busy and you start going fast, the best thing you can do is have a clear plan from the get-go. Communication is also important. If everyone is on one page from the moment you feed the horses in the morning to the moment you feed in the afternoon, it makes for an enjoyable experience. If the plan falls apart during the day, it is also important to have a reliable and flexible team of people working with you. I consider myself really lucky to work with the team of people I do. I am quite close and work very seamlessly with my rider Catherine Tyree and my coworker Alex Weinman. We keep it all together by creating a plan every night and sticking to it the best we can. While we are very serious about show jumping, we are also always laughing and having fun. It is extremely important to me to be on a team of people I enjoy working with. If it's not fun, why do it?
What is one horse show you have never been to but would love to attend?
I have yet to attend Spruce Meadows, and I am dying to get up there. It is such an iconic venue, and I hope to experience it soon.
Mares, geldings, or stallions? Why?
I am just a horse person. I don't really have a favorite. I fall in love with the personality of the horse before anything else!
If you were a horse, what would you be and why?
If I was a horse, I would hands down be a naughty school pony who lived to be 100 years old.
Have questions about utilizing BarnManager or want to give it a try for yourself? Request a live demo here!