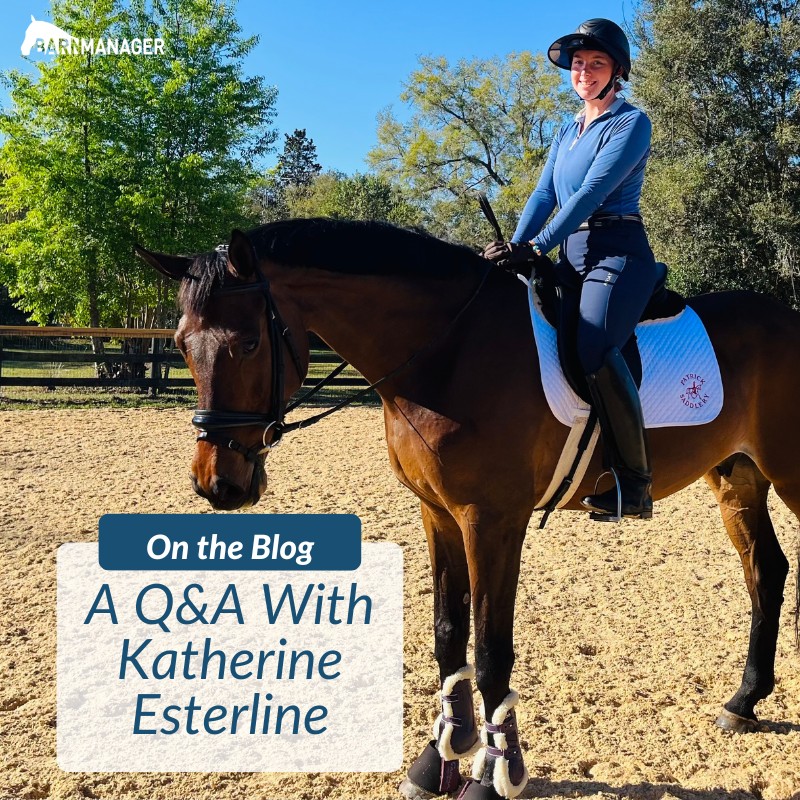 BarnManager Q&A With: Katherine Esterline
BarnManager Q&A With: Katherine Esterline
Katherine Esterline, groom for Anna Marek of Marek Dressage based out of Ocala, FL
What are three things that are always in your ring bag and why?
I always have sugar cubes. Anna's trainer Anne Gribbons likes to give a lot of rewards during her lessons. I make sure to keep a good supply in my bag for training times and warm-up at competitions. The second item is a wet rag. Lots of sugar leads to a lot of foam and a mess! I use a wet rag to wipe the horse clean of foam and sand before they go in the show ring. It's also very handy when the reins get slippery and covered in sweat. The third thing I keep in my bag is an instant ice pack. In Wellington, FL, it can get very hot during competitions. The ice pack helps me stay cool while standing by the warm-up arena, and it keeps my rider's water bottle cold. 
What's something you learned early in your career that has stuck with you?
I learned early on that a good curry comb is your best friend.
Who inspires you the most in the industry and why?
My mom helped me find a passion for horses at a young age. She trained and managed a boarding farm in Michigan. She was the one who gave me my first lessons. She now manages the care of Anna's training horses at Crownview Dressage. She works extremely hard. I never see her take a day off. 
What is your best tip for staying organized during a busy show day?
I make a plan using the notes app on my phone the night before with the times my rider will mount and show. Anna tends to show two to three times a day plus additional schooling sessions. Having everything written down is essential. Setting timers for lunch and other special tasks is also very helpful.
What is one horse show you have never been to but would love to attend?
I really want to go to Aachen. I'd love to go even just as a spectator … one day! 
Mares, geldings, or stallions? Why?
I love geldings, but earning the friendship of a mare is truly the best. 
If you were a horse, what would you be and why?
The new foals on the farm look like they're having the most fun playing around in the field. I'd love to be them!
Have questions about utilizing BarnManager or want to give it a try for yourself? Request a live demo here!