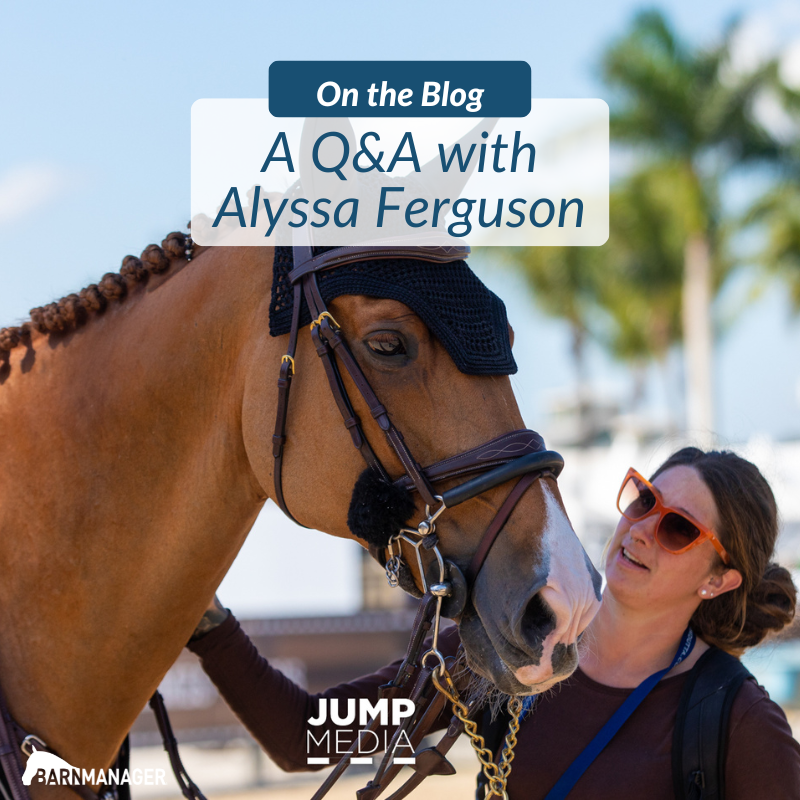 The BarnManager Q&A With: Alyssa Ferguson
The BarnManager Q&A With:
Alyssa Ferguson, Professional Groom at Ilan Ferder Stables, located in Wellington, FL
What are three things that are always in your ring bag?

I always have the heaviest ring bag! My friends like to joke that the only thing I don't have is the kitchen sink. My three must-haves in any ring bag are back boots, extra leather pieces, and cookies. I bring a variety of back boots with me, between four to seven different kinds. The extra leather pieces are usually items such as a flash, a set of blinders, a pair of rein converters, and a set of draw reins at a minimum. Cookies are important because I want my horses to know that they will get rewarded for a job well done.
What is the most helpful habit that you practice at the barn?

Cleanliness and organization are two important habits. Often the show schedule or daily plan can get changed without much notice. I find it super helpful when everything is clean and tidy, labeled, and in a specific location. This way it's easy for anyone to step in and know exactly where everything is for each horse if the main groom isn't available.
How do you foster a great team environment in your business?
Humor and a positive attitude! This job, especially during shows and busy times, can be super stressful. I try to always keep the air light and keep everyone smiling. A positive attitude is contagious and makes for a nice work environment.
What's your best tip or hack for grooming and horse care? Where did you learn it?
Honestly, I don't think there are any tricks. I think the best way to give your horse the best care is to pay attention to what they want. I've had some horses that really dislike being brushed, so instead of forcing them to endure something they do not enjoy, I use a wet towel to remove the dirt or sweat. It's all about knowing the horse's likes and dislikes and trying your best to give them what they want.
What is your favorite equestrian competition and why?
Spruce Meadows is hands down my favorite outdoor venue.  The rings, fences, and spectators give off an incredible energy.
If you were a horse, what would you be and why?
If I were a horse, I'd honestly be a Shetland Pony. I am small and look sweet but can be pushy and have a little bit of an attitude.  Also, I'll never say no to a snack or extra treats even if I know it's bad for my waistline.
Have questions about utilizing BarnManager or want to give it a try for yourself? Request a live demo here!