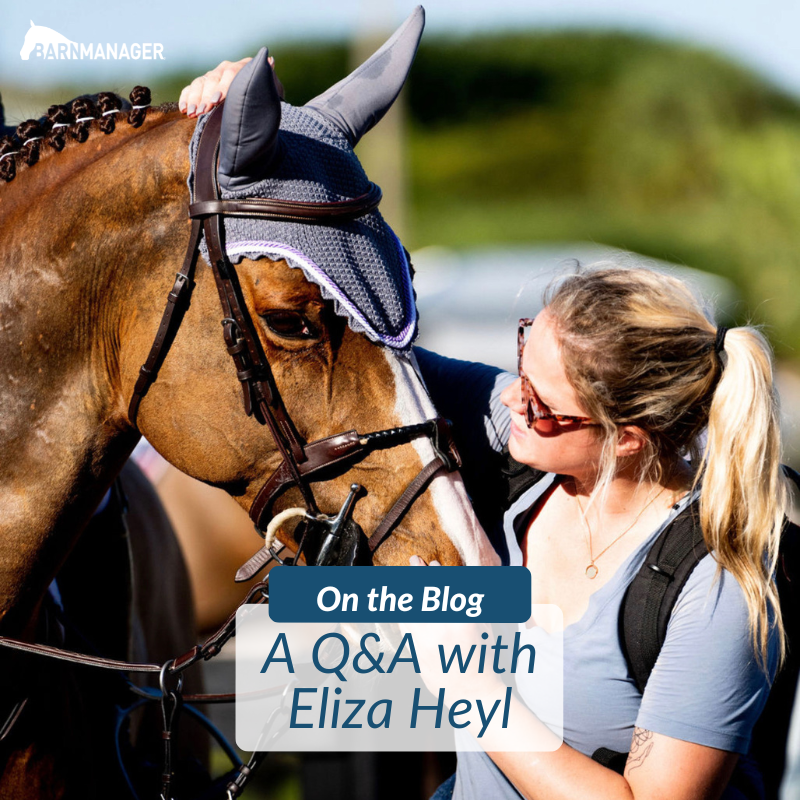 The BarnManager Q&A With: Eliza Heyl
The BarnManager Q&A With:
Eliza Heyl, Groom at Hillside Farm LLC, located in Wellington, FL, and Greenwich, CT
What are three things that are always in your ring bag?
I always carry treats, a hoof pick, and a few veterinary supplies like vet wrap, silver spray, etc. I think these are important items to have no matter the horse or class.
What is the most helpful habit that you practice at the barn?
Risk management. For example, 99% of the time you could probably get away with leading a horse with the throat latch unclipped, looping a chain shank under the chin when it's not in use, or cutting other corners. Basing decisions on assessing the risk of the 1% of times when bad things happen versus the few seconds it takes to do things safely and correctly helps keep the horses and staff safe while avoiding unnecessary accidents in the barn.
How do you foster a great team environment in your business?
Communication and a positive attitude. I think it's important to remember that as grooms we're hired to do things the way that managers, riders, and owners want them done. Sometimes the way I would do things isn't the same way that my manager would. What matters is that I'm doing things the way my superiors want them done while maintaining a positive attitude about it. This helps avoid becoming frustrated and arguing with my manager, and it also provides me with a little bit of support if things go wrong. In those cases, I've done what I've been asked to do instead of doing it my own way and being responsible for any problems that arise as a result of disregarding instructions.
What's your best tip or hack for grooming and horse care? Where did you learn it?
It seems obvious but attention to detail. Running your hands over your horse's legs every day, ideally, a few times a day, is a great way to catch indications of injury early on. It's important to know what lumps, bumps, and old scars are normal and what are not. I apply the same logic all over the horse's body. Anytime I notice an abnormality I find it best to tell my superior as soon as possible. A second pair of eyes and hands can help you assess a situation quickly and accurately while also saving both of you from the "Why didn't you tell me about this as soon as you noticed it?" situation down the road.
What is your favorite equestrian competition and why?
Either GCT Miami or GCT Saint Tropez. Logistically both shows are a bit difficult as a groom because you don't have the space or infrastructure of a normal showgrounds to take care of your horses. Despite that, I love the atmosphere of my rider and horses competing on the beach in Miami and the stunning surroundings of Saint Tropez. The GCT shows are very busy and are over in a heartbeat, but they have that extra layer of elite competition that appeals to me.
If you were a horse, what would you be and why?
I think I'd like to be a beloved retired top-level show jumper; one of our sport's best rider's favorite horses who is happily enjoying retirement while still being treated with the best care.
Have questions about utilizing BarnManager or want to give it a try for yourself? Request a live demo here!