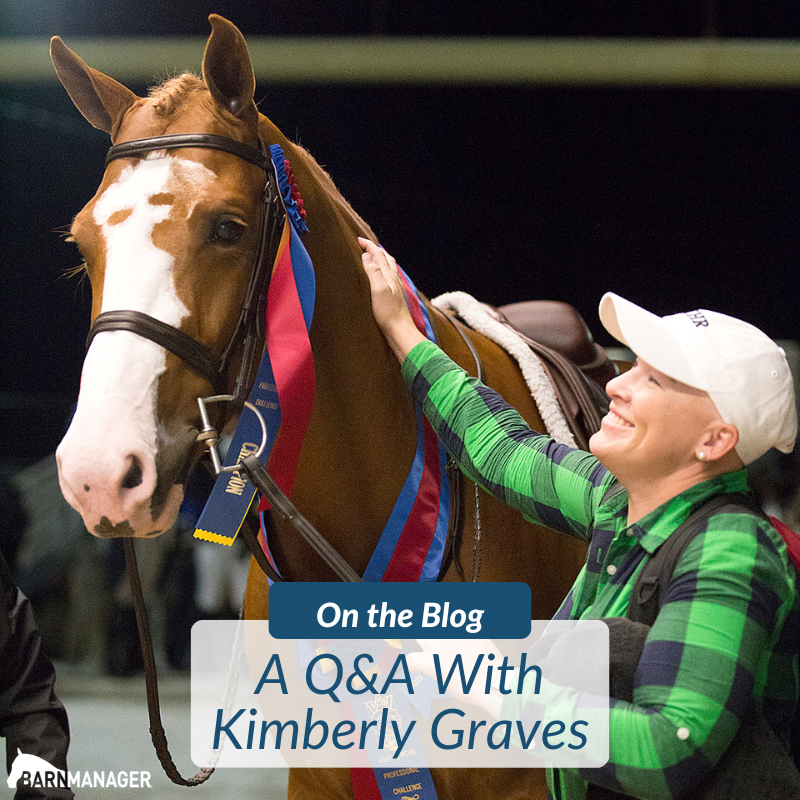 The BarnManager Q&A With: Kimberly Graves
The BarnManager Q&A With:
Kimberly Graves, Manager and Flat Rider at Hesslink Williams, located in Wellington, FL
What are three things that are always in your ring bag?
That's a hard one because I practically have a whole wall box in my backpack. I have everything from hairspray, zip ties, and seam rippers to lip balm, sunscreen, and Band-Aids.
Click below for a closer look at what is in Kimberly's ring bag.
https://www.instagram.com/reel/CaP_1XxpdMp/
What is the most helpful habit that you practice at the barn?
I think one of the most helpful habits is organization. I love when everything has a place. I'm a big fan of containers and label makers. I want to make it as easy as possible for everyone to know where everything is. It really helps with efficiency in the barn, especially on show days.
How do you foster a great team environment in your business?
I think that communication is key to a happy and successful team. Making sure that everyone is on the same page and knows what's going on leads to fewer mistakes and more success. I also believe that equality is very important in creating a great team, especially in the horse world. You're never too good to help with the horses or daily chores.
What's your best tip or hack for grooming and horse care? Where did you learn it?
I'm a big believer in "no hoof no horse." I like to keep the horses' feet dry and as hard as possible. I don't like to use hoof oil because it softens the feet. Instead, I use a hoof sealer called Kevlar Tuff. The farrier that I used for my personal horses for more than 15 years instilled his philosophy on hoof care in me when I was young. He always told me to keep the horses' feet dry and hard to protect them inside and out against all the elements and surfaces our horses face. Stronger hooves equal better hoof growth.
What is your favorite equestrian competition and why?
I would have to say the Capital Challenge Horse Show is my favorite because it brings out the best hunters in the country. I love that hunters really get to take center stage, especially with the World Championship Hunter Rider classes. The ribbons and awards are always beautiful. I enjoy the pomp and circumstance.
If you were a horse, what would you be and why?
I would definitely be a hunter. A chestnut hunter with chrome to be exact. Chestnuts have been my favorite color since I was a child. I like the jumpers, but my heart truly lies with the hunters. I obsessively follow the discipline.
Have questions about utilizing BarnManager or want to give it a try for yourself? Request a live demo here!